Earlier this week, a lot of people from the SEO Community witnessed a change in their Page Titles on the Search Engine Result Page.
Well, Google decided to fetch page titles from h1, & h2's & this led to people from SEO Community lose their minds.
Here are few people posting about it on Twitter:
Anyone seeing massive title rewrite on Google? Been noticing it on multiple SERPs for multiple keywords that Google is either pulling H1 or H2 to use for title.@rustybrick #SEO #searchengineoptimization #Google

— Jackie Owen (@techjackie) August 17, 2021
Google SERP Feature Update: there's been a net decline (only minor so far) in title tag length. Unlike previous updates, it doesn't look to be about pixel limit, but instead from Google re-writing titles in their search results. Related: https://t.co/ee0aqOiXIJ pic.twitter.com/oNm3xIfc7L

— Brodie Clark (@brodieseo) August 18, 2021
Kristina Azarenko posted this on LinkedIn: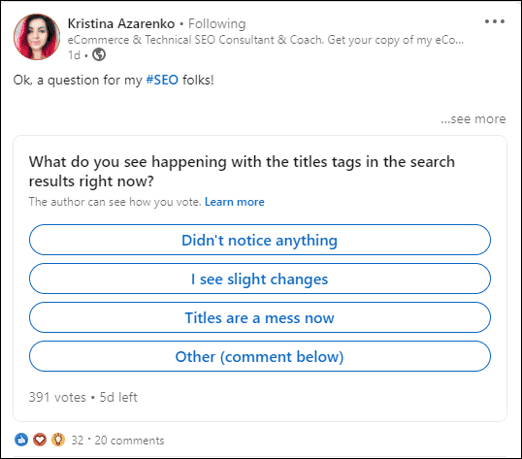 Well, what is it really about?
Why is Google replacing Page Titles with Header Tags (h1's)?
It is a known fact that Google's first priority is users above anything. They will always serve the best search result and continuously thrive for the same by releasing multiple algorithmic updates. Also, if you're wondering if there were any impact on rankings due to change in title tags the answer is NO.
In order to provide the best results, Google sometimes chooses relevant content from your page & displays it as a Title or Meta Description.
This used to happen rarely and on a very small scale as Google is known to do these minor tweaks since it never really harmed the website. 
However, the recent changes of page titles being replaced by h1 & h2's happened on a massive scale (globally) and affected a lot of pages. People from all around the world witnessed it as if it were some kind of an update.
After hearing a lot of criticism from the SEO Community on these major social channels like Twitter & LinkedIn, Danny Sullivan (Public Liaison For Search) suggested some plans on how we can improve it.
That said, I'd love to see us find a mechanism for site owners to very selectively indicate if there are problematic titles. Like perhaps in Search Console, you could say that you really wanted a HTML title tag used rather than our automatic choice….

— Danny Sullivan (@dannysullivan) August 20, 2021
In simple terms, Danny suggests that there should be a mechanism where whatever Title or Description we write there should be an "I really mean it" so that Google doesn't change it automatically.
Also, listen to what John Mueller has to say on title tags replacing H1 tags
However, the SEO community suggests that it is really important to optimize page content so that we are prepared for situations like this.
On a personal level, here are few recommendations from our end:
Tweak your Title & Description and check if that helps

When you write about a particular topic, stick to it throughout the article. Do not introduce a foreign topic that is not really relevant, related, or necessary

H1 should define what the entire page or article is about

H2's should define each section of the content present on the page or article

H3's or H4's can be used for Conclusion
Popular Searches
SEO Company in US  |  SEO Services in US  |  Professional SEO Services  |  SEO Agency in US |  Google Penalty Recovery Services  |  SEO Consultants  |  Ecommerce SEO Services  |  SEO Audit Services |  Local SEO Services  |  PPC Services  |  App Store Optimization Services  |  Conversion Rate Optimization Services  |  Enterprise SEO Services  |  Types of Digital Marketing |  Importance of Digital Marketing  |  Off Page SEO  |  List of Search Engines  |  Top YouTube Searches  |  Increase YouTube Views  |  Google Sandbox  |  Meta Description |  Local Citation  |  Lazy Loading  |  Reciprocal Links  |  SEO Metrics  |  Meta description  |  Title Tags  |  Quality Score  |  Top Google Searches | Pogo Sticking