Google's public Search Liaison, Danny Sullivan has written insightful blog posts related to Knowledge Graph and Knowledge Panels on Google's Blog site. Read to learn more about the knowledge Panel down below.
What is the Knowledge Panel?
Danny explained the Knowledge Panel as
"Sometimes Google Search will show special boxes with information about people, places and things. We call these knowledge panels. They're designed to help you quickly understand more about a particular subject by surfacing key facts and to make it easier to explore a topic in more depth."
Below is a screenshot of how a knowledge Panel Looks on the Desktop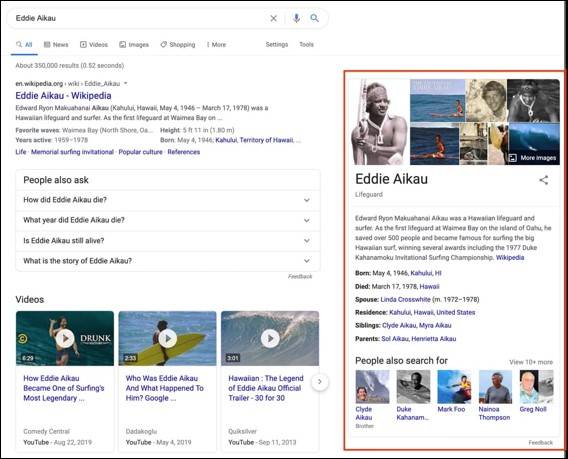 Below is a screenshot of how a knowledge Panel Looks on Mobile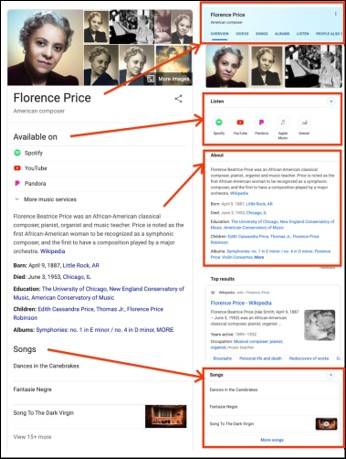 The knowledge panels show the most relevant and popularly searched information, including:
Title and summary of the topic

A longer description of the subject

A picture or pictures of the person, place or thing

Key facts, such as when a notable figure was born or where something is located

Links to social profiles and official websites

Songs from musical artists

Upcoming episodes from TV shows

Rosters of sports teams.
Where does the information in the Knowledge Panel come from?
Any information about an "entity" – a person, place, or thing in our knowledge panels comes from our Knowledge Graph. The most common source of information is Wikipedia. 
Danny stated in his Blog
"We draw from hundreds of sources from across the web, including licensing data that appears in knowledge panels for music, sports and TV. We work with medical providers to create carefully vetted content for knowledge panels for health issues. We also draw from special coding that content owners can use, such as to indicate upcoming events."
Please read the blog where Danny has also explained how they work to improve the knowledge graphs, how any user can provide a feedback option in the knowledge panel to suggest the correct information. Furthermore, you can learn how one can claim and start managing such a knowledge panel. 
Popular Searches
SEO Company in India  |  SEO Company in Bangalore  |  SEO Company in Delhi  |  SEO Company in Mumbai  |  SEO Consultants in India  |  Digital Marketing Services  |  SEO Services  |  SEO Audit Services  |  Local SEO Services  |  PPC Services  |  ASO Services  |  Conversion Rate Optimization Services  |  Link Building Services in India  |  Content Marketing Services India  |  What is SEO  |  What is On Page SEO  |  What is Digital Marketing  |  What is Technical SEO  |  Google Ranking Factors  |  Google Algorithm Updates