Google's Senior Webmaster Trends Analyst John Mueller said that it's better to do less than more when it comes to hreflang implementations and the translation of the pages on your website. 
Below questions were asked by Shabbir Sadriwala from Infidigit to John Mueller on Twitter:
"If there are few errors in the hreflang setup of the website, would Google disregard the entire code? E.g. if a domain targets 140 regions & 10 of its hreflang attributes are incorrect, will all other values not be considered ?"
Answer by John Mueller:
"No. Hreflang is kept on a per-pair basis, so if some pairs aren't useful, the rest can still work. That said, 140 regions is almost certainly way too much."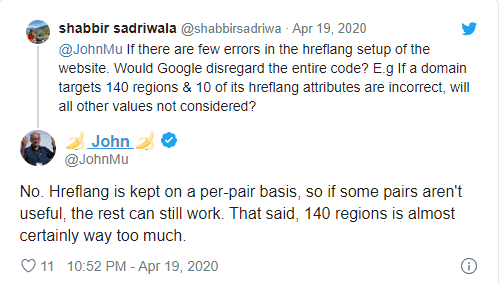 Shabbir then asked:
"Would you recommend to stick to any number of regions?"
To which he replied:
"I'd recommend limiting yourself to the number of regions you have unique, human-written, high-quality content for. Less is more."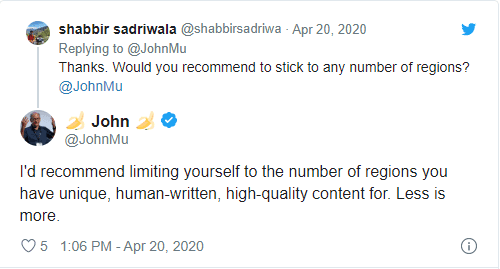 Key Learnings:
If you have implemented multiple hreflang tags on your website for, e.g. 140 & if 10 amongst them show errors, the rest hreflang tags will still work fine.

It is better to limit yourself to regions where you have "unique, human-written, high-quality content for in terms of hreflang implementations & translation of your website. 
Popular Searches
Best SEO Company | Digital Marketing Services in India | SEO Agency in Mumbai | SEO Service Provider | Ecommerce SEO Company | Website Audit Services | SEO Guide | On page SEO Techniques | What is Digital Marketing | What is Technical SEO | Google Reverse Image Search | SEO Ranking Factors | SEO Periodic Table | Structured Data SEO | Types of Cloaking | HTTP Error Codes List | SEO Benefits | E-A-T SEO | Site Structure | Types of Sitemaps