Website Owners who are planning to revamp their site from scratch should always be wary of search ranking impact. Even if they want to revamp it from an SEO point of view, they should always do it in stages. Breaking down the process is always the right way to do it.
John Mueller of Google was asked about the same on Reddit, and He replied
"I'd try to split it time-wise so that you can recognize any negative effects in each part, and take action to improve them."
John further Added
"If you do everything at once, you'll never know what to fix, and even if things end up "same as before", you won't know if one part went down, and was compensated by an improvement on the other part. Keep things controllable & trackable".
Here's the thing that if we do all the website changes at once, it would be difficult for anyone to pinpoint the change which has led to a drop in rankings. On the other hand, we do changes in stages. It would be much easier to identify and fix the drop in rankings.
Below is the screenshot of John's full answer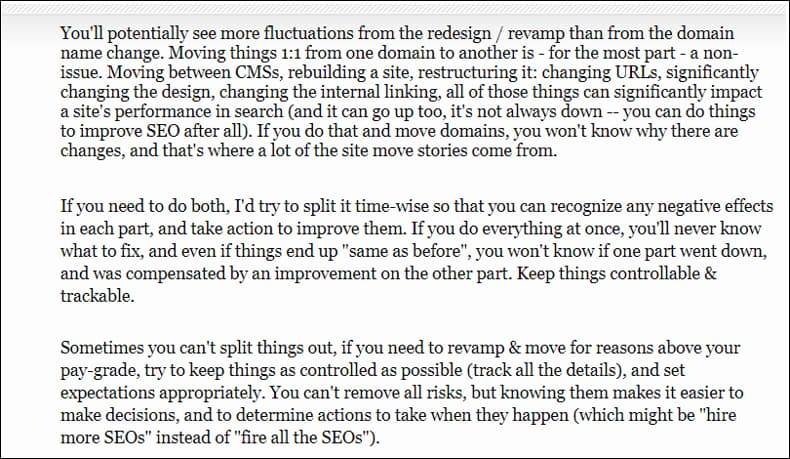 Source: Search Engine Round Table
Whenever website owners are trying to revamp the site or migrate to new CMS, they should try to keep URL structure, content and metadata etc. all the same. Even sometimes if one can't, they should try to keep one or two as it is.
Popular Searches
SEO Company in Australia  |  Internet Marketing Services  |  SEO Agency  |  SEO Services  |  Ecommerce SEO Firm  |  SEO Audit Services  |  Google Penalty Recovery Services  |  Local SEO Services  |  PPC Services  |  ASO Services  |  SEO Consultants  |  Link Building Services  |  Content Marketing Services  |  Conversion Rate Optimization Services  |  What is Digital Marketing  |  What is SEO  |  What is SEO Cloaking  |  Google Reverse Image Search  |  History of Google  |  Google Tag Manager  |