Earlier in November 2020, Google was spotted testing "short videos" on SERP. This was highlighted in a tweet by Saad AK. With the rising popularity of short-form video content in the form of Tik Tok and Instagram Reels, Google decided to tap into this trend. They launched the shorts beta version of YouTube Shorts in India on September 14, 2020, prompting some people to ask, "What is YouTube Shorts?" YouTube later rolled out Shorts in the United States on March 18,  2021. 
Google's goal seems to be a more comprehensive search engine for these short-form video clips that will show you relevant results from TikTok, Reels, and YouTube Shorts.
Below are a couple of examples on how you may come across these features on the SERP. The first screenshot is an example for the query "pancake recipe" that showcases videos fetched from YouTube while the second screenshot is an example for the query "wolf haircut" that showcases videos fetched from TikTok.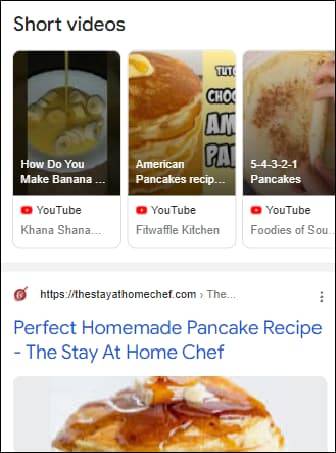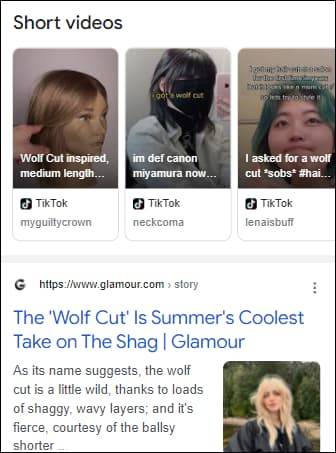 Similar to the mobile versions, the short videos are also visible on desktop devices and their sources can be from YouTube, Facebook, TikTok and others.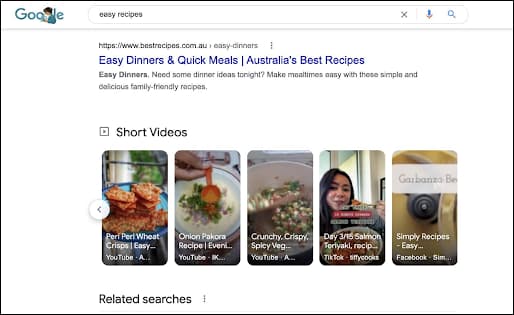 If you have a prominent panel on your SERP for short videos, be sure to comment and let us know in the comments section below.
Popular Searches
SEO Company in India  |  SEO Company in Bangalore  |  SEO in Delhi  |  SEO Agency in India  |  SEO Consultant in India  |  SEO Service India  |  Ecommerce SEO Company  |  SEO Audit Service  |  Google Penalty Recovery Service  |  Local SEO Service  |  PPC Company  |  ASO Services in India  |  Conversion Rate Optimization Agency  |  Enterprise SEO Services  |   YouTube Searches 2021  |  Google Searches 2021  |  List of Search Engines  |  What is Digital Marketing  |  What is PPC  |  What are Backlinks  | Keyword Difficulty  |  Meta Description  |  Quality Score  |  Youtube keyword Research  |  Google Keyword Planner  |  How Search Engines Work  |  Above the Fold  |  Lazy Loading  |  What is Search Intent  |  Googlebots