Web stories are slowly becoming a thing. More and more businesses are using Web Stories to provide their customers with an immersive experience. These can be used in combination with AMP and are displayed on Google SERP. Google has announced that its testing tools and the Search Console Performance report can now identify if your AMP document is a Web Story. This will help site owners to get insights into how their Web story is performing.
What is Web Story?
Google describes the Web story as- "A visual storytelling format in Google Search results that immerses the user in a tap-through full-screen experience."
Here's an example of a web story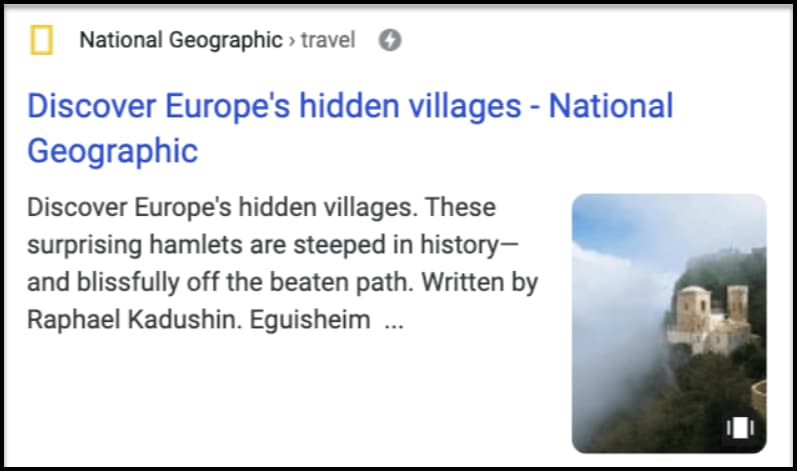 Source: developers.google
Web stories can be viewed on Google SERP, Discover and the Google App. Google is currently experimenting with different ways in which a web story can be presented. They can be single results, or they can even be grid-shaped.
Here's an example of a grid-view web story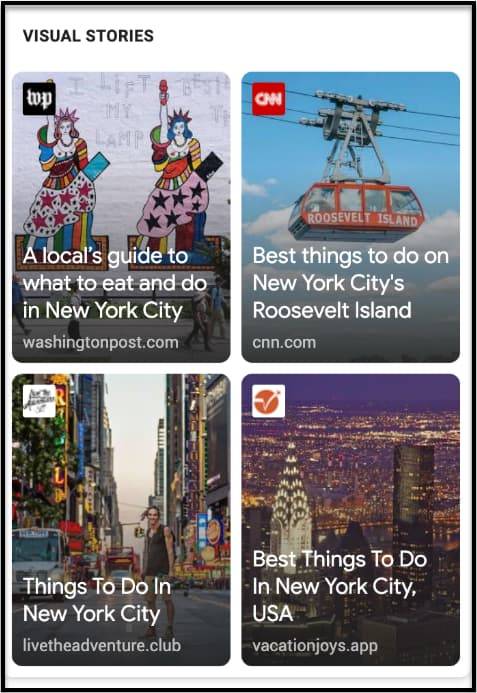 Source: developers.google
Tools to identify Web Story
Enter your URL in the AMP Test Tool and the tool will determine whether your document is a Web Story or not. If your AMP document satisfies all the requirements and is eligible to appear in search results, the "Valid Web Story" message will be displayed.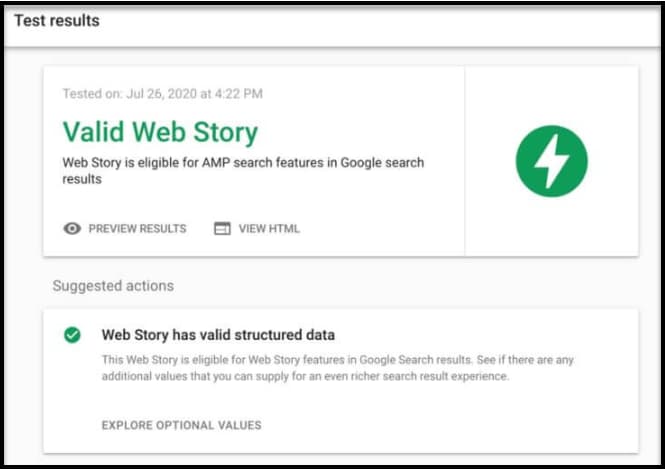 Source: Search Engine Land
Now you can also check the "Performance Report" in your Search Console to see how your Web Story is performing. Click on the "Discover" section of the Performance Report. Your Web Story should appear in the "Discover Appearance" tab.
Brodie Clark, one of the Twitter users, came across this report in his Google Search Console: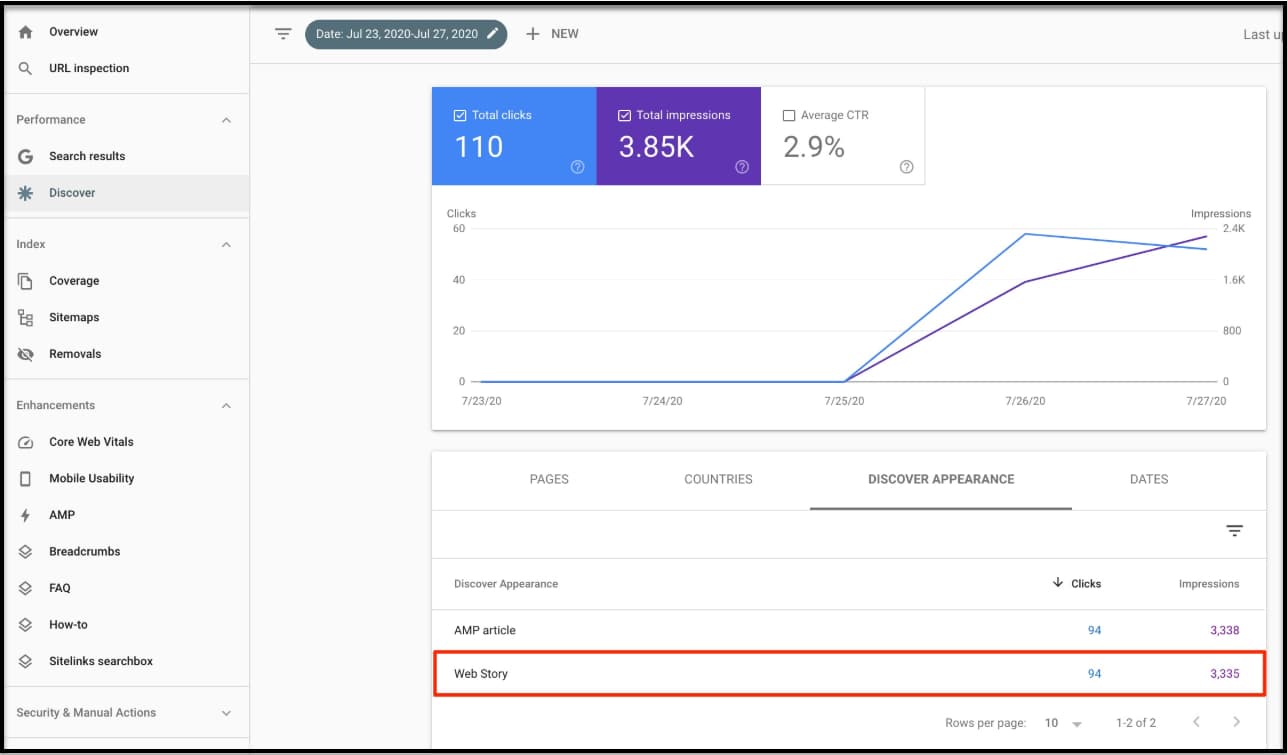 Here's the link to the tweet.
Guidelines for Google's Web Stories:
Google has set out specific guidelines that you need to follow in order to make your web story appear in the SERP:
Google recommends that the length of your story should be between 5 to 30 pages. The sweet spot here is 10-20 pages.
The title length of the web story should be less than 40 characters.
The text should not exceed more than 200 characters per page.
If you are making use of videos in your web story, Google recommends that the duration of the videos should be less than 15 seconds.
Google advises that site owners should make sure that their Web stories are complete and precise. They should not be very commercial and should be of value to the user.
If you are planning to include affiliate links in your Web Story, Google recommends that you use only one affiliate link per story.
Conclusion
Web Stories are an intuitive way to keep users engaged while promoting meaningful content. They work in tandem with AMP pages and can even drive traffic to your website. Google is encouraging the use of Web Stories by adding support in its tools to identify and analyse them.
Web Story is a welcome feature, as website owners strive hard to stand out in the SERP results. If you follow the guidelines and also add structured data to your Web Story, you can inch closer to appearing in the SERP.
Let us know what you think of this new Web Story feature in the comments section below.
Popular Searches
SEO Company in India  |  SEO Agency in India  |  Best SEO Company in Mumbai  |  Digital Marketing Services in India  |  SEO Services in India  |  Ecommerce SEO Company  |  Website Audit Services  |  Local SEO Services in India  |  PPC Services  |  ASO Services in India  |  What is SEO  |  What is Digital Marketing  |  Canonicalization  |  Website Navigation  |  Google Business Listing  |  What is Image Optimization  |  Importance of Digital Marketing  |  How to Optimize for Featured Snippets  |  What is Schema Markup  |  Google Reverse Image Search