Google now lets you track conversions from free product listings in Google Analytics 4
In order to see the conversion data, you'll have to link your Merchant Center to your respective Google Analytics property.
Following are the two easy steps to get started:
Step 1: Enable Auto-Tagging in Merchant Center
Google states that auto-tagging must be enabled in order to track conversion data in Google Analytics 4. Auto-tagging is a feature that allows you to use third-party tracking tools like Google Analytics to track conversions for your free product listings. For the Merchant Center, currently, you only track conversion data of listings on the Google Shopping tab.
Here's how to turn on "Auto-tagging" for Merchant Center:
a. Log in to your Merchant Center account
b. Navigate to "Settings" and click on "Conversion settings"

c. Enable the auto-tagging switch

Step 2: Connect Merchant Center account to GA4
Once you enable the Auto-tagging feature in Merchant Center, you will now see an option to link to the respective Google Analytics property. The option is present on the "Conversion Settings" page. (Refer to above steps to get to the page)

Select the respective GA4 property that you want to connect to. Viola! You can now track conversions from free listings in Google Analytics.
Once you have successfully linked Merchant Center to Google Analytics 4, you should see it under "Product Links" in your Google Analytics "Property" settings.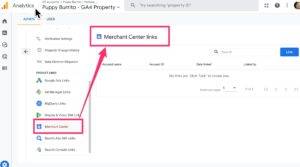 Image credits: Charles Farina