Continuing its success streak at the awards circuit, Infidigit won the mCube Award in the Search Marketing Campaign category for Myntra. The fifth award won for the popular e-commerce platform, it was a campaign titled 'How Myntra and Infidigit overachieved SEO revenue bets' that got us the prize at mCube 2019 (Masters Of Modern Marketing Awards).
Ever since Myntra joined hands with Infidigit in April 2017, both teams have strived hard to push the envelope in SEO services on the expansive e-commerce platform. Over the course of time, not only did Infidigit develop a growth hacking solution for Myntra's ambitious SEO vision, but it also found encouraging support from team Myntra with their smooth execution of the recommended strategies. This synergy of vision and dedication now continues to hit new benchmarks when it comes to SEO performance of Myntra.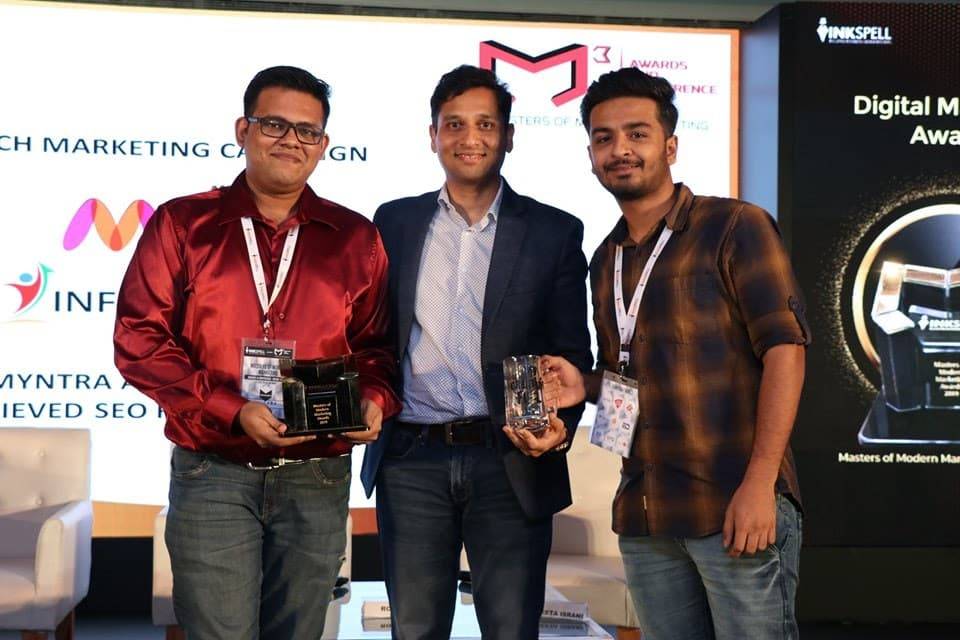 With no other award presented in the category, the team at Infidigit feels humbled to be felicitated with such a prestigious prize by the honourable jurors at mCube Awards 2019. With each award we win, our ambition and zeal to develop more refined growth hacking solutions only grow bigger. 
Sharing his joy on another prestigious win for Myntra, Kaushal Thakkar, founder and MD at Infidigit says, "It is a moment of immense pride to see our efforts being rewarded at such a prestigious platform. This award is a result of numerous hours of dedicated joint efforts by both teams. At the same time, we continue to be grateful to Myntra who continue to instill their trust upon us and support our recommendations with swift and efficient implementation."
Also Read: Myntra Scripts Success with it's SEO Agency Infidigit
While the win at Masters Of Modern Marketing Awards was an encouraging pat on the back, there is no time to settle in and celebrate. The world of SEO is one of constant change and innovation is key to remain ahead of the competition. So, while we march ahead to remain in sync with the latest trends in search engine optimization, you can keep track of our journey through regular updates, right here.
So, keep following Infidigit to stay updated with all the buzz that is happening in the company and the world of SEO. 
Check out more Infidigit Award's List
Popular Searches
| Best SEO Company in India | Search Engine Optimisation | SEO Penalty Recovery Services | What is Ecommerce SEO | Digital Marketing | What is PPC | Cloaking | Is SEO Dead | September Core Algorithm | Google's Site Kit Plugin  |