Search Engine Optimization (SEO) is the process of increasing your website's visibility when people search for products or services online.
SEO is important because searching online on Google or Bing is the most widely used way for people to find what they are looking for. They look for quality and trust in search engine suggestions by going to the websites displayed at the top of search results. 
What is SEO? 
SEO includes improving the organic traffic of your website and your ranking on search engines results page. It requires the creation of high-quality content and monitoring the technical health of your website. SEO persuades search engines to recommend your content to users as the best solution for their searches. 
Results in search engines are presented in an order where the higher you rank, the more traffic your site receives. Search engines like Google use algorithms to determine which pages to display on which rank for any query searched online. These complex algorithms take into account hundreds of factors. The optimization of your website based on these factors is called SEO and since it builds upon itself, SEO grows stronger over time fetching you long-term and long-lasting results.
It is important to note here that SEO deals with only organic or unpaid search results and sometimes on the sides of the organic search results section on a SERP and has nothing to do with the paid ads that you see below.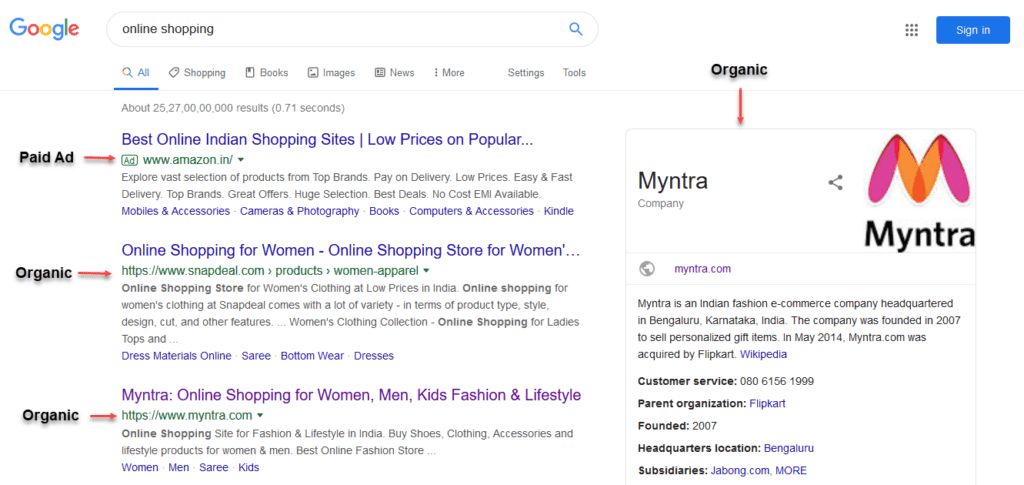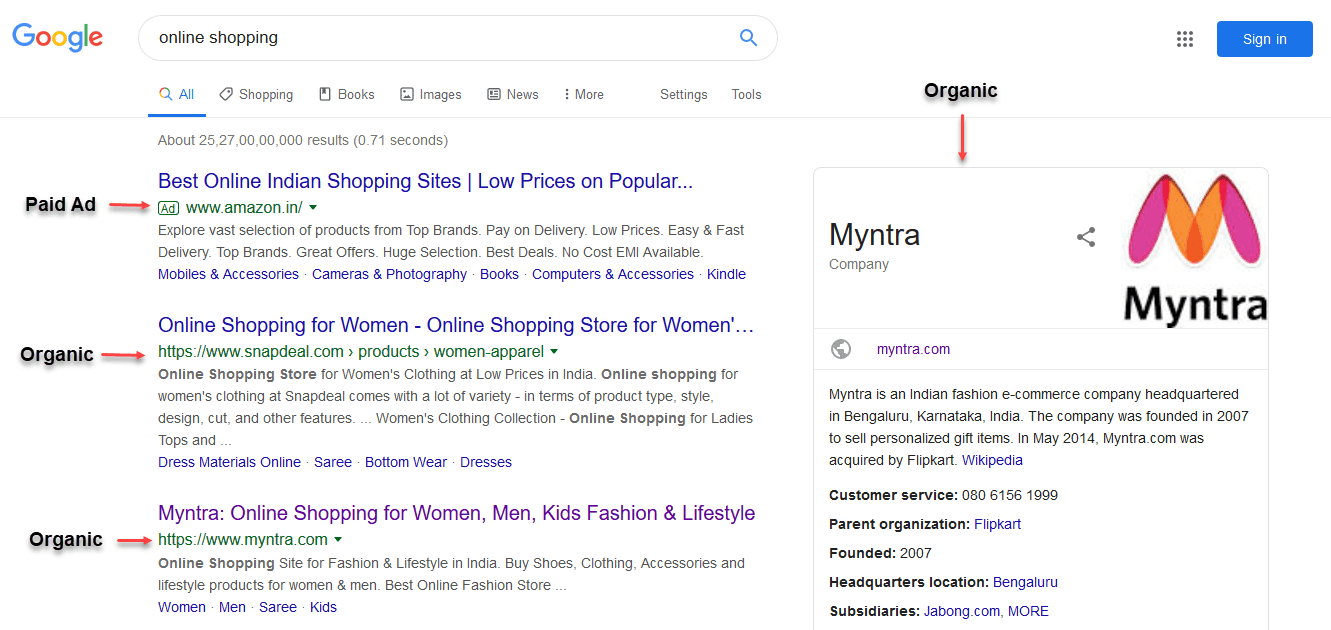 Think of SEO this way: Google and other search engines have access to all the information on the internet and work hard to organize or index it in an efficient manner. This is so that they can offer a user, relevant and useful search results whenever they have a search query. While Google's search algorithm is highly classified, SEO experts have been observing certain trends and patterns in the way it goes about fetching the correct information for users. Add to this the various patents filed by the world's top search engine and the announcements it has made about numerous updates to its search algorithm, and we have a pretty legitimate way of saying what will get your web pages to rank better.
Why is SEO Important in Digital Marketing?
Search engine optimization (SEO) is integral to digital marketing. Every year, trillions of search queries are carried out on the Internet. Most of the time, the intent of these searches is to delve deeper into a subject, research commercial products and services, or find the best product or service for a particular requirement. The Web is nowadays the main point of contact between digital brands and their customers. Their marketing channels, therefore, have the responsibility of bringing more traffic to their website. Thus, having more visibility than a competitor is important and has a tangible impact on your business. By knowing and using SEO effectively, by effectively leveraging the power of keywords, reviews and links, you can push your brand's visibility higher up the search engine result page (SERP) rankings. In 2021, SEO is about using keywords to generate more traffic and using the right strategies combined with other tools to boost online engagement.
Check out this video on what is SEO, you can also listen to our podcast to know more about how to create growth via SEO 
Since now that you know what is SEO, this SEO guide for beginners will help you understand the following topics:
How Does Search Engines Work?
Curious to know how Google or any other search engine provides almost the perfect answer for your every query? Here you go:
So when a user's does a google search, they are not searching on the web, they are searching Google's index of the web. This means that Google has billions of pages stored in his database and provides the best page from the database, which addresses your query. Google looks at more than 200 ranking factors such as how many times does the page contains your keyword, title and meta description of the website, URL of the webpage, does the page include synonyms for the keyword, website structure, backlink quality and many more. Check out this video of Google's Matt Cutts to understand more about how does search work:     
How SEO Works?
Now since you know how search engines work to address the user's query, we can know go ahead and see how your webpage can rank on SERPs. This is where SEO comes into the picture. In simple terms, SEO follows all google's search guidelines to rank your webpage higher on SERPs. Though Google considers more than 200 ranking factors, the most crucial factor is to build quality content on your webpage, which addresses the user's query. 
Your SEO Team or your SEO Service provider should always follow SEO best practices if they need your website to rank higher on SERPs. Search engine optimization takes care of your on-page SEO elements such as adding relevant content, title & meta description, URLs and various other factors. SEO also takes care of off-page activities such as building links from related and high-quality domains. Both these methods when combined with a proper SEO strategy, helps Google to understand your webpage which ultimately leads to a higher ranking on SERPs         
Why Does Your Website Need SEO?
Google is the source of more than 60% of all the search traffic in the world – if you combine this with the pulling power of other search engines like Bing and even Yahoo, this figure goes up to 70%. Another essential online search fact to consider is that if your website is ranking on the #1 position, there is a good 40% chance that the user will click on your website to solve its query. For example, if 100 users search for a specific query, there is a strong case that 40 users would land on your website if you are ranking on the #1 position. Imagine 40 users with an investment of almost zero rupees. This is why SEO is essential for your website/business. Although SEO takes time and effort, it is a gift that keeps on giving. Here are a few of the most significant benefits of SEO: 
SEO is the largest source of the site of traffic
SEO helps in higher ROI (Return On Investment) and conversions
SEO is a long term game. i.e. your investment on your website's SEO would lead to better results in future 
SEO builds brand credibility and trust
SEO improves your website's user experience (UX)
No need to spend on paid Ads
So if you are willing to increase your website's organic traffic, build an SEO team in-house or on-board a professional SEO Company.  
Types of SEO
SEO is broadly divided into 7 types. The below infographic is representing different Types of SEO. 

White Hat SEO – This is the most legitimate & universally accepted method to boost traffic on your website. White Hat SEO includes improving user experience and following all the search engine rules & policies to attain a higher rank. White Hat SEO includes On-Page SEO, Off-Page SEO & Technical SEO
Black Hat SEO – Black Hat SEO is a method to improve websites page rank & traffic by violating rules & policies of search engines.
Grey Hat SEO – This is the most used technique in the modern world. Grey Hat SEO is a combination of both White Hat SEO & Black Hat SEO.
Negative SEO – Negative SEO refers to practicing black hat SEO on your competitor's website. This would result in a drop in rankings for your competitor.
On-Page SEO – On-Page is a method of optimizing a particular webpage on our website to attain a higher ranking on SERPs and get more traffic. On-page is the most critical step while optimizing your website. Read more about On-page SEO techniques factors.
Off-Page SEO – Also called "Off-site SEO" refers to an action taken outside your website to gain better ranking on the search engines. One of the famous & most relevant examples of Off-Page SEO is Link Building. Read more about what is Off-page SEO
Technical SEO – Technical SEO is a process to optimize your website for crawling & indexing purposes. In the modern world, Technical SEO is one of the essential aspects for ranking higher on search engines. Read about the Technical SEO & Technical SEO Checklist.
Periodic Table for SEO Success
Like Chemistry, SEO to has its periodic table. This SEO Periodic Table would help you to understand the essential factors that Google considers before ranking a website higher on Google SERPs. Keep in mind the Toxins elements should not be implemented on your website. Implementation of toxins elements would result in a drop in rankings for your website. 
Organic Vs Paid Results
Search results are broadly divided into two sections: organic (unpaid) and paid results. Below SERP screenshot shows the example of both organic and paid results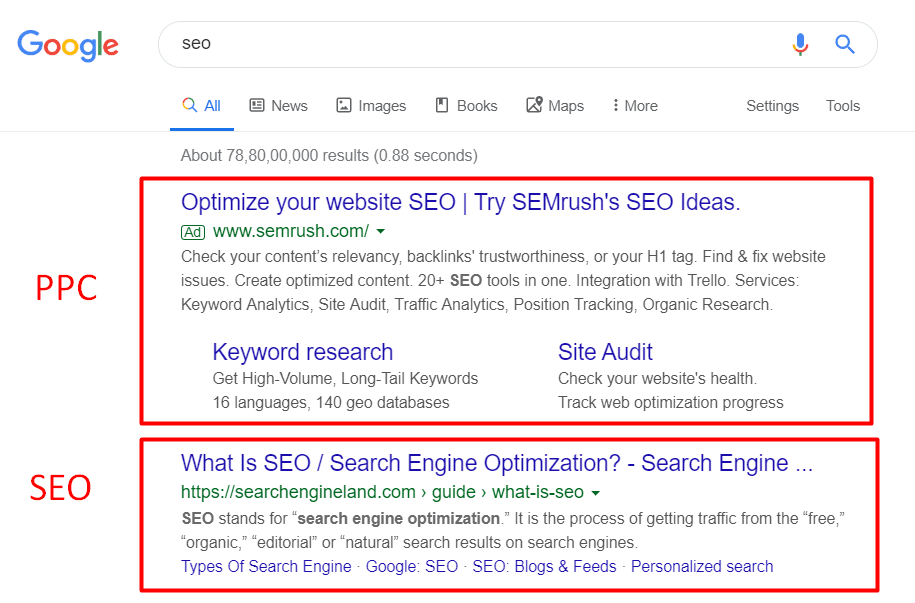 Organic Results – Organic results are 100% natural results based on the user intent of the search.  In simple terms, the business owner does not have to pay Google to rank their webpage higher on SERP. There ranking is entirely dependent upon the quality of search engine optimization done on the website. 
Paid Results – Paid results are the Ads that appear before the start of rank one on SERP. To list your webpage here, the business owner has to pay Google for each click received from the visitor. This digital marketing technique is called Pay-Per-Click.
Many business owners these days use the combination of both SEO & PPC to attain more traffic on their website. Check our post on SEO vs PPC  to understand the difference between both the channels and when to use them. 
 Major Ranking Factors
Google, the world's most popular online search engine, processes nearly 63,000 search queries every single second of each day. Have you ever wondered how google processes your query in seconds and provides you with the best of webpages that can answer your query? Google considers more than 200 ranking factors before ranking any webpage on SERP. Here are some of the significant Google ranking factors you need to now:
Updated & Unique Content – As SEO experts say, Content is King! Indeed it is. Update, unique & relevant content is the primary requirement of how Google evaluates a webpage. Google always gives preference to exclusive and update content on SERP as compared to old and copied content.
Mobile Friendliness –

With more users using mobile devices to search online, your website must be mobile-friendly.

With an increase in mobile users, Google has also shifted to mobile first indexing to crawl the website.
Optimum Page Speed – Recent studies have concluded that the bounce rate doubles for every two-second delay in page loading. This makes page speed as of the crucial factor to rank a webpage higher on SERPs. It is desired to have a page score of more than 90. You can measure your page speed by using the Google PageSpeed Insights tool.
HTTPS – HTTPS became a Google ranking signal in 2014 while 2017 saw Google strongly encourage sites to go secure. In fact, now sites without the secure HTTPS connection are shown as 'not secure' in the address bar of the Chrome browser, a definite eyesore to site visitors.
User Experience – User experience is one of the emerging ranking factors which google is observing. Google constantly tracks user behavior when they visit your website. Google monitors the amount of time spent on your site, the number of visitors who leave the site after viewing only one page, the number of other pages visited, etc.
On-Page SEO – This was of the essential elements which any search engine would consider before ranking your website on SERPs. On-Page SEO consists of webpage URLs, title & meta description, keyword density, website structure, structured data mark-up and many more.
High-Quality Backlinks – Your webpage must get links from other high-quality domains. This gives Google an assurance that the webpage is authentic and has useful content for users. But this does not mean to just create high-quality backlinks for your website. Google is smart enough to understand what is a natural link and a paid link. 
Domain Authority – Website's domain authority (DA) and page authority (PA) is also one the factor which Google considers while monitoring/ranking a domain higher of search results. You could check your domain & page authority via mozbar extension.
How to Optimise Your Website
Although there are more than 200 google ranking factors that affect your site ranking, there is no need to feel at odds while attempting to optimize your site for better web traffic. Whatever your SEO skill level, make sure to run through the following list of this to-dos while assessing your site's health and making an effort to better it: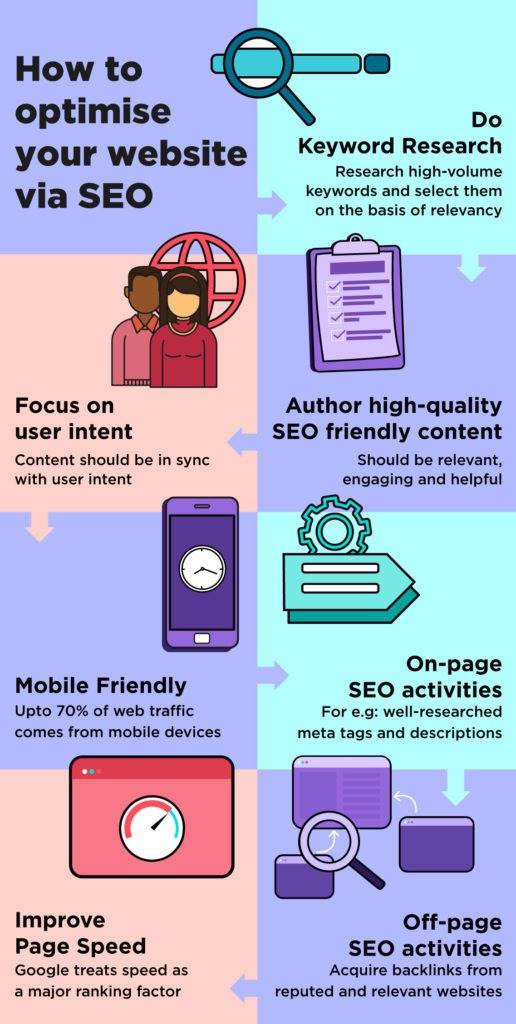 How to Optimise your website via SEO
Step 1 – Do Keyword research
This is the very foundation SEO is based on as it gives you invaluable insights as to what your customers search for, need or desire. You may simply use Google Autocomplete to gauge what users are searching for in relation to your main focus keywords or phrases. Google Keyword Planner and Answer the Public are other critical tools that will help you do this while also helping in coming up with fresh, useful content ideas. However, it is also important to know about the different types of keywords, namely product keywords, informational keywords and LSI keywords. While product keywords are directly linked to your product or service offering, informational keywords, as the name suggests, provide general information on a subject. For e.g. if you own a fashion e-commerce website, 'Adidas shoes' would be a product keywords while 'shoes sizing guide' can be a possible information keyword. Latent semantic indexing (LSI) keywords are those that revolve around your focus/primary keywords, for e.g. if you are writing a blog post on 'styling a denim jacket', 'what pants to wear with a jean jacket' would qualify as an LSI keyword. 
Although there are many other types of keywords, including navigational keywords, transactional keywords and the likes, the aforementioned ones are the most basic and important kinds. We recommend that after you have conducted thorough keyword research, you pick those which have the highest search volume and optimize your website around them. Choosing to tackle long-tail keywords first will prove to be a wise move as these long search phrases involve less competition for ranking in the top SERPs. You can then make your way to highly competitive, short-tail keywords which often include just one search word. 
Step 2 – Create SEO Friendly Content
Second only to customer and keyword research is knowing the type of content that will have the most impact on your site visitors. While there are many kinds of content you can opt for, you must understand that detailed, blog-like content is not always the answer to all your content problems. Short write-ups quickly outlining the standout aspects of your product or services must usually grace your product or services page. Complete lists can include brief pointers about anything and everything, including comprehensive recipes, different things, ways to do something, etc. A how-to guide or step-by-step article is used to describe a task in great detail so that the reader does not have to visit other webpages while seeking out additional information. Original research pieces with irrefutable data and details about the method used to obtain it are also a big hit with the general public these days. It is always advised to get in touch with the content writer to on-board a content marketing company that can help you out with the best of content ideas and write-ups. 
Although there are many other types of content, there is one that deserves special mentioning – visually rich, image or video content. You must do your homework before deciding to dive in here, including researching image and video search keywords, optimising file names and descriptions, alt text and video transcripts, etc. And remember, while multiple mentions throughout various content is a sure-fire way of indicating to Google that your webpage is about a certain topic/keyword, you must not stuff them into your write-up. Not only will this render your content unnatural or fake-seeming, but it will also raise a big red flag to Google.
Step 3 – Focus on User Intent
Sometimes, the user is not able to articulate what they need in their search query. This is where Google user's previous search history and preferences, and user location to make an intelligent and intuitive guess as to what they are looking for. We can divide search intent into four broad categories, including the commercial, informational, navigational and transactional types. For instance, if you are looking to buy shoes online, your search intent is transactional. If it is to zone in on information for your child's school project, it is informational. If you are trying to find your favorite celebrity's website online, it is navigational. And if it is to read up on the best, most economical DSLR cameras so you can buy them later, it is commercial. 
What you as a website owner must ensure is that the search intent matches the content on your webpage. For e.g., if a user has landed on your website in the quest for specific information, you cannot lead him to a products/services page instead. This will score very lowly on the user experience meter and your reputation will suffer. We also recommend gauging user reaction or interaction with your site by constantly analyzing Google Analytics metrics like bounce rate, conversion rate, etc. to see where your website stands. 
Step 4 – Optimize for Mobile
Earlier, optimising a site for mobile could be put on the backburner along with other non-priority SEO tasks. However, the Google search algorithm has undergone a major change and is now indexing websites mobile-first. What this means for website owners is that even though they may have an amazing desktop version of their website, if it is not responsive enough on mobile, Google will not pay it much heed. Registering your website on the Google Search Console is an important step in having it crawled and indexed, and now, it can also be used to analyse how you are doing on mobile, along with pinpointing any mobile usability issues. Other pro tips include ensuring that your website has no annoying pop-ups and loads quickly on mobile. You may also explore Google's Mobile-Friendly Test tool to see how easy it is for a user to use your mobile website. Read more about Mobile SEO. 
Step 5 – Perform On-Page SEO Activities
On-page SEO is a method to optimize your webpages adhering to google guidelines to get better rankings on search engines. On-page SEO activities include authoring highly in-demand, impactful, relevant and useful website content which is also SEO-friendly. If your website is built on WordPress, we recommend that you install this must-have WordPress SEO plugin to gain access to a ton of features that will help you optimize your site. That's not all – there are countless other tiny but extremely useful things that you can do to catapult your webpage to the top of Google's SERPs. Use your target keyword in your title tag as a clear signal to Google about the contents of your page. Include keywords in your anchor text and link to pages that are a higher priority within your website. Having an uncluttered URL structure (preferably with the target keyword) along with efficiently categorized pages is another plus. Also make sure that your meta descriptions, which are more for humans rather than search bots, are short but indicative of what awaits visitors. Using a search keyword in the meta description will lead to Google highlighting it within your meta description in bold, thereby drawing the user's attention. 
Step 6 – Perform Off-Page SEO Activities
Off-Page SEO is the set of activities that you do outside your website to build links that point to it. These links that point to your website are known as backlinks (links pointing back to your site). The main agenda for Off-Page SEO is to create quality, relevant and trustworthy backlinks. Off-Page SEO, when combined with On-Page SEO activities, gives a boost to your organic rankings. Though an excessive amount of Off-Page activities would lead to Google penalties, which would then be resolved by a Google penalty recovery service provider. Off-Page SEO includes creating backlinks from various influencers website, social bookmarking domains, blog commenting, image submissions and many more. Website owners should consider building a link only from the relevant domain. For example – if you are a fashion e-commerce domain, then it is advised to get backlinks from fashion niche domains.  
Step 7 – Improve Page Speed
Site Speed is on the significant factors which google considers before ranking a domain higher on SERPs. Recent studies from SEO experts stated that a two-second delay in page load time would result in an increase in bounce rate by two times. There is one more case study that declares how site speed affects SEO & Google Rankings for your businesses. Hence it is important to give preference to your page speed. Google page speed insights is of the tool created by google developers, which can help you track your page score. It also provides you with the recommendation to optimize your score further. 
How to Track & Measure SEO Results?
You need to first understand the concept of KPIs to track and measure SEO results and eventually use it to build the foundation of your website. KPIs, or Key Performance Indicators, serve as various performance indicators with measurable values that demonstrate the success in achieving objectives. Listed below are some of the key indicators – 
1) Organic Traffic
It is one of the most useful KPIs that companies can use to acquire new leads and customers. Organic traffic refers to visits that originate from the unpaid search engine results instead of paid ads. Higher organic traffic is often seen as the biggest indicator of an SEO strategy's success. Google Analytics is a free application that anybody can use to measure and track organic traffic. 
An SEO practitioner should remain vigilant about how SEO works with the constantly changing algorithms of search engines as design, interaction, title and metadata can be very important. 
2) Keywords Rankings
It serves as an indicator of how well a website or web page is ranking in the search engine results pages (SERPs) for a particular search term. This KPI is highly effective in determining the ability of a company to build its brand awareness. One can use various rank trackers along with Google Analytics for measuring keywords ranking. 
3) Sales and Leads
When a visitor to the website changes into a sales lead or sale, it is termed as a conversion. Conversion rate refers to the number of website visitors who have accomplished the goal or action the business was aiming for. Tracking the ensure user journey from the beginning to the end will help in understanding the macro and micro goals. Businesses can measure their sales and lead easily by using Google Analytics.
More About SEO
Google releases periodic updates to its search algorithm to stay many steps ahead of even the most seasoned digital marketers. This also helps maintain a level playing ground while weeding out any spoil-sports who resort to questionable black or grey hat SEO tactics like paying off threadbare websites to link to them so that they look like an authority on a specific subject. While there are many aspects of technical SEO that you must focus on to further your SEO goals, your most crucial responsibility as a website owner is to create the most offbeat, relevant and helpful website that you possibly can. If you want to stay in the know about all the latest happenings in the world of SEO, there is no better place to be than right here – do keep checking in with us for Digital Marketing Blogs and Digital Marketing News.
Evolving SEO Trends in 2021
Schema markup is all set to dominate 2021. The rich snippets created by the microdata can provide a great context to ambiguous Web pages, thereby improving their visibility when searched for. Rich snippets contribute towards helping brands and businesses show up more prominently in SERPs and boost their click-through rates.
EAT SEO is a Google metric that stands for Expertise, Authoritativeness, Trustworthiness. This metric requires that the content shared is 100 percent accurate and reliable.  For a high EAT score, you need content written by industry experts. Trends dictate that EAT is going to be one of the top SEO metrics for a high SERP ranking.
50 percent of searches were voice searches in the year 2020.  Voice search SEO trends 2021 indicate a rise in people using their smartphones to access information regarding products and services. Businesses, therefore, will be seen optimizing their sites and content for voice searches.
FAQ'S
What is SEO & How it works?
While entire industries continue to shift online, some people are still struggling to understand what is SEO and how it can help their businesses flourish. SEO involves specific changes that businesses make in their content and website design to make their website rank in various search engines. Businesses use various marketing strategies through which they further optimise their websites, making them appear among the top results that search engines provide. This could be done with on-page SEO (strategies that happen within your website), and off-page SEO (strategies external to your website). By collecting data on how your site fares on both ends, search engines create a rank that determines where it would list your site.
They are certain elements that investigate the prospects of websites or web pages for better placements on SERPs. SEO tools provide information on these elements, along with insights into other SEO competitors on the Internet. SEO tools include details on keywords, content, backlinks, domain, and more. 
How long does it take for SEO to work?
On average, any SEO strategy would take at least four to six months before they show any promising results. One of the key ideas concerning SEO basics is the fact that these results generally grow over time and require patience as well as persistent efforts. 
Does duplicate content hurt your SEO?
Yes, it does. The duplicate content will confuse the search engine and force them to choose any one of the similar pages for a higher rank. There is a greater possibility of the original content not being chosen. 
SEO matters the most in today's world as it is the only marketing tactic that helps businesses to reach out specifically to potential customers. If businesses know what is SEO, they can use the reach of the website by targeting search queries related to the services and products offered by them.
Popular Searches
SEO Company in Bangalore  |  SEO Company in Delhi  |  SEO Company in Mumbai  |  SEO Agency in India  |  SEO Consultants  |  Digital Marketing Services in India  |  Ecommerce SEO Services  |  Website Audit Services  |  Enterprise SEO Services  |  Local SEO Services in India  |  PPC Company  |  ASO Services in India  |  Amazon PPC Services  |  Professional SEO Services  |  Google Business Listings  |  Google Reverse Image Search  |  What is AMP  |  What is Google AdWords  |  YouTube Searches  |  Canonical Tags