It's been observed that Instagram's popularity as a news source is soaring day by day, especially among the people in the age bracket of 18 -24. At this rate, it may replace Twitter as the most preferred news source.
A report by the 2020 Reuters Institute Digital News claims that since 2018 there has been a tremendous increase in the number of people checking out Instagram for updates on current events
The real driving force behind this switch for Instagram to be a popular news source is because of the younger users. It has been noticed that two-thirds of the users below the age of 25 are the ones who prefer it.
This report also claims that the consumers under the age bracket of 18-24 will check out the news updates on social media platforms rather than a traditional website or a news app.
Access to news continues to become more distributed. Across all countries, just over a quarter (28%) prefer to start their news journeys with a website or app.

Those aged 18–24 (so-called Generation Z) have an even weaker connection with websites and apps and are more than twice as likely to prefer to access news via social media.
The percentage of people who choose Instagram as a source of news updates is 11%, which is just pointless than Twitter. This is the status when surveyed, taking into consideration all demographics.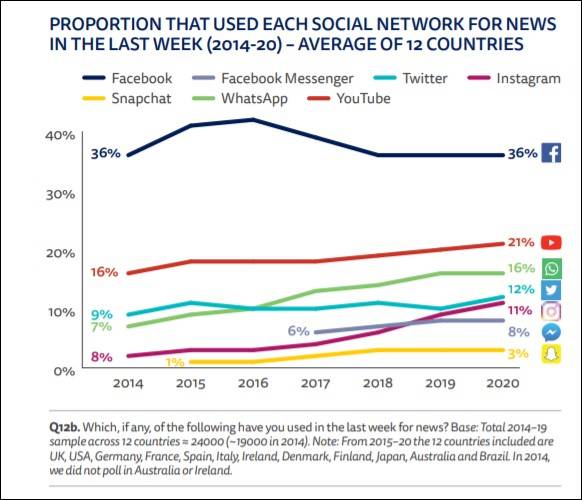 Source: Reuters Institute
This is quite a new fact as far as Instagram is concerned because it was never viewed as a place for news updates in the past.
Twitter was always the place you checked on when you wanted to get some information on current affairs, whereas Instagram was viewed more of a social media platform meant to share pictures and videos for fun.
Although Instagram's stronghold on creative visuals has always made a lasting impression on the younger generation's minds, this is true as far as the latest news updates go.
Nic Newman, a lead author of the Reuters report, states:
Instagram's become very popular with younger people. They really respond well to stories that are told simply and well with visual images.
In terms of popularity with the latest news updates goes, it looks like Facebook still leads the way. It will be ages before Instagram can take that crown away from Facebook and claim the number one spot.
YouTube is the second-best place where most users look for latest news updates, then comes WhatsApp, Twitter, and finally Instagram. 
The kind of growth is seen right now, with Instagram being the popular news source and if it continues to grow with consistency for a few years to come. There is no denying that it won't be too long for Instagram to topple down Twitter and try to invade Facebook & YouTube territory.
Social Media Not a Trusted Source of News
Despite the increase in the number of users preferring it as a source of news, Reuters states that when it comes to digital news, users don't have full faith in social media because they believe other traditional sources.
Statistically, it has been observed that in the United States itself, only 14% of users believe the news they come across in social media when compared to a staggering 22% of users still prefers the traditional way of accessing the current affairs on search engines.

Source: Reuters Institute
Another interesting fact is that the ones who believe social media are reliable sources of news updates, their top preferred choice is Facebook, then comes YouTube and Twitter. At the same time, Instagram comes as the second last preferred option.
In the United States, the authenticity of the news is not very high. Regardless of this, a sheer 29% of users say they will believe any news.
Despite this data, still, the most preferred method of absorbing news in the United States is online such as social platforms, websites, and different apps, etc.
As far as news consumption is concerned, social media still rules the chart and sees massive potential for increasing the same. A graphical representation of the same can be seen below, where social media is emerging as the sole source for new.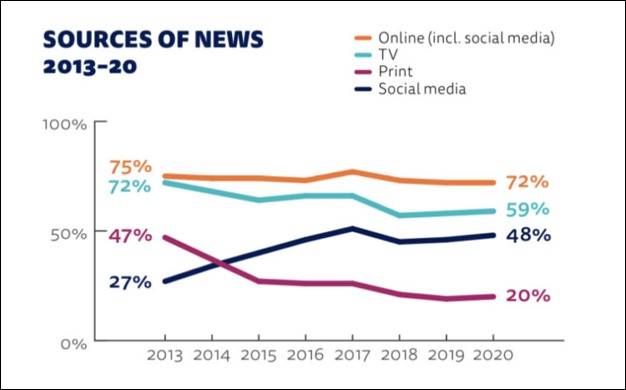 Source: Reuters Institute
Print news looks on the verge of disappearance while TV news seems to have made a comeback nowadays, overshadowing its decline in the year 2017-2018.
Popular Searches
Best SEO Company in India | SEO Company in Bangalore | Best SEO Company in Delhi | SEO Company in Mumbai | SEO Agency in India | SEO Consultants | Digital Marketing Services in India | SEO Service Provider | Ecommerce SEO Company | Website Audit Services | SEO Penalty Recovery Services | Local SEO Company | PPC Company in India | App Store Optimization Services | Link Building India | Content Marketing Agency | Conversion Rate Optimization Agency | Reverse Image Search | What is SEO | SEO Ranking Factors