Yesterday, Google announced to have released a new core algorithm update known as "May 2020 Core Update". This was the second core update of the year 2020, since the January 2020 Core Update.
Google is known to release 3 to 4 core algorithms every year. 
The tweet by Google Search Liaison said;
Later today, we are releasing a broad core algorithm update, as we do several times per year. It is called the May 2020 Core Update. Our guidance about such updates remains as we've covered before.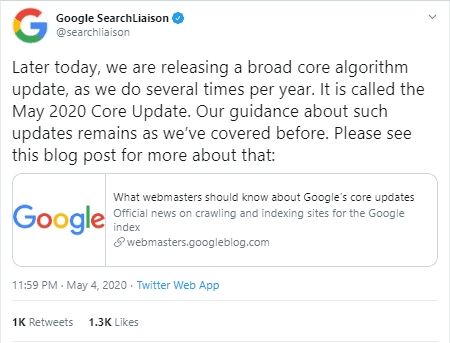 The next tweet by Search Liaison after an hour read;
The May 2020 Core Update is now rolling out live. As is typical with these updates, it will typically take about one to two weeks to fully roll out.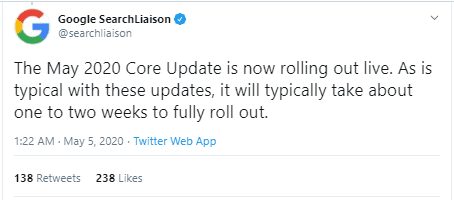 There were a lot of discussions worldwide that Google should pause "Core Algorithm Updates" since a lot of businesses were already affected by the current pandemic. However, after looking at this core release yesterday, it seems like that is not happening.
Broad core algorithm updates happen to produce a noticeable effect on search results worldwide. Considering the current pandemic situation, we speculate that the current "Core Update" might affect the content or news around COVID-19.
If we take a closer look at the recent tweets by Search Liaison, they all seem to discuss how searches for local content related to COVID-19 have increased.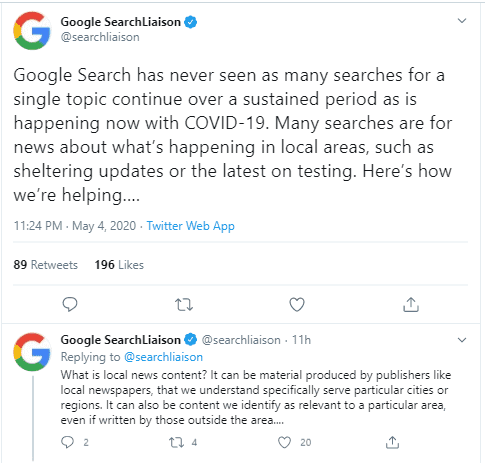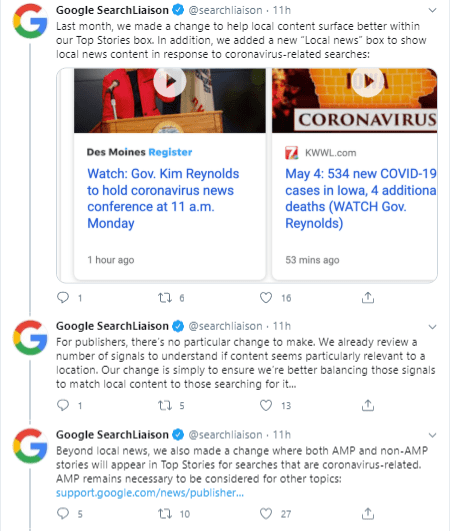 Given the current pandemic situation, it is highly likely that the Google algorithm will bring out relevant, latest and local content while searching terms related to COVID-19 worldwide. They have never seen as many searches for a single topic continue over a sustained period (as said in the tweet).
However, this is just our speculation. We will continue to update this article about any further information we receive regarding the "May 2020 Core Update".
Popular Searches
SEO Company | Digital Marketing Services | SEO Agency in India | SEO Services in India | Ecommerce SEO Agency | Google Penalty Recovery Services | What is SEO | What is Technical SEO | Google Algorithm Updates | Google Reverse Image Search | Google Ranking Factors | What is International SEO | Website Migration | Website Speed Optimization | What is Cloaking | Types of SEO | What is Featured Snippet | SEO Strategy | Site Structure | WordPress SEO Plugin