On July 7, 2020, Google's Webmaster Central Blog announced that the Rich Results Testing tool has been updated and is no longer in the beta stage. Read on to find out more about the announcement.
Rich Results Tool Is Out of Beta
Google has officially announced that its rich results testing tool now supports all the types of rich results that are featured in Google Search. The tool has been moved out of beta testing and fully supports all the new features. Earlier, the tool used to support only a few rich results types like recipes, jobs, movies, courses, etc.
Structured Data Testing Tool To Be Deprecated
Along with this announcement, Google has also stated that it will be soon deprecating its Structured Data testing tool. The tool can be used for the time being, however, Google strongly encourages webmasters to move to the Rich Results tool as it provides testing features too.
Benefits Of Rich Results Testing Tool
Using Structured data will qualify your website for rich results in SERPs. Rich Results Testing tool can be used to test and validate your structured markup. It also helps you to check the preview of your rich result in SERP, i.e. how a page is displayed in search results.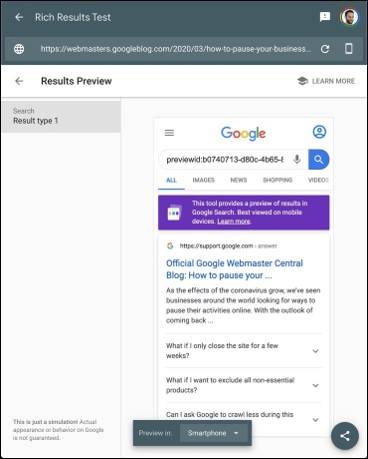 Here are some benefits of the Rich Results Testing tool that Google has specified
It shows which Search feature enhancements are valid for the markup you are providing.

It handles dynamically loaded structured data markup more effectively.

It renders both mobile and desktop versions of a result.

It is fully aligned with Search Console reports.
You can either directly test your structured data code in the tool or provide a URL. Based on which, the tool will highlight the eligible schemas along with errors and warnings for that piece of code or URL. 
Errors disqualify your page from appearing as a rich result in the SERPs. However, warnings might only limit your appearance, but your page will still be eligible for rich results. Here is the example Google provided for explaining this statement
"If there was a warning for a missing image property, that page could still appear as a rich result, just without an image."
Conclusion
Now that all the types of rich results are supported by the tool, it will become easier for webmasters to test, validate and preview their structured data implementation. Also, it ultimately makes sense to deprecate the older Structured Data Testing tool as the Rich Results Tool can provide its functionality along with other features. 
What are your views on this announcement? Do let us know in the comments section.
Popular Searches
SEO Company in India  |  SEO Agency in India  |  Best SEO Company in Mumbai  |  Digital Marketing Services in India  |  SEO Services in India  |  Ecommerce SEO Company  |  Website Audit Services  |  Local SEO Services in India  |  PPC Services in India  |  ASO Services in India  |  SEO Guide  |  Types of Digital Marketing  |  Website Navigation  |  Google Business Listing  |  What is Image Optimization  |  Importance of Digital Marketing  |  What is Youtube SEO  |  How to Optimize for Featured Snippets  |  What is Schema Markup  |  Reverse Image Search Google