If you're an SEO enthusiast and are trying to find the answer as to why Search Console data is not being updated, you're in the right place. Creating chaos & delaying weekly reports, Google Search Console's search result data is stuck.
Google Search Console seems to be affected by an issue that is causing a delay in updating the search performance data. This could be another case of reporting delay like the Index Coverage Report witnessed last month, where Google took to Twitter to notify site owners and webmasters that it was experiencing a delay that was "longer than usual" in Search Console reporting.
The GSC performance search report has not been updated for over 49 hours now, and the most recent date on GSC is Saturday, 18th September 2021, which too is partial data and does not cover the entire date.
Here is how it looks like for some:

While there has been no official confirmation as to what is causing this, many around the globe have complained about it on Twitter & Reddit:
37 hours and the #Google #Searchconsole does not update #webmasters

— Angel Eulises Ortiz Blogger (@pcwebinfo) September 20, 2021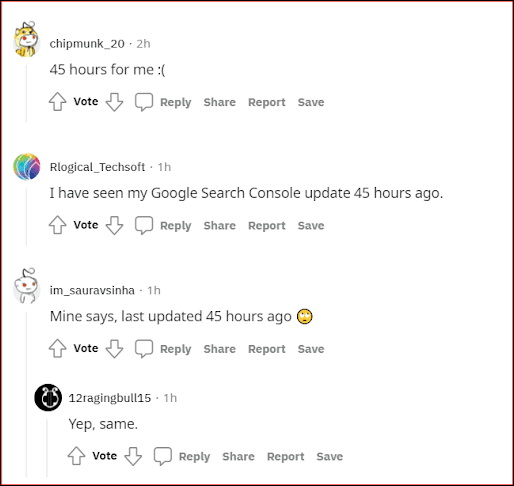 If you're wondering when this will be solved, here's what we know:
Search Console Help states that there may be a lag between the time the data are calculated and the time they are available to webmasters. Even though data is published at regular periods, Google is constantly collecting it. However, collected data should be available in 2-3 days in most cases.
Since the problem has not been officially acknowledged, it is difficult to say when it will be resolved. Google usually tweets through its official handle to notify site owners in cases like these. So to be honest, there is only one thing we can do. It is to be patient and wait.
A delay like this is not uncommon though. There have been several instances of Search Console reporting being delayed, in some cases even upto weeks.
UPDATE – September 23, 2021
Early evening of Sep 21, 2021, Google took to Twitter to inform site owners and webmasters around the globe to officially confirm the delay in their Search Performance report.
We're currently experiencing longer than usual delays in the Search Console performance report. This only affects reporting, not crawling, indexing, or ranking of websites. We'll update here once this issue is resolved. Thanks for your patience!

— Google Search Central (@googlesearchc) September 21, 2021
The tweet also clarified that the delay only affected reporting and not website crawling, indexing, or ranking. However, that is not all! A lot happened on the morning of Sept 22, 2021, when the Google Search Console displayed a 500 Server Error. Thankfully that was resolved in a couple of hours. One can now view their search console property in the search console but hold on; there's a catch.
In a follow-up tweet, Google mentioned that they are expecting the issue to take alteast another day to be resolved and that the delay only affects the information displayed in the performance reports, the API for the same along with the data available on Search Console Insights, Google Analytics / Data-Studio.
This delay affects the information shown in Search Console performance reports, the API for this data, Search Console Insights, and the same data in Google Analytics / Data-Studio. This doesn't affect crawling, indexing, or ranking of websites.

— Google Search Central (@googlesearchc) September 22, 2021
Yes, it's been over 119 hours and it's not over yet. For some the latest date now available on the Google Search Console is Sep 17, 2021.
We will update this article as soon as there is a development. Until then, let us know the latest date available for your search property down in the comments section below!
Popular Searches
SEO Company in US  |  SEO Services in US  |  Professional SEO Services  |  SEO Agency in US |  Google Penalty Recovery Services  |  SEO Consultants  |  Ecommerce SEO Services in US  |  SEO Audit Services |  Local SEO Services  |  PPC Services  |  App Store Optimization Services  |  Conversion Rate Optimization Services  |  Enterprise SEO Services  |  What is Organic Traffic  |  What is SEO  |  Types of Digital Marketing  |  What is YouTube SEO  |  Cloaking  |  What is PPC  |  Google Data Studio  |  Search Retargeting  |  Podcast SEO  |  Pogo Sticking in SEO  |  Googlebots  |  Orphan Pages  |  Ad Groups  |  What is Title Tag  |  Quality Score  |  Keyword Density in SEO  |  Youtube Keyword Research