Someone recently asked Google's Senior Webmaster Analyst, John Mueller on Twitter for information on Social Bookmarking sites. She said she was doing Social Bookmarking on a lot of websites and needed new ones. John Mueller was quick to point out that Social Bookmarking is obsolete and is completely ignored by search engines.
Here's the question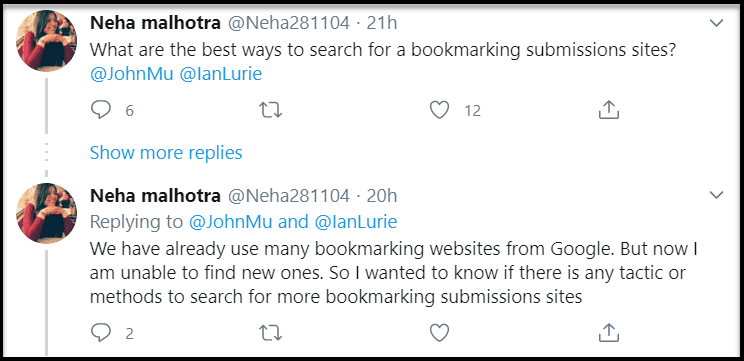 John Mueller responded to this saying
"When it comes to SEO, you don't need to use bookmarking sites. These links are ignored by search engines. Instead of spending time submitting URLs, I'd work on creating great content and finding useful ways to promote it to real users. Make something awesome & talk about it."

Digital Marketing expert Ian Lurie also responded to the question
"Not a good idea. These sites won't bring any meaningful authority. While Google says they don't penalize for unnatural link profiles anymore, I wouldn't want to test them, and bookmarking sites will definitely raise red flags."

Does Social Bookmarking Affect Rankings?
The question of whether social bookmarking can help or improve rankings has been the talk of the town for quite a while. John Mueller was also asked this question at one of the Google Hangouts sessions. Here's what he had to say:
"I don't think those pages would have any effect on your ranking because probably we're also ignoring those social bookmark sites, the links from there.

That's a really, really old SEO strategy and we have a lot of practice in recognizing those kinds of links and just ignoring them."
John Mueller quickly debunked the myths and claimed that obtaining links from Social Bookmarking sites would not affect whatsoever on rankings. Social Bookmarking is also referred to as a really old SEO strategy, and Google search engine algorithms have now evolved and do not consider these links.
Focus on Content and Find Ways to Promote it
With Social Bookmarking techniques out of the window, what are the other ways to promote your page and increase authority? John Mueller stated that focusing on creating great content that is meaningful to the user is the way to go. Create valuable content and share it across sites where users can benefit from it. Get people to share your content which will further improve social signals which will help your rankings.
Key Takeaways
Google is aware of all the inadequate backlinking efforts made by users and webmasters. Search engine algorithms can detect and completely ignore such scrappy links from bookmarking sites. As an SEO company, you should not align your strategy with Social Bookmarking but focus on quality content and other technical aspects of the website.
If you decide to post your links to other submission websites, make sure they have good authority and are beneficial to your users. It is also a good practice to check the Spam score of these domains. Let us know down in the comments whether your rankings have been affected by Social Bookmarking or you have already moved on from it.
Popular Searches
SEO Company in Australia  |  Internet Marketing Services  |  SEO Agency  |  SEO Services  |  Ecommerce SEO Firm  |  SEO Audit Services  |  Google Penalty Recovery Services  |  Local SEO Services  |  PPC Services  |  ASO Services  |  SEO Consultants  |  Link Building Services  |  Content Marketing Services  |  Conversion Rate Optimization Services  |  What is Digital Marketing  |  What is SEO  |  What is SEO Cloaking  |  Google Reverse Image Search  |  History of Google  |  Google Tag Manager  |