An SEO strategy is a process of organizing a website's content which helps search engines like Google to understand a user's intent while searching. Optimizing a web page around topics, then adding keywords within the topic, you can increase search engine rankings for long-tail keywords related to that topic.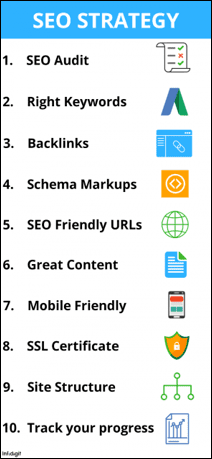 Elements for SEO Strategy to Beat Your Competition :
SEO Audit
Auditing the site is an important element in establishing your SEO strategies because it helps to establish a baseline understanding and easily identify where you have room for improvement. It can help you to understand:
Whether or not your website design is user-friendly, easy to navigate
If any issues are causing your site to load slowly
Links are functioning correctly and sending users to the correct destination site
Your performance in search engine result pages SERPs for your chosen keywords
If your site content is optimized to ensure better conversions
Site audit to be like a report card on your SEO strategy. You can improve in all areas where you are lacking. This way you can easily create SEO strategies that will set your business up for success.
Choose the Right Keywords
They are simply words and phrases that customers use to search for a service or product online. By working on such keywords into your SEO strategies and website content, you make it easier for the search engines to find your site. Use keywords tool to identify 5-10 long-tail keywords that dig deeper into the original topic keyword.
Important to choose keywords that your potential customers will be searching for
Keywords for your SEO strategies, they should be chosen based on Demand, Competition & Relevance
Choose keywords that have low competition and your potential customers will be searching for. Ensure a combination of local keywords, long-tail keywords, and short-tail keywords.
Backlinks
Clickable links that live on a website and points to another site is a backlink. A source that links to your website, it boosts authority and can have awesome effects on SERP rankings. Add links on your site and in your content, which points back to credible outside sources relevant to your content, benefits our SEO strategy.
Out to authoritative sites should be a part of your SEO strategy to create mutually beneficial backlinks.
Perform a site crawl regularly to ensure the website is completely free of broken links that might harm SEO rankings and reputation.
Use Schema Markups
The most powerful way to optimize your website for search engines is through schema markups. Schema Markup is a code installed on the website which allows search engines to find important information to customers through search results. This tells the search engine what information is the most important for customers to know and that information is displayed on the search results.
SEO friendly URLs
 There is a lot of information stored in URL, hence your URL should be easy to read. It should give the reader an idea of what content is expected on the page. Avoid strange characters and long strings of numbers as they don't serve any purpose to the reader. You can incorporate your target keywords into the URL which is a great SEO practice. The URL should be short and sweet with a length of 50-60 characters.
Great Content
SEO strategies are built on healthy content and fully optimized on-page SEO. Content is a powerful tool if your content is interesting, captivating and engaging. The content should provide values like:
Educating on a subject
Providing answers to the visitor
Helping with solutions to a problem
Providing information about services and products
Mobile-Friendly
Studies have proved that the number of smartphone users is expected to exceed 4.7 billion by 2020. Google has made algorithm changes to prioritize mobile-friendly search results. Your website should have the following SEO strategy:
Quick mobile response time
Text formatted to adjust to smaller screens
Avoid images that slow down the responsiveness of your site
Make your website responsive 
Since people are searching on their smartphones rather than a computer, it's important to have a mobile version for your website to reach the maximum amount of people's interests in your product. The pages must be optimized for mobile devices. The higher you are in the Google mobile page index, the more chances your page will rank.
SSL Certificate
Secure Socket Layer is a certificate that is a can't-miss step in any SEO strategy. It is an important step for any business that collects sensitive data online, such as passwords and credit card information.
Site Structure
Site structure determines if a search engine can understand what your site is about and what you are selling. This site structure allows google clues on where to find the most essential content. Google crawls the internal and external links to determine the relationship between the various pages.
Track your Progress
Follow the improvement of your search engine ranking for various keywords. See the increase and decrease in web traffic. Check how your web presence measures up against the competition. Identify types of content are performing best so that you can continue to develop that content strategy.
Google processes information based on how search users behave and are getting more accurate. This means that each year new trends appear which change the way information is shown on the internet. This ensures that users get relevant answers in minutes. 
Popular Searches
SEO Company in India  |  SEO Agency  |  SEO Company in Mumbai  |  Digital Marketing Services  |  SEO Services  |  Ecommerce SEO Services  |  SEO Audit Services  |  Local SEO Services  |  PPC Services  |  ASO Services  |  What is SEO  |  What is Digital Marketing  |  Canonical Tags  |  Website Navigation  |  Google Business Listing  |  Image Optimization  |  What is a Progressive Web App  |  What is Featured Snippet  |  Google Reverse Image Search  |  History of Google