Twitter is in the process of trying to launch a brand-new feature wherein it will enable its users to tweet with the help of recorded voice clips.
This feature will be an additional mode of communication to the users, along with the already existing features like photos, videos, GIFs, texts, etc. 
"Over the years, photos, videos, gifs, and extra characters have allowed you to add your own flair and personality to your conversations. But sometimes 280 characters aren't enough and some conversational nuances are lost in translation.

So starting today, we're testing a new feature that will add a more human touch to the way we use Twitter – your very own voice."
Initially, this particular feature will be accessible to an exclusive number of people on Twitter, especially for iOS users. In a matter of time, all iOS users will be able to use this new variant of tweets.
But on the other hand, all other users can see these voice tweets in their feed and listen to them irrespective of whether they are on iOS, Android, or desktop.
Composing a Voice Tweet
Voice tweet is easy and simple to compose, just like the regular tweets on the platform.
Begin with opening the tweet composer and go to the new voice icon. The icon looks like audio wavelengths.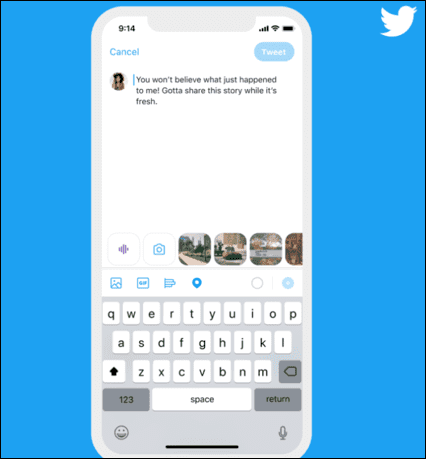 Now click the voice icon button, you will see the profile photo appearing on the screen along with a record button. Click on the record button & start recording the voice tweet you want to post.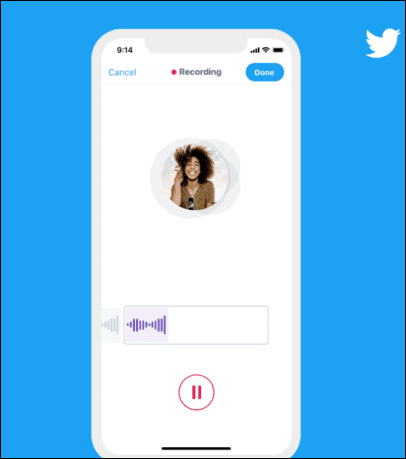 Voice tweets have a limitation of recording audio with a duration of only 140 seconds. If you are keen on recording a longer voice tweet, then continue talking, and this feature will post your additional audio as a series of multiple tweets.
Once these voice tweets are published, it will be visible to all your followers in their feeds along with other tweets.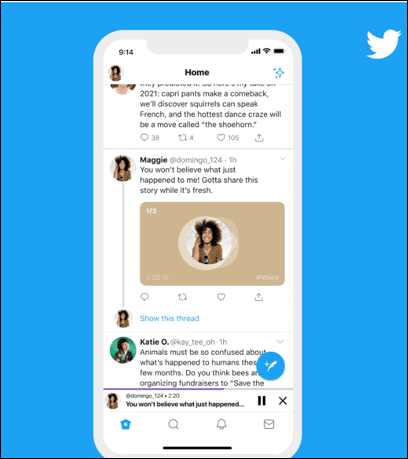 To hear this kind of tweet, you just have to click on the image which displays the user's profile picture.
Tweets will start in a new tab that will move to the bottom of the screen so that the users can hear the voice tweets and simultaneously can browse through their feed without any hindrance.
"There's a lot that can be left unsaid or uninterpreted using text, so we hope voice Tweeting will create a more human experience for listeners and storytellers alike.

Whether it's #storytime about your encounter with wild geese in your neighborhood, a journalist sharing breaking news or a first-hand account from a protest, we hope voice Tweeting gives you the ability to share your perspectives quickly and easily with your voice."
As far as voice tweets are concerned, these are the important things to note. 
However, there is some additional information that is worth taking notice or keeping a tab about.
More Notes on Voice Tweets
Voice tweets are currently available only for original tweets.
In the beginning phase, voice tweets will be restricted only to the original tweets.
Which in simple terms, refers to the fact that you are not enabled with the provision of recording a voice tweet and publishing it as a reply or retweet with a comment. 
At this stage of development, it is debatable whether this will change in the future or not. This kind of restriction of not permitting voice replies may land Twitter on losing out on an exciting opportunity to maximize its user engagement. 
On the contrary, allowing voice tweets to reply or retweet with a comment may open up a Pandora of abuses and other kinds of aggravation. This kind of engagement may not prove helpful in the long run. Hence, it is good that Twitter has kept the restriction on the use of this feature only to be used as original tweets. 
Popular Searches
Best SEO Company in India  |  Top SEO Company in Bangalore  |  Top SEO Company in Delhi  |  SEO Company in Mumbai  |  SEO Agency in Mumbai  |  SEO Consultants  |  Best Digital Marketing Services  |  Ecommerce SEO Agency  |  SEO Audit India  |  Google Penalty Recovery Services in India  |  Local SEO Company  |  PPC Company in India  |  App Store Optimization Services  |  Conversion Rate Optimization Agency  |  Link Building Services  |  Content Marketing Agency  |  What is Search Engine Optimization  |  On Page SEO Techniques  |  Google Ranking Factors  |  Digital Marketing Guide