In today's world, the COVID-19 pandemic has made everyone's life hell, especially companies, advertisers and products. They are always trying their best to stay connected with their consumers despite the distance between them.
In these trying times, Google has come up with a new feature that matches the requirements of advertisers who are waiting for a new way that is different from the previous ad formats.
This feature will help users to get access to external products and make purchase decisions instead of making them visit a store. Also, it will have a new ad unit on YouTube which will help in taking advantage of the Livestream boom.
Minor changes have been introduced on platforms which can further attract users, like Shoppable Pins and the highly viewed Launch of Shop on social media like Google and Instagram. Google's new feature aims at the overall ad experience and tries to lessen the break between the consumer, the screen and the actual product they are viewing.
Due to the tremendous increase in online consumption this year, this feature will also provide support and tools for YouTube creators.
New Live Stream Display Format 
Live-streaming has gone upto commendable heights as people are shying away from significant events. A lot of the content creators are on the lookout of ways to reuse that content so that it doesn't just disappear into thin air once the streaming is over.
Google has stated that now YouTube live stream content can be viewed as display ads. Users can now connect with the video, see a preview and use all the various kinds of usual functionality that existed earlier too.
Immersive Display Brings Realism
Google has also introduced a new format called Swirl. It is a 3D format designed primarily to work on mobile web, and the primary focus would be to help consumers connect with the product they view on the screen.
The consumer's experience will be enhanced multifold as they can quickly try functions like a rotate, zoom in, zoom out and connect with the product just the way they would feel in a live environment.
Brands will have the option to build a Swirl ad unit in their Google Web Designer tool.
Google is introducing an additional new editor to its existing 3D editing platform called Poly, which will enable the user to generate the actual 3D interactivity portion.
Video
As of now, Swirl ads are in the beta testing stage, but if brands are interested, then they can approach Google rep to grant permission so that they can test it for themselves.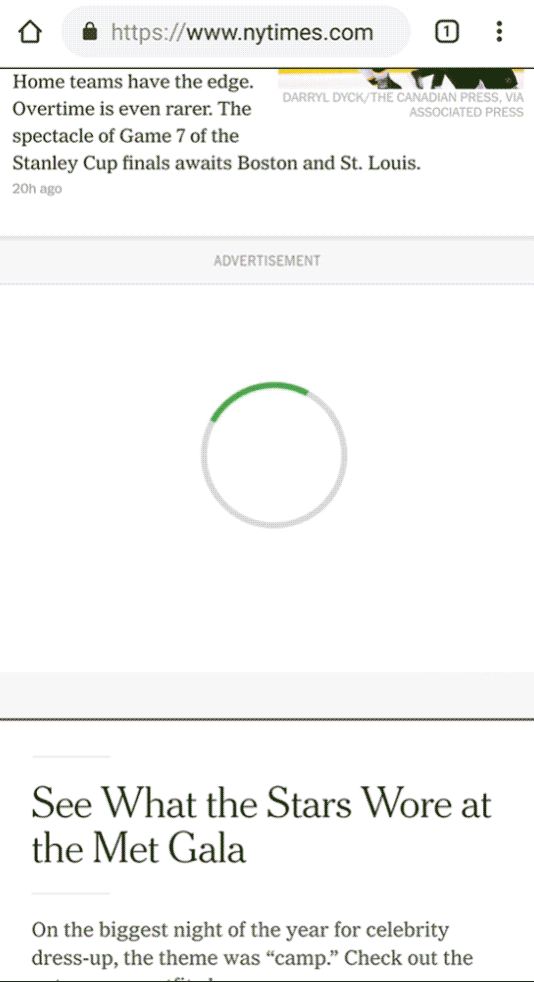 Image Source: Google
Both these features are launched immediately following Google's recent foray into the AR (augmented reality) named AR Beauty Try-On, which was launched a month ago.
Augmented Reality Try-On
With no one being in a hurry to check out the makeup counters in the near future, the opportunity to test the colours before purchasing has just vanished. Thus, YouTube is trying to come to the rescue of the beauty industry and its many trendsetters with the help of this platform.
This new video feature helps the consumers to check out the product colours of their liking as they are watching a YouTube creator video.
Take a look at the below lipstick tutorial example wherein the user appears at the bottom and also has a tab with the colour options of the product available :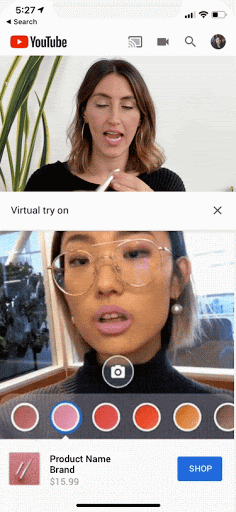 Image Source: Google
Google commented
"Using this new format, brands like MAC will be able to tap into YouTube's vibrant creator community, deploy influencer campaigns to YouTube's 2 billion monthly active users, and measure their results in real time."
Google's statement regarding Swirl ads can be checked here, and their Beauty Try-On details can be checked here.
Popular Searches
SEO Company  |  SEO Agency in India  |  Best SEO Company in Mumbai  |  Digital Marketing Services in India  |  SEO Services in India  |  Ecommerce SEO Company  |  Website Audit Services  |  Local SEO Services in India  |  PPC Services in India  |  ASO Services in India  |  SEO Guide  |  Types of Digital Marketing  |  Canonicalization  |  Website Navigation  |  Google Business Listing  |  What is Image Optimization  |  Importance of Digital Marketing  |  How to Optimize for Featured Snippets  |  What is Schema Markup  |  Reverse Image Search Google