Robert Cialdini identified six principles of persuasion in his book "Influence: The Psychology of Persuasion". These six principles included – Reciprocation, Scarcity, Authority, Consistency, Consensus, and Friendship. 
If you look closely, these principles are the right fit for marketing too. There is at least one principle at play in any piece of content you engage with. 
All these principles come together to reinforce the social proof we seek in the age of social networks like Facebook, Twitter, and Instagram. This social proof can be employed as an SEO technique we know as 'brand mentions'.
Brand mentions can be a robust strategy to skyrocket your visibility and SERP rankings on Google. This article takes a deep dive into what brand mention is and how to achieve brand mentions for your business or company.  
What is a Brand Mention?
A brand mention is an 'implied link' or a 'citation' on another website that tells readers about your site without actually linking to it. What does this arrangement entail? 
This implied link informs people about the existence of such a website and why it may be worth a try to visit it. When aware, people manually search the website and visit it, adding to the organic traffic on the website. 
These mentions of a website in the form of a link are countable as a link in Google rankings. 
Brand mentions are also a part of the off-page SEO strategy for any website, as the Google algorithm considers brand mentions as one of the many parameters to assess whether the website is worthy of showing up on SERPs. 
A brand mention may also be defined as a search query that uses a brand name, better known as a Brand Search query. Branded search queries contain the reference to a website along with the query. Thus, Brand Mentions target the specific audience to whom the query belongs.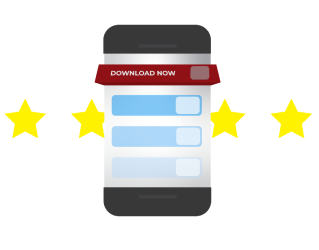 Do you want to boost your mobile app performance?
Optimise your mobile app with our award-winning ASO strategies that will lead to higher rankings & installs on Play Store & App Store.
Do you want to boost your
mobile app performance?
Optimise your mobile app with our award-winning ASO strategies that will lead to higher rankings & installs on Play Store & App Store.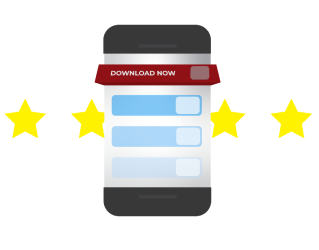 How does the Concept of Brand Mentions Originate? 
The concept of Brand Mentions did not surface until 2012 when a patent called Ranking Search Results was published by Google. The patent, being a legal document, was several pages long and full of industry jargon that one wouldn't be able to process in the first read. But deep within the pages, there was a mention of an 'implied link.' 
Now, this was a new term being used as a type of link but different from the traditional hyperlink, also called the express link. The phrase 'implied link' occurred a couple of times in the para that said:
"A link for a group of resources is an incoming link to a resource in the group, i.e., a link having a resource in the group as its target. Links for the group can include express links, implied links, or both. An express link, e.g., a hyperlink, is a link that is included in a source resource that a user can follow to navigate to a target resource. An implied link is a reference to a target resource, e.g., a citation to the target resource, which is included in a source resource but is not an express link to the target resource. Thus, a resource in the group can be the target of an implied link without a user being able to navigate to the resource by following the implied link."
The implied link, as Google's patent document explains, is a citation or a reference to the source that is actually not a link. We can safely assume that a brand mention perfectly fits this definition as it is not a direct link but still an implied reference that readers may take note of and research if they so wish to. 
People Also Read: Customer Retention Techniques
How Do Brand Mentions Help With Rankings? 
Brand mentions form a significant part of the link-building activity for any website, as per Google. Search engines may not be able to differentiate between a website with unnatural links with zero organic reach or a popular website with no unnatural links. Google uses implied links or brand mentions as social proof. 
As humans, we also tend to base our decisions to some extent on those around us. An example of this could be a viral video that experiences the domino effect when people share and reshare content. For a brand to gather that social proof, it needs to gather brand mentions on other websites and become known among its audience such that they organically discover it. 
What makes Google even interested in implied links? 
Implied links matter to Google. First, Google considers implied links or brand mentions as a part of the links. And second, they implicitly assist in the link-building exercise for any brand.  
No successful website has ranked without a good backlink strategy. However, there are marketers that have attempted to manipulate search engines by using what is referred to as link schemes. These link schemes help to unnaturally increase the SEO score of the site and boost its ranking on SERPs. 
These link schemes may include paid sponsor links, link exchanges, private blog networks, etc. SEO techniques such as Black Hat SEO and automated programs creating links to your site are other examples of link schemes. 
Brand mentions or implied links will be crucial to differentiate high-ranking sites with unnatural links from those that rank higher because of their quality content and have almost no unnatural links. 
Google lays importance on social proof and wants only the organically popular websites to rank on SERPs. This makes brand mentions the organic proofs Google seeks to enhance your SEO. 
Searching for sources of brand mentions 
Brand mentions can be the talking point for the people of the internet and the initiation of your branding program. Remember that where marketing ends, branding begins. As a business operating in the online space, making your presence visible online gives your brand a recall value.    
Brand mentions are also social mentions that establish your business as a brand name among your target audience. 88% of people look for opinions when they want to make purchases online.  
Brand mentions create social proof and spread the word about your brand and business. For Google, brand mentions are the implied links it would be considering while placing your website in the SERPs. 
Brand mentions are super easy to get. However, it is pertinent to take note of where your brand mentions are coming from. Many tools are available to check the places where your brand is being mentioned. You can use two or more tools to gather insights into the whereabouts of your brand. 
Google Alerts
Google Alerts is the most obvious answer when you are seeking a resource for tracking any sort of mentions on the web, as 98% of the online activity takes place on Google. Google Alerts is also apt to track brand mentions.
Despite being one of the oldest tools out there, Google Alerts is still one of the best alert tools for the simplicity of use it offers. It is free for all users and may not be a great tool if you want detailed results, but the price point gives it the winning title among the rest. 
If you want to set up an alert, all you need to do is to go to https://google.com/alerts, enter a keyword or key phrase you want to create an alert for, and watch the magic unfold. 
The keyword will be your brand name this time. Before finalizing, click on the 'Show Options' text to modify how often you want to get the alerts, from where you want to get them, etc. Once you are done with the settings, click on 'Create Alert.'
You are all sorted to start receiving alerts whenever there is mention of your brand. You can also set multiple alerts if you want to track product mentions rather than brand mentions. 
SocialMention.com
Another free option is SocialMention.com – a search engine specifically meant for tracking brand mentions. This tool gives you the option to narrow down your search to a specific type of channel. 
It is a 100% free channel and extremely useful for brands that are on a tight budget. Suppose you want to search for the brand 'Infidigit', simply type the name in the search bar, choose the channel, or simply click on 'All' and click on 'Search.'  
The tool will present all the brand mentions for 'Infidigit' in chronological order, beginning with the most recent ones. But you can sort the results by source, date, and time period. 
Whichever link that you find appealing, click on the title tag to visit the site. The sidebar of SocialMenrions.com has many useful metrics like top keywords, hashtags, and product sentiments. The sidebar also has a list of sources of the mentions.  
For example, if you find that you are receiving maximum mentions from Reddit communities, you could use this information to align your SEO marketing efforts and share posts on Reddit or market your brand using paid ads there.  
Mention
This is another brand-mention search tool. It is more like a detailed version of Google Alerts and presents graphical results to help you know how your brand is performing online. 
Influencer scores are a great feature of this tool. These scores give great insights into the impact that the influencer is having on your brand when they mention your brand. 
You can even reply to mentions within the interface of the website itself and continue with the rest of the search journey. 
How to get mentions 
Since brand mentions are implied links, they can boost your SEO scores. Brand mentions are also a part of best practices that businesses should follow while trying to make their brand visible to their target audience. 
Once you know where your brand can get mentioned, you need to work towards getting mentions on these sources. Some ways you can build brand mentions for your company include:
Guest Blogging:

This is a very versatile and useful way to get brand mentions. It can also be a perfect setup to allow new audiences to discover your brand. The first and obvious step is to zero in on the sites to guest post. These could be general authority sites like Forbes, BusinessInsider, etc., or industry-specific sites. 
For this, go to Undersuggest, type your primary keyword, and Click on 'Content Ideas.' You will be presented with a list of high-performing pages related to the keyword. Shortlist 25-50 websites that may accept the type of content you want to post.  
Visit each website and note the guidelines and rules that you need to follow while pitching and submitting your content as a guest post. Move to the creation part now – build a strong, authoritative piece for the blog so that it readily gets accepted. 
Promote your post on social media, email, and other channels. By doing so, you will be opening avenues for more brand mentions. 
Social Campaigns

:  A working social campaign can create massive buzz for your brand. This technique can be a bit difficult to adopt but is the most rewarding, given that it may get you brand mentions outside social sites too.  
Use Google Analytics to study the demographics and psychographics of the people interacting with your brand. You can also use the in-built tools social media platforms provide. For instance, Facebook has Power Editor. 
Once you get an in-depth understanding of who your audience is, you can create a campaign and leverage their interests. A campaign with clear objectives directed towards the right platform can help you achieve the recognition your brand has been seeking.  
Customer Service

: This is a less talked about but very useful way to get people talking about you. You may use chatbots or automate your customer service process, but you must not let your customers slip through at any cost. 
Support and guide the customers through their journey, and they won't stop raving about your brand in their reviews. Though this is a simple tactic, both support and remedial measures can go a long way in building a positive image for your brand. 
Conclusion
While implied links may be the future of backlinking strategy, expressed links aren't going away anytime soon. Try to convert your brand mentions into backlinks to amp up your SEO game. You could use any of the above-mentioned tools to reach out to the sources and request them to link the brand's mention to their website. 
Brand mention is a simple yet rewarding strategy that anyone can use to build their SEO score and online visibility steadily over a period of time. 
Popular Searches:
Digital Marketing Overview | What is 301 Redirect | Tracking Keyword | Google Reverse Image Search Mobile | Best SEO | Google Bert Update | Link Spam | SEO Competitor Analysis | Structured Data Markup | How Google Ads Work | Bert Algorithm | Google Rich Snippets | Google XML Sitemaps | What is Sitemap in SEO | Advantage of SEO | What is Local SEO | Duplicate Content | Mobile First Index | Youtube Video SEO | Social Media SEO | Enterprise SEO Strategy | What is Breadcrumb | Referral Traffic | What is Google Data Studio | Voice Search Optimization | SEO Tips And Tricks | Top SEO Tools | Broken Link Building | Long Tail Keywords Examples | Internal Links SEO