Whenever you hear the word "silo" it will always remind you of the tall tower that is made to store food grains. If you are in the content marketing industry, you might have heard this term a lot and wondered how even a silo can be used in content marketing. In this blog article, we will explore different ways to implement Content silos and how to structure your content and improve your on-page experience with the help of content silos.
What do you mean by content Silos?
A content silo is a website structure that helps to collate or organize content within a structured format in accordance with keywords. In simple words, when you start a content silo structure, you are basically collating relevant content in different categories in a structured way.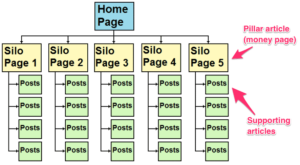 The idea of creating content silos is to give visitors, users, or robots a better, unique structure for the flow of information and to enhance the overall website's performance and SEO by implementing keyword themes.
A silo structure for content is more efficient for both users and search engines. This helps them easily find out about or navigate within the website with related topics and information. This will help to enhance efficiency and organize information or data according to relevant categories or keywords.
How important is Content Silos in SEO?
Content Silos in SEO are the most important because they guide users and robots to understand the overall content of your website. They wanted to know what it is all about, how it is structured, and where it is located. 
This will not only aid in improving your SEO tactics but also enhance their practicality. For instance, some websites may look like they are covering multiple topics with irrelevant content or mismatched topics, which is a perfect example of a disjointed group of content.
A well-maintained website's content is also helpful to drive traffic and enhance website engagement with the help of content silos over time. 
Reasons, why content silos are important in SEO, are that the robots or search engines give more importance to keyword relevancy on a web page as well as on a website. In other words, if I want to rank for a search term called lehenga, then I should not include this keyword in a single page of content but rather create a different set of pages covering topics related to the keyword lehenga. This type of topical content will definitely help boost the overall authority of a page or website.
A Step-by-step guide to implementing Content Silos on a website
To create a successful content silo structure, it is important to understand your website goals and objectives and, according to those, map or categorize your related content topics. With proper planning and execution of information, you can create content silos that help your website meet its goals and objectives. 
Planned Constructive Content:
A pre-planned strong, and relevant content ideation plan will help you resolve questions like, Who will be creating the content structure? What sort of content structure are you going to create? When and how often will you create new content? How will you distribute the content? On what parameters will you count your content's success?
A reliable and connected content structure will not only help you save time but also help you achieve your goals. One of the most important aspects of planned, constructive content creation is that it aids you avoid duplication in the content. And again, when you are all set to create content, you can further begin with the production strategy and assign the control of creating and maintaining content for the same.
Convenient Keyword Research:
Before stepping into content writing, the first step is to do proper keyword research. Keyword research enables you to identify different topics that can be included on the website in a categorized format. Additionally, keyword research is considered an important aspect of content strategy or writing. If keyword research is implemented correctly, it will further aid you in identifying various keyword intents like informational, transactional, commercial,etc. Also, at the end, it helps you identify your target audience and the search volume of your keywords.
While doing keyword research, it is essential to take an overall holistic approach to determining and analyzing the type of keywords. You need to identify not only single keywords but also multi phrases or silos that mirror your related topics. By focusing more on silos than individual or single keywords, you can rank higher in the SERP by covering other related topics or keywords. Effective keyword research will enable you to drive more organic traffic and help you convert users into potential customers.
Implement Virtual and Physical Silos:
Content silos consist of two types – Virtual silos and Physical silos. 
Virtual Content Silos – Virtual content silos are constructed via internal linking within your website through topic related or relevant pages. 
Physical Content Silos – Physical content silos are created by grouping multiple topic related pages using physical locations. For instance, a blog subdomain or a different website
Above, both silos can be used to create content silos, and both have their positive and negative aspects with respect to content creation. Creating content silos without including virtual and physical silos will provide no value in terms of SEO. 
Unique and quality content are the major key factors for higher visibility in the SERPs. Including a blog section on your website will definitely help you optimize huge amounts of content with ease. The inclusion of blogs in your niche will obviously help drive more traffic, but this will only be possible if the crawlers are crawling your website on a regular basis. At the end, it will be beneficial to attract more visitors, users, and potential customers to the website.
And also, it is important to internal link your blog pages with other website pages because it will be no use creating silos, whether virtual or physical. Furthermore, it will not only affect your crawl rate but also the number of users visiting your website.
Improving Internal Linking:
For search engine crawlers, visitors, and users, the most important way to navigate within the website is through internal linking. Internal linking is another way to lead the robots to identify important linked pages by providing proper anchor text and links that take them to relevant topic pages. To maximize your content silos tactics, you must undertake accurate internal linking opportunities.
Have you wondered how you would internally link your other topic-related pages? It is really easy; you just need to internally link all the topic-related pages within a silo to another silo. You should not internally link another silo topic to your current silo. The best practice is to include only one page outside your silo, which is the homepage. As per the experts, if you link outside your silo, you might baffle the search engine crawlers.
Errors while implementing Content Silos on a Website And How to Avoid them?
A content silo structure defines the overall content architecture of your website. If the content silo is carried out properly, it can be very effective in generating traffic and overall search engine rankings. Here we will explore how errors take place while carrying out or implementing content silos on your website
Some people might create or make numerous content silos, which further leads to confusion and might make the website or blog feel disintegrated. And another reason could be that the content is not so large that one can create content silos.
Keyword stuffing is one of the mistakes that happen when writing content, and incorporating too many keywords into the content leads to hurting the page rankings. 
Cross-Linking Opportunities:
Cross-linking opportunities are where most internal linking opportunities fail to integrate other topic-related content. This will discourage readers from discovering new pages with related content. And also ends up with the search engine indexing the content.
The best practice to avoid content silos is to have a clear picture of a piece of content. Think wisely while creating a single content silo. You should be aware of the content silo's goal. Goals include the amount of content, relevant keywords to target, and preparing a coordinated structure that engages readers, allowing them to further explore other related topics. By focusing more on cross-linking between the topic-related silos, one can avoid common errors that take place while conducting content silos.
Conclusion:
Content silos that are done perfectly will definitely help a website rank higher and be more visible to the crawlers and to the target audience. The content silo is an integral part of the on-page activity. Since you are now well-versed in the content silos and their uses in general, you can put what you have learned into practice.
Popular searches
Google Web Stories | Slug | Outbound Links | Toxic Links | Technical SEO Tools |Guest Blogging | What is ROAS | Mobile Marketing | Google Tag Manager | SEO Periodic Table | Bot Traffic | 404 and Soft 404 Errors | SEO tips for Online Grocery Stores | Google Bert Update | Robot.TXT and Meta Robot Tags | 301 Redirects | Mobile First Indexing | Podcast SEO | W3C Validation | Link Building Tools | Local Citation | Google Multisearch | How to Deal with Plagiarized Content | Increase Youtube Views | SEO Job Interviews Questions Answers | What are the Types of Digital Marketing | What is Search Engine Optimization | What is Canonical Tags | On Page Optimization Techniques | Types of Off Page | Link Building Services | What is Image Optimization in SEO | Boston SEO | SEO Company Dallas | Houston SEO Services