The advent of smartphones and personal computers has fundamentally altered our way of searching for information about products and trends online. Most of our daily choices are often influenced by the information present on Google searches, or Facebook news feeds. 
According to a 2017 survey, an average person usually spends nearly five years and four months of their life browsing social media platforms like Facebook or Instagram. Such increased online traffic creates dynamic opportunities for companies to advertise their products. The question of Facebook ads vs Google ads is vital for companies wanting to increase their revenue, and this article seeks to answer that.
Google Ads
This is Google's online advertising program that allows advertisers to bid on specific keywords where their clickable ads shall appear on Google's SERPs. It is the world's largest cost-per-click (CPC) advertising platform and ensures higher conversion rates for companies. An advertiser is expected to pay for every click on an ad. The usual cost per click is about 2 dollars on the search network. It is a little over half a dollar on the display network.
Facebook Ads
It is a pioneer in the field of "paid social" or advertising on social media. Facebook has the highest number of monthly users, and Facebook ads provide a lucrative opportunity for businesses to reach diverse audiences. It helps advertisers target users with self-serve tools and offers reports that track each ad's performance.
Now that you are aware of both platforms, let us take a detailed look at who comes out a winner between Facebook ads vs Google ads.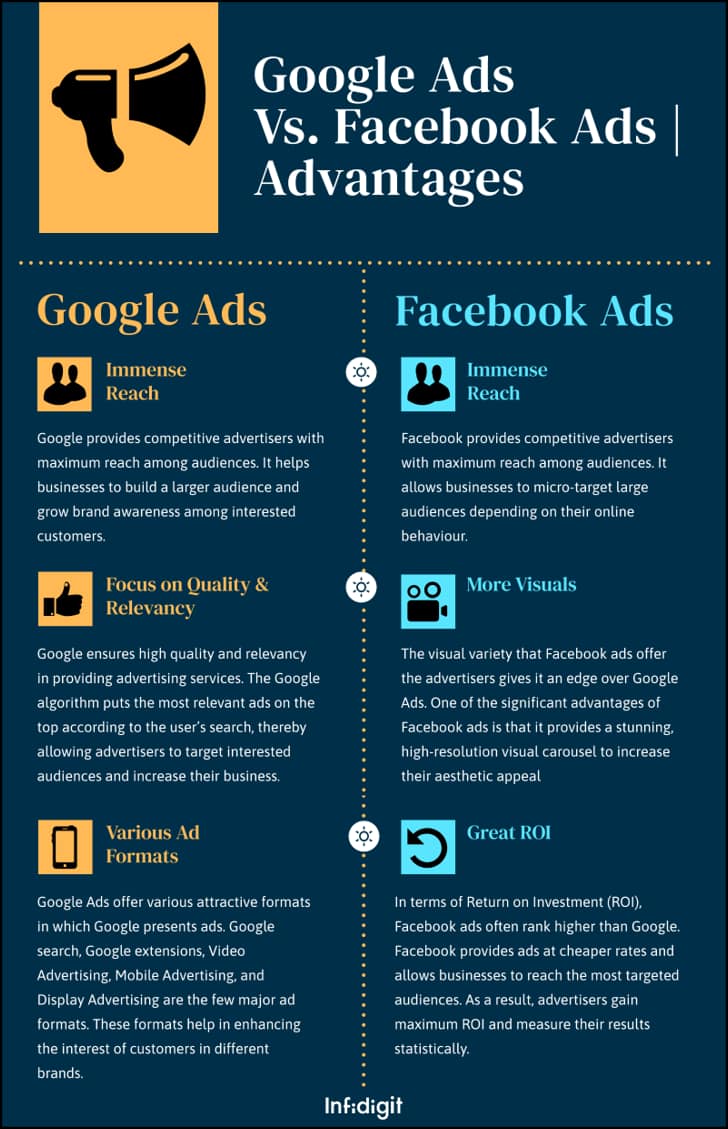 Advantages of Google Ads
Google provides competitive advertisers with maximum reach among audiences. This is one of the primary advantages of Google ads that allow users to put ads at the top of search engine results pages (SERPs) for selected keywords. It helps businesses to build a larger audience and grow brand awareness among interested customers. 
Focus on Quality and Relevancy
The major difference between Google ads and Facebook ads lies in the fact that Google ensures high quality and relevancy in providing advertising services. The Google algorithm puts the most relevant ads on the top according to the user's search, thereby allowing advertisers to target interested audiences and increase their business.
While thinking about whether to avail Google ads or Facebook ads, businesses must consider the various attractive formats in which Google presents ads. Google search, Google extensions, Video Advertising, Mobile Advertising, and Display Advertising are the few major ad formats. These formats help in enhancing the interest of customers about different brands.
Advantages of Facebook Ads
While considering the Facebook ads vs Google ads debate, one must remember that Facebook also provides competitive advertisers with maximum reach among audiences. It is the world's most popular social media platform and allows businesses to micro-target large audiences depending on their online behaviour. 
The visual variety that Facebook ads offer to the advertisers gives it an edge over the search engine giant in the Facebook ads vs Google ads race. Visual marketing is a strategy widely used by companies to improve their businesses. One of the major advantages of Facebook ads is that it provides a stunning, high-resolution visual carousel to increase their aesthetic appeal.
In terms of Return on Investment (ROI), Facebook ads often rank higher than Google, if we consider the Facebook ads vs Google ads debate. Facebook provides ads at cheaper rates and allows businesses to reach the most targeted audiences. Advertisers gain maximum ROI and can measure their results statistically.
Depending on businesses' needs, one must choose between Facebook ads and Google ads. The information given above should help make an informed decision.
Popular Searches
Best SEO Company  |  Digital Marketing Services  |  Best SEO Services Company  |  Ecommerce SEO Agency  |  Website Audit Services  |  Google Penalty Removal Service  |  Local Search Engine Optimization Services  |  PPC Company Australia  |  App Store Optimisation Services  |  Content Creation Agency  |  SEO Agency Australia  |  Sydney SEO Services  |  Technical SEO Consultant  |  SEO Services in Melbourne  |  SEO Consultant Perth  |  SEO Consultant Brisbane  |  What is Digital Marketing  |  Importance of Digital Marketing  |  What is Cloaking  |  What is YouTube SEO