According to Google, 46% of all search queries are based on local search intent. This is why it is putting in a lot of effort to ensure that its users are provided with search results that are relevant to their location. 
In November, Google confirmed that it was working on rolling out a local search update to provide better results to user's queries. This update is based on neural matching; whenever a user inputs a particular query, the concept behind the search is identified and based on that, results are generated.
Danny Sullivan, co-founder of Search Engine Land, has called neural matching a "super-synonym system."
Local Search Update Confirmation
:
The update was announced by Google Search Liaison on Twitter on Dec 2, 2019, at 12:10 PM ET Monday: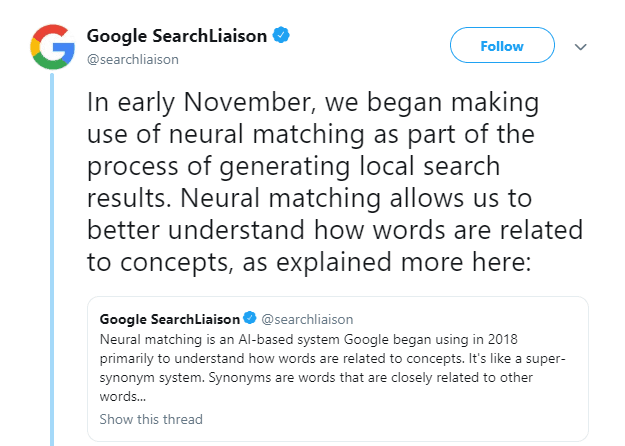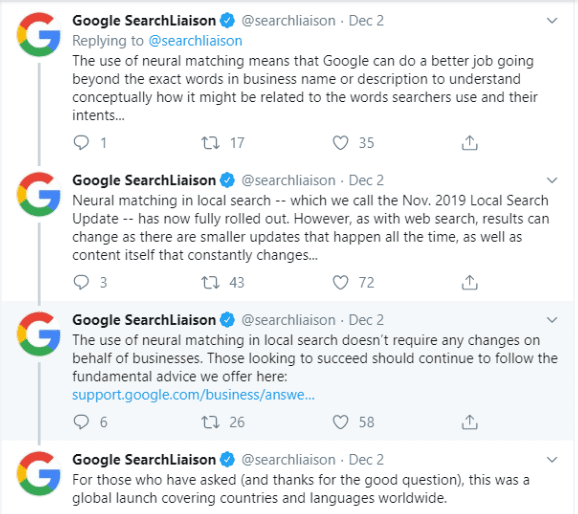 Neural networking helps Google in identifying the exact needs of the user by understanding the local search intent. They can match local businesses to search queries even when information about the local businesses, such as their name and description, does not match the search keywords completely. 
Local businesses do not require any specific changes to be made with respect to the algorithm update. SEOs must simply follow the basic guidelines that Google has published long ago for ranking local businesses.
Google also mentioned that they have been using neural network-based matching since 2018 to identify user intent. It is somewhat similar to Rankbrain and BERT algorithm updates; only the functioning differs.
Google said that this update was a global release covering all languages worldwide so that the impact can be witnessed not only in the US but in all countries around the globe.
Conclusion:
We do not have any clear evidence regarding the impact of this update on local businesses, although chances are that many companies which weren't ranking earlier may rank now based on relevance to search query.
In the end, Google's advice remains the same, the location of the business and how relevant the user's search query is with respect to the business is the key to good Local SEO.
Popular Searches
SEO Company in Mumbai | SEO Services | SEO Audit Services in India | What is PPC | What is Off Page SEO | External Linking | Types of Digital Marketing | Black Hat SEO | H1 Tags are Useful But Not Critical | New Link Attributes |