Google is well-known for rewarding 'good' sites and penalising 'the not-so-good' ones. In order to advance in its objective, the Google Panda algorithm was launched in 2011. The algorithm addresses sites that use bad SEO methods to manipulate search engine results and rankings. If you are new to SEO, here is everything you need to know about this algorithm: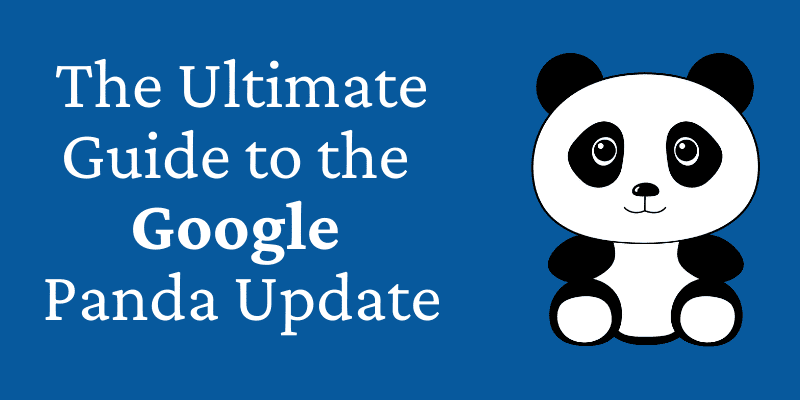 Google Panda Algorithm
Panda algorithm was one of the significant Google's algorithm updates launched on February 23, 2011. The primary purpose of this algorithm was to penalize the websites with low-quality content, duplicate content, thin content, low-quality user-generated content, content mismatching search query, high ad-to-content ratio, and many more. 
This algorithm at its initial release was called 'Farmer' update. Since it mainly focused on the content area of the website. For eg., any website that steals information and creates identical pieces of content. According to Google, Panda's algorithm update affected 12% of the English search queries.
Launch of Panda Algorithm
In 2009, Google released the "Caffeine Algorithm Update," which had the capability to index fresh and updated content expeditiously. However, even a not-so-good content present on the website was indexed and ranked. By the end of 2009, two major firms in the USA' Demand Media' & 'Answers.com' released 7000 content pieces per day. The company had a straightforward logic behind it which was to create a bunch of niches, make it viral via social media, and earn money through ads.
Whereas, Demand Media, however, turned out to be bright in tricking Google's ecosystem. It made an indenture with many freelancers to produce low-quality content on the topics mostly driven by Google. Due to Google's Caffeine algorithm, Demand's content ranks higher on SERP now.
And With all these headlines, undoubtedly, Google retaliates by launching the Panda algorithm.
Also Read :
A Timeline of Google Panda Update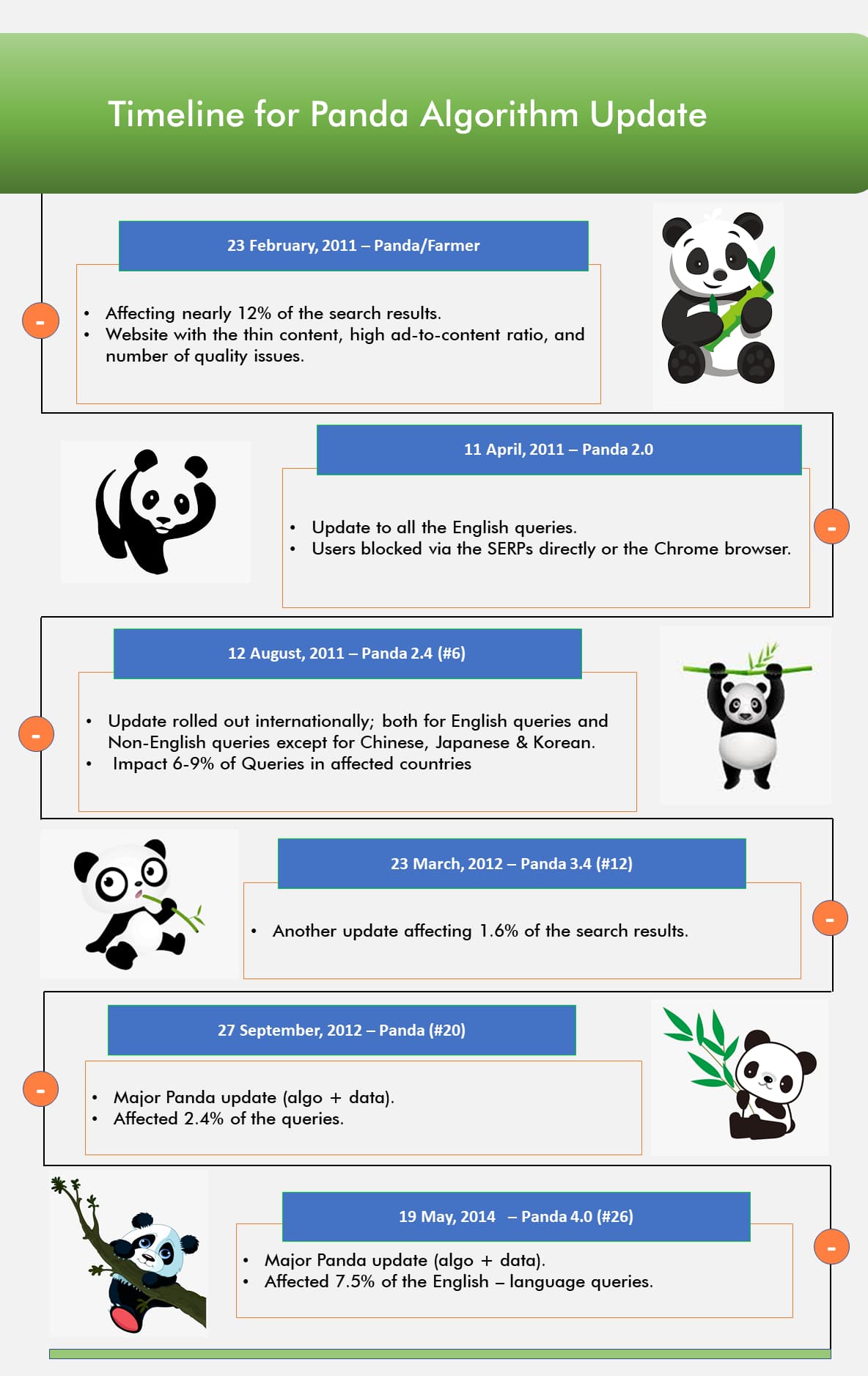 Things that trigger the phenomenon of Google's Panda Update
A website with thin content usually refers to the low amount of content and week pages with very little or irrelevant presence of content. The website with 'n' number of pages containing just 2-3 lines of description usually gets hit by Panda algorithm update, due to the presence of low quality of content. Content with keyword stuffing is not considered very good by Google.
Duplicate content is the content that is present at more than one site or pages. this duplication issue with the content can rise on your website as well. Panda searches for unique information. For example: Suppose a website has a large number of pages for real estate and each page has identical content with just the city name swapped. This is considered duplicate as per Google's Panda Algorithm Update. It is like one buys houses in Mumbai; Delhi; Bangalore and so on,
Google has specified several times that they appreciate the content with good quality, Hence, every content whether it is generated by a machine or a user should be relevant, to avoid Panda hits. Also, written content must be expressed adequately.
Lack of Trustworthy Content
Websites need to be trustworthy in terms of delivery. For example: Suppose a website mentions a coupon/cash to be given to the user after the games. However once done, the website asks for more formalities, and ultimately, the user doesn't get any money. This might lead users to disappointment.
Pages on the website with very little content and more ads i.e. paid to advertise. 
You may have noticed many websites that target nearly every niche. The main objective of such a website is to increase traffic for all prevalent searches. Such a webpage tends to lack authority. The Google Panda algorithm is used in an attempt to lower its ranking and provide value to users.
Low-quality content with affiliate links
You may run a website, but you participate in numerous affiliate programmes to earn extra money from it. You may also be promoting paid affiliate programmes on your website. Such elements are a symbol of a poor website, and Google Panda deals with them by lowering its position on the search engines.
Is your website irrelevant? Are you reaching out to prospects with direct sales materials, irrelevant content, or emailers? There is a good chance that users will block your site. They use a Chrome browser extension to ban your website. They may even directly block it on search engine results. The  Panda algorithm in SEO deals with such sites.
Content mismatch with search queries

 
How many times have you clicked on a web page based on its title only to find irrelevant content? Isn't it quite a few? For example, suppose you visit a website with the title 'catch heavy discount.' However, there is no such information on the page, and the website owner's intention is solely to increase clicks. Google Panda update deals with this.
How do we know that Google Panda has been hit?
The first indication of a Google Panda penalty is a decline in your site's ranking. You will also see a decline in organic traffic in no time. Check the last date of the algorithm update with the date you began experiencing consequences to ensure it is the result of the Google Panda algorithm. If you are engaging in any of the above bad practices and your site's performance is suffering, the Panda algorithm is the reason for this.
Recovery from Panda Algorithm
The website must recover from the update if it is hit by the same. Google penalty recovery services can help users to recover from such updates. Here are some of the pointers which needs to be considered in order to recover from Google panda algorithm update:
Resolve duplicate issues by providing high-quality, unique content

Resolve the grammar issues. Make sure your website doesn't have any errors, typing mistakes, or phrases framed in the wrong manner, as Google's Panda Algorithm focuses on high-quality content

Make the content so informative that users could spend more time on the website, which can immensely reduce the bounce rate of the website

Increasing click-through rates of the website by writing down the proper title & meta description, relevant data, and many more, as this helps in getting clicks from the SERP
Resolving lousy content on the website by using different titles/headlines, internal link with proper anchors, fixing broken links

`

Using LSI keywords in the content
Marketers or the SEO Experts need to be aware of all the major and minor changes happening in the Google algorithms. Our SEO services help in meeting the guidelines and prohibit the website from getting penalized.
Popular Searches
Ad Groups | SEO Tips For Creating Better Content From Google John Mueller | Display-Advertising | Redirects | Anchor Text | Pogo-Sticking | SEO Competitor Analysis | Google Penalty  |Common Robots Txt Mistakes | Breadcrumbs | Seed Keywords | Rankbrain Update |Search Term |SEO Skills Required To Become An SEO Expert | Social Media Marketing | Mobile Optimization | Content Ideas | Pagination | Website Speed Optimization | SEO For Yahoo | Natural Links | Importance Of Robots Txt | Local Link Building |Low Competition Keyword |Pdf SEO | How Many Types Of Digital Marketing | What Is SEO And How It Works | What Are Canonical Tags | On Page SEO Technique | Importance Of Off Page SEO | Link Building SEO Services | How To Do Image Optimization | Dallas SEO Agency | SEO Service In Houston| Boston SEO Company