Google is launching a few new attributes in Google My Business listing that can be helpful for all businesses to make their presence felt even more strongly when checked.
According to Sterling Sky Inc's local search analyst named Carrie Hill, it is observed that a select four attributes have already started to make its presence in the knowledge panels of businesses. List of them is given below :
Online Care

Online Appointment

Online Estimates

Online Classes
Businesses can incorporate these additional attributes to the already existing ones in their GMB profile. Google will display these attributes in the results whenever there is a search for related queries.
Let's take an example of the attribute "Online Care" and how it will appear when searched for: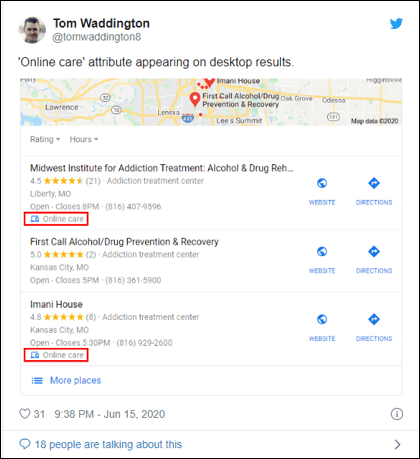 The primary purpose of adding a variety of characteristics to Google My Business profiles is to increase your visibility chances by highlighting one's business primary services.
These attributes enable users to make well-informed decisions about where to go.
Earlier, attributes used to be modified to cater to the people visiting the place in person, such as "WI-FI," arranging outdoor seating options, and things like that.
In recent times the business remains closed due to the pandemic, it's quite visible that a lot of them are now coming up with online service options. This online offering is pretty new to many businesses, which they have not even considered a possibility in the past.
Nowadays, even people are more interested in taking advantage of this kind of online offering than the traditional ones wherein they had to go in person and not yet available. Such offerings are more in demand for services like doctors, fitness instructors, therapists, etc. 
Owing to the changes in the recent times wherein the need of the businesses offering and the services people are looking for has shifted dramatically, the time has come for Google My Business to change itself accordingly to keep afloat.
How to Add Attributes to Your Google My Business Listing
Businesses can now incorporate the additional attributes or the existing ones to their Google My Business listing with the help of these simple steps :
Sign in to Google My Business.

Open the location you'd like to manage.

From the menu, click

Info

.

Find "

Add Attributes

" and click

Edit

.

Has the provision of searching the desired attribute you want to add or directly scroll through the available attributes list that matches your business requirements.

After updating your attributes, click

Apply

.
There is a catch to the newer attributes, i.e., all the additional attributes are not available to all kinds of business. The characteristics may differ depending upon the type of business.
`For instance, the attributes like "online care" and "online classes" will not be applicable for a pizza delivery place. Hence, the same will not be available for addition in their GMB listing, which makes perfect sense.
In case your business falls under the category wherein one of these four attributes are part of your service offerings, you will have an option to add them in your GMB listing.
Ever since the pandemic has hit us, Google has made sure that it keeps on coming up with a series of such latest updates to their GMB platform. It can be seen by the fact that within a month, twice new attributes are being added to the GMB platform.
The best example of this fact is in May; Google My Business introduced three new attributes regarding the restaurant business wherein the restaurants can educate their users about what kind of services they are into like dine-in, take out, or delivery services.
Since businesses are now resuming their operation, I feel the next batch of additional attributes will be based on the safety measures that the businesses are following because that is the need for the hour.
The best example would be that businesses may specify in their attributes whether masks are compulsory or optional.
Also, businesses will be keen to update their maximum capacity to accommodate people at a time because it has become an important aspect in today's challenging times. This will help users to estimate the peak working hours of a store and to make a decision whether to go or not.
Though this is just my perspective, however, I feel there is going to be the addition of many such attributes to the GMB listing as businesses start to catch up with the concept of new normal.
Popular Searches
SEO Company in India  |  SEO Agency  |  SEO Company in Delhi  |  Digital Marketing Services  |  SEO Services  |  Ecommerce SEO Services  |  Local SEO Services  |  PPC Services  |  Link Building Services in India  |  Content Marketing Services India  |  Google Penalty Recovery Services  |  SEO Tools  |  List of HTTP Status Codes  |  What is Local SEO  |  What is PPC  |  Optimize Website Speed  |  Progressive Web App  |  What is On Page SEO  |  What is Google Analytics  |  What is Digital Marketing