John Mueller, in his recent tweet, said that he personally dislikes the word 'impossible' but technically, it seems to be true. He noted that it really is impossible for Google to index the whole web.
This came to light when someone on Twitter raised a question as to why Google does not index all the pages listed in a sitemap. In response, John Mueller said that they actually don't index all the pages in a sitemap, as it would really be impossible.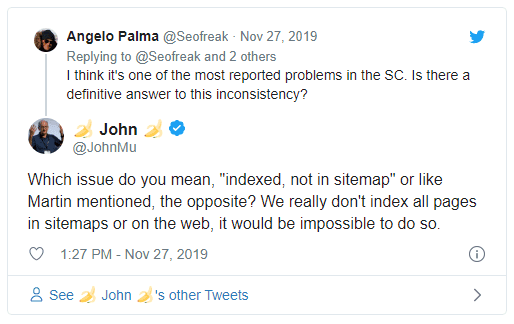 New pages are constantly added to a website, sometimes as often as every day. At times, these new pages are important, containing new content or new search/product pages which are created for a purpose. In contrast, there are also pages which are created as login or wishlist pages. Hence, Google cannot index all these new pages posted on the internet. Google does not want to waste time crawling, rendering, indexing and ranking these pages as they might be sub-pages, low-quality pages, spammy pages and so on.
Know of something else that Google finds impossible to do? Tell us in the comments section below. 
Popular Searches
SEO Company in India | SEO Services in India | Ecommerce SEO Services in India | Types of Digital Marketing | History of SEO | SEO Periodic Table | Different Types of SEO | Major Google Algorithm Updates | Change of Address Tool in Search Console | Where to Insert Structured Data |