You're not the only one whose Google Search Console isn't updating.
The SEO community is once again dismayed, as many site owners have confirmed that their Search Console data is stuck. As of November 18, 2021, there are significant delays in Google Search Console data reporting.
At the time of writing this article, site owners are facing a delay of ~32 hours in Google Search Console data.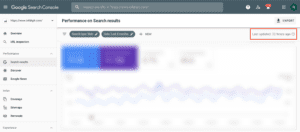 Many users have expressed their concerns on Twitter:
O Primo Basílio wrote:
"Google Search Console stucked more one time. 25h+ whithout any data update."
Praveen Sharma's said:
"Are you also seeing delayed reporting in Google Search Console or it's just me?"
Ammar Butt tweeted:
"Why Google Search Console is not updating? 26 Hours Gone. Is there any issue?"
A Twitter user, Daniel Gray, tagged Google's John Mueller asking about the delay in Google Search Console reports.
"Is it happening again? @JohnMu @rustybrick"
John Mueller confirmed that the Google Search Console reports are stuck and responded in a rather amusing manner. Here's his reply:
"Someone stole our spider!"
We don't have a lot of information regarding why Search Console reporting is delayed. However, we can confirm that other site owners and SEO professionals are experiencing delays in reporting
We'll keep you updated as soon as we learn more about why Google Search Console isn't updating. Does the Performance Data in your Search Console appear to be stuck? How long has it been since it was last updated? Do let us know in the comments down below.
Popular Searches
SEO Company | SEO Agency | SEO Consultants | SEO Services | Ecommerce SEO Services | SEO Audit Services | Google Penalty Recovery Services | Local SEO Services | PPC Services | App Store Optimization Services | Conversion Rate Optimization Services | Link Building Services | Content Marketing Services | Enterprise SEO Services | Amazon Advertising Agency | Professional SEO Services | List of Search Engines  | What is SEO  |  Types of Digital Marketing  |  What is Google Tag Manager  | On-page SEO Services  |  Off Page SEO Activities List  |  Technical SEO Checklist  |  What is YouTube SEO  | History of Google  |  Types of SEO  |  Benefits of SEO  |  Cloaking  |  What is Sitemap  |  Bounce Rate