Facebook announced yesterday that it has changed its name to Meta. The move is part of a wager on the "metaverse", where users can engage with each other in a computer-generated environment in a virtual reality setting.
According to Zuckerberg, the name was inspired by the Greek word meta, which means "beyond". 
At the Connect 2021 event on Thursday, Facebook CEO Mark Zuckerberg remarked:
"Today, we're seen as a social media company. But in our DNA, we're a company that builds technology to connect people, and the metaverse is the next frontier, just like social networking was when we got started"
The company also replaced its corporate logo, which featured a picture of a "thumbs up" with a new logo: a blue infinity symbol. 
At the same time, rebranding Facebook may help the firm remove itself from the current social networking concerns, such as its use to disseminate hate speech and disinformation.
The Facebook app, which allows users to share personal updates and register likes, will not be renamed. Also, the company's business structure and how it uses or shares data will not change, according to Zuckerberg.
Beginning in the fourth quarter, Meta will declare its Reality Labs sector separately from its family of products, which includes Instagram and WhatsApp.
Mark Zuckerberg believes that the metaverse, as he refers to it, will be the next major social platform, with multiple tech companies working on it over the next ten years.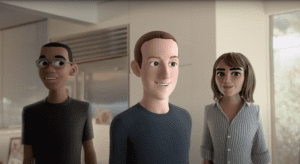 Source: Facebook Connect 2021
This is how the event transpired:
Zuckerberg teased a slew of new social, gaming, and workplace innovations for the metaverse as the main product presentation got underway.
"I know that some people will say that this isn't a time to focus on the future, and I want to acknowledge that there are important issues to work on in the present. There always will be…But I also know that there are a lot of you who feel the same way that I do. We live for what we're building. And while we make mistakes, we keep learning and building and moving forward", added Zuckerberg.
Facebook demonstrated its vision for the metaverse with a series of concept videos, which included sitting around virtual meeting tables with remote colleagues, playing immersive games with friends, and sending a holographic picture of yourself to a concert with a buddy who was present in person.
In addition, Zuckerberg said that Messenger calling will be available in VR. Facebook also plans to launch a virtual marketplace where developers can sell virtual products and a redesigned home page in Oculus Quest to make virtual world conversation and games more social.
"Your devices won't be the focal point of your attention anymore," added Mr. Zuckerberg.
The internet had mixed reactions to Facebook's new name. Stay tuned to find out how the Internet reacted to the news.
Twitter saw a flood of Meme's directed towards the new name: Meta
Facebook has been building up to the metaverse revelation for months.
Its newest virtual-reality headset, the Oculus Quest 2, was unveiled last year. 

It introduced Horizon Workrooms, a virtual conference space where users wearing virtual-reality headsets can congregate as though they were at an in-person work gathering, in August. 

In September, it unveiled a new range of video-recording eyewear with Ray-Ban.
"Our hope is that within the next decade, the metaverse will reach a billion people, host hundreds of billions of dollars of digital commerce, and support jobs for millions of creators and developers," said Meta CEO Mark Zuckerberg.
Popular Searches
SEO Company | SEO Services in USA | SEO Agency in USA | Ecommerce SEO services | SEO Audit Company | Google Penalty Recovery Services | Local SEO Service | App Store Optimization Services | Conversion Rate Optimization Agency | Professional SEO Company | Pay Per Click Services | Enterprise SEO Service | On page SEO Services  | Types of SEO | Link Spam  | Benefits of SEO | Canonical Tags | Website Structure | Google Sandbox | Types of Sitemaps |  Evergreen Content | Cloaking |  |  Types of Digital Marketing  |  What is PPC  |  Mobile Marketing  |  Blogging Platforms  |  Content Gap Analysis  |  List of Search Engines  |  Google Autocomplete  |  External Linking  |  URL Structure  |  Facebook Ads