Just like SEO for a website, ASO is a process of optimizing an app for better visibility and improving downloads.
There are millions of apps available in the Play Store and App Store. Each category has thousands of competitors, and most of them perform a similar task. So how would you decide which app is best for you?
This is precisely where user ratings & reviews come to your help. Research by Apptentive says that around 59% of people check ratings and reviews before downloading an app.
Why are Ratings and Reviews essential for your app?
You've taken the effort to build this app and market it well. The only way to measure the success of your app is to know the total download counts and opinion of the users through ratings and reviews. Gaining positive reviews is like all your efforts successfully worked out. However, a negative rating or review means, you need to work or improvise in the said area.
Google had already confirmed this way back that they will reward apps with higher quality. Besides other factors, the average reviews and ratings will impact on how your app ranks in the store. In simple words, a strong engagement metrics and retention rate will have a more substantial influence on the app's appearance in the store. Ratings and Reviews are a crucial part of ASO Ranking Factors.
In the Play Store, Google sources most used words mentioned in the user reviews and shows it up. These reviews are bifurcated into segments or categories like All, Positive, Critical, and then star rating wise from 5 to 1.
See the screenshot below: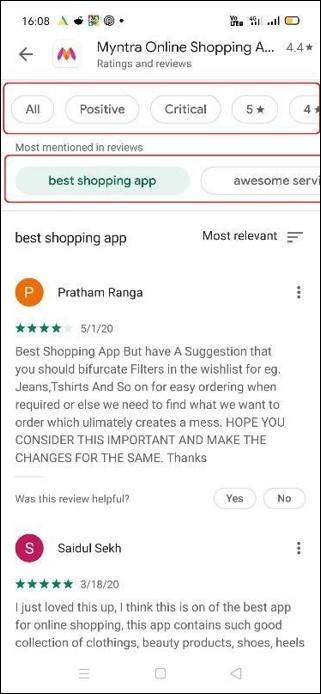 Ratings and Reviews are equally crucial for the developer as they are for the users. A lot of users write about the issues they face in the review section. This issue could ranging from like App Crash, App Not Responding, Payment Issues, Poor UI/UX etc. This way reviews help the developer to look into each of these issues and solve them on priority. 
Why do people choose apps with higher ratings and better reviews?
This is not just with the apps. If you give a user multiple options to choose from a specific category, be it restaurants, cafes or even an app; they would check for the ratings and reviews. Ratings & Reviews serves as recommendation or feedback; where a user talks about what they like or dislike about something and share their experiences. It is natural for any user to trust these opinions.
How do I deal with bad ratings or reviews?
The moment you notice a bad review, address it on that very moment. Do not give a templated response even if your app has millions of downloads. They will not write an email to you explaining what issues they faced unless it involves a monetary problem. Remember, every user is your potential customer or consumer. And users do not appreciate templated responses. The only action they might take is lookout for another app.
Do fake reviews work?
For developers or business owners, it is crucial to make it big in less or no time. However, there aren't any shortcuts to success. You can purchase reviews and upload them on the app, but the algorithms are smart enough to differentiate between a fake review and real one. Various third-party tools can detect if your apps use fake reviews to make it look appealing. Once these tools figure it out that the reviews are fake; it will delete the fake reviews or delete your entire app.
To Conclude
Ratings & Reviews is a crucial part of any ASO strategy, and since they are one of the ranking factors, you mustn't ignore them. Users will always be at the centre of digital space. Solve their issues when one arises. Good Ratings & Reviews will boost your downloads while Critical Ratings & Reviews will allow you to improve the performance of your app.
Popular Searches
Best SEO Company | Digital Marketing Services in India | Best SEO Agency | Ecommerce SEO Company | App Store Optimization Services | What is ASO | SEO Guide | What is Digital Marketing | Technical SEO Factors | App Keyword Research | SEO Periodic Table |  What is PWA | Site Structure | Top SEO Tools | Black Hat SEO Techniques | WordPress SEO Plugin | Semantic SEO | Types of SEO | What is Cloaking | Website Speed Optimization