So, you have recently built an app, and it got approved in Google Play Store & Apple App Store. Now you want to know how to gain better visibility and improve app ranking, or you want to help someone with the same. Well, whatever the reason may be, we have covered "Top ASO Ranking Factors For Your App In Google Play Store & Apple App Store".
What is ASO or App Store Optimization?
App Store Optimization is a process where you optimize an app in such a way that your app ranks better in Play Store or App Store, thus increasing app visibility and downloads.
Following are the "Top ASO Ranking Factors For Your App In Google Play Store & Apple App Store":

App Name or also known as App Title is the first thing people would notice if your app appears on the screen. App Title or App Name is a 50 characters field for Google Play Store & 30 characters field for Apple App Store. The primary purpose of your app should reflect in the App Title in the form of a keyword. App Name plays a crucial role in ranking your app higher on the Play Store. It is advised to add your primary keyword in the Title.
 See the below images for better understanding: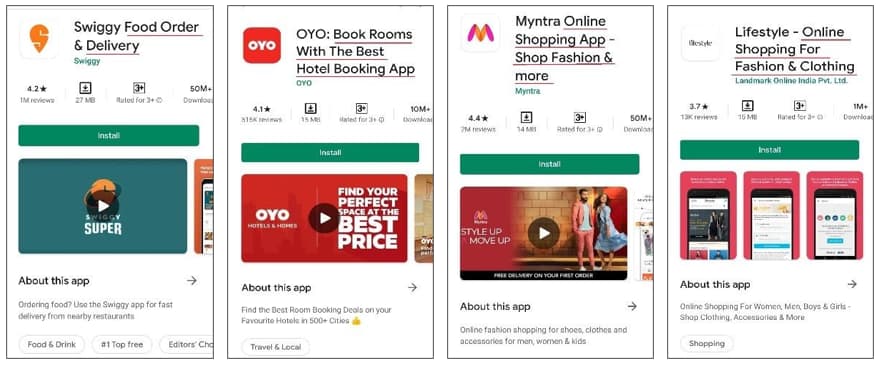 Total Downloads & Velocity
It does not matter how old your app is. If your app acquires a significant number of downloads in a short period, it will outrank other apps in your niche (unless they are performing with similar speed).

App Description also plays a vital role in ranking your app. App Description is of two types, Short Description, and Long Description. When you click on the app, you see a short description, present below "about app" (as seen in the image below). The long description appears when you click on about app where the entire description is present. A short description is an 80 characters field for Play Store & 252 characters for App Store. The long description can go as long as 4000 characters for Google Play Store, while the limit is 400 characters for Apple App Store.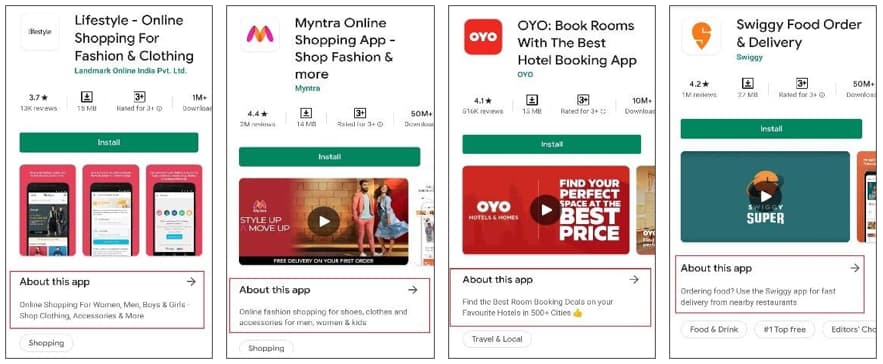 Click-Through Rate calculated in percentage is measured by dividing the number of impressions your app received, by the number of times your app was clicked upon (not installing the app, just click). The Higher CTR of your app is, the higher are the chances for it to rank above your competitors.

Ratings are also one of the first things people would notice as your app appears on the screen. If your app has received positive ratings, people will switch to reviews to know what factor is most liked about the app. The number and quality of ratings and reviews will have an influence on the app store, making it rank higher or lower down the results.
App updates are essential since they deal with security features, fixing bugs, improving user experience, and staying relevant. While informing the readers, the update section also helps help secure higher ranking on Google Play Store and App Store due to the relevancy of the details.
Screenshots & Preview Video
Screenshots occupy significant real space on your device when you click on an app. It boldly appears on the screen giving users a sense of what to expect from the app before you download it. Similarly, the preview video offers a complete tour of your app unless you wish to tell a different story. The better the screenshots and videos are, the higher are the chances of people downloading your application.
Having quality backlinks from your site will always help. We recommend having backlinks from your website first, followed by connecting all your social media profiles with your app. Guest posting, app submissions, Q&A on Quora's are other recommended options.
Google Play Store provides additional keyword tags, where you are allowed to select relevant keywords related to your apps. E.g. If your app is about gaming, you can choose arcade or similar options. If your app is related to shopping, you can select tags like online shopping. Similarly, For the Apple App store, you have a choice of Keyword fields where you can add up to 100 keywords separated by commas. Remember, all the keywords that you add in this field should be well researched, which has a good search score or popularity in the app world.
Read Also :
How To Do Keyword Research For ASO
Apart from these ASO ranking factors, Google Play Store also considers some other important factors:
Google can measure the retention rate of your app. If your app is frequently used more in your niche as compared to other apps, Google will rank it better. The best way to improve your retention rate is to make a quality app and add the most relevant keywords.
No app can be perfect. But your app needs to perform better than your competitor. Quality is now a ranking factor. If your apps report less of "ANR," "Crashes," or other bugs, it is much likely that your app would be considered for higher ranking on the search results over other apps.
Today, apps are used by everyone, be it kids going to nursery or an old uncle using Google Maps for directions. There are billions of apps available in the market and more than 100 in your niche. Hence standing out amongst them becomes crucial. 
If your app has impressive features, and no one knows it exists, you will miss a significant number of visibility or downloads. Thus, we recommend you follow these steps to improve app ranking and gain more visibility on your apps. If you still struggling to rank your app higher on the Play Store, contact our ASO services and get your app rank higher in a short period of time. We also provide other digital marketing services to renowned brands and helped them to rank their app or website higher than their competitors.
Popular Searches
List of Search Engines | Top Google Searches | Importance of Digital Marketing | Importance of  Website | Youtube SEO Tools | Types of SEO |Website Structure | Benefits of SEO | Cloaking |Google Sandbox | SEO Friendly Website | Blog Commenting for SEO | Server Side Rendering Vs. Client Side Rendering | Youtube Trends | Types of Sitemaps | Social Bookmarking |Off Page SEO Checklist | HTTP Status Codes | Vanity URL | SEO Vs. PPC | Best SEO Blogs | Benefits of LinkedIn Ads | Keyword Density | How to Use Keywords in Blog Posts | Website Migration | Digital Marketing Types | Search Engine Optimization | Canonical Tags | On Page SEO | What is Off Page SEO | Link Building for SEO | Image Optimization | SEO Company in Boston | Dallas SEO | SEO Company Houston