ASO Stands for App Store Optimization. It is an organic process of improving the visibility of your app on the Google Play Store & Apple store to rank higher on their search results.
ASO, also known as App Store SEO is one of the crucial segments of the mobile app marketing landscape as every marketer is looking to drive more attention towards app downloads. 
So if you are planning to grow your mobile app downloads and improve your business online, then we have everything which helps you attain desired results.
In this ASO guide, you will learn about the following aspects –
What is ASO?

Why is ASO important for your business?

How to optimize your app for the app store search?

What are

ASO ranking factors?

App store optimization strategies 
Meaning of ASO
If we were to explain it in simple terms, ASO a.k.a App Store Optimization involves the technique of optimizing your app to rank it higher on the app store. ASO is derived from the concept of Search Engine Optimization. 
Think of SEO, where various business websites compete with each other to rank higher on the Google SERP. ASO works the same way where multiple apps compete with each other to rank higher on the app result page.
So, the better the position of your app on the app store search, the higher are your chances of improving app visibility. This jump in visibility would in return help gain traffic and increase the number of app downloads.

Apart from bringing in good quality traffic, ASO also helps in reducing Customer Acquisition cost, which is the most important metric for a company whose revenue is largely dependent on mobile apps.
ASO = Quality traffic + Conversions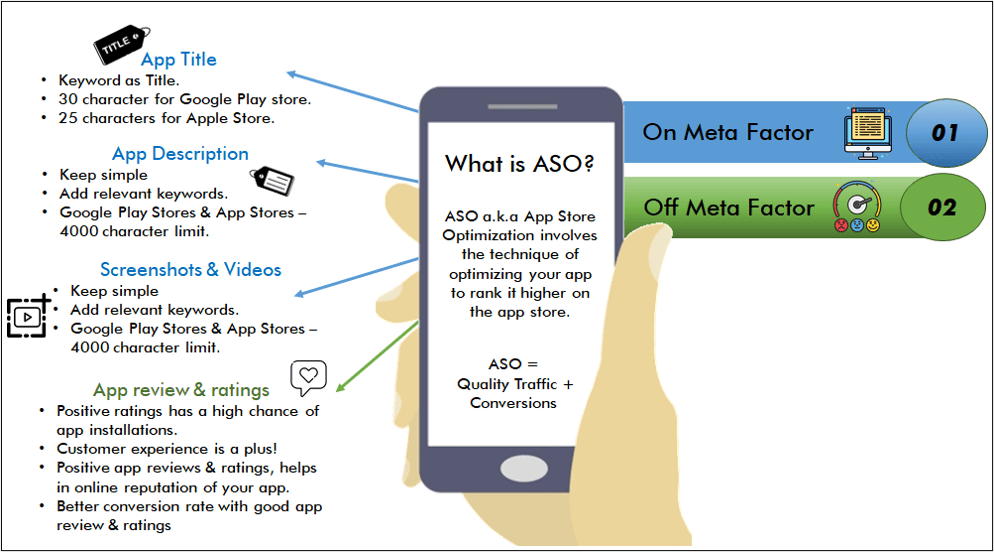 ASO, a vital part for mobile app marketing strategy
According to the data published by Statistica, over 205 billion apps were downloaded in 2018, and experts project close to 260 billion downloads in 2022.
Similarly, a research report published by radar, suggested that around 70% of users prefer app store search to find new apps, and out of them, 65% of users tend to download the searched apps. 
These huge numbers conclude that every brand whose revenue is dependent on an app-based business should focus on ASO. 
Also Read :
Following are the benefits of ASO
Helps in gaining Organic installs, i.e. lower acquisition costs
One of the significant benefits of ASO is that if implemented correctly, app visibility improves over a period of time. Your app begins to rank for various search queries, which may lead to an increase in app installs organically and lower the cost of user acquisition.
Increases Revenue and Conversion rate
When your mobile app starts ranking for the primary business-related search keywords then automatically your visibility improves. Users would likely download your app. You could even monetize your app with various in-app purchases, relevant in-app ads. This way your revenue generation would be 100% profitable and also the conversion rate is high as you are not spending money on ads to make users download your app.
Grow Your User Base Worldwide
There is a high possibility of gaining a worldwide user base by making our app available worldwide with multiple language options. This app store optimization strategy is known as localization.  
Now as we have discussed in detail what is app store optimization (ASO) and why app store optimization is an integral part of the mobile app marketing strategies, let us understand the ASO strategies that would help in improving app visibility 
While defining the right strategy, every app store optimization service provider should be ASO competent. Which means that the ASO service provider should have a good understanding of ASO factors since the app ranking would largely depend on the app store optimization tips they provide.
ASO Factors
ASO result is determined mainly by optimizing two primary app ranking factors.
These factors are influenced by the changes we make to the App store console to optimize an app. Developers have direct control over On Meta factors. App title & description, screenshots and videos are some of the examples of On Meta ASO factors.
These External factors are influenced by user experience & behavior with our app. Developers and marketers have no control over these activities, similar to off-page SEO.
App Store Optimization = On Meta factor optimization + Off Meta factor Optimization
On Meta Factor Optimization
The title is an essential ASO factor. An app title starting with the most highly searched keywords related to your business is considered to increase the visibility of your app dramatically, There are high chances of CTR improving, once targeted keywords are placed in the app title. This is because an app title is the entry point for your users to download the app.
Although available character limit for naming app title is 255 characters but experts recommended to keep title length 30 character for Google Play Store to and 25 characters for Apple Store
This is another app ranking factor that cannot be ignored. Always try to keep the app description as simple as possible and add relevant keywords that define your business. In Google Play Store, the first 80 characters are essential as this will be the first description of your app that the user will see. So try to keep it simple and target keywords wisely.
Google Play Store and Apple Store both provide upto 4000 character limit, so the app description should always be written keeping your audience in mind.
Screenshots are essential as they will help users in knowing how your app exactly looks, its functionality, usability. Videos are engaging and important for gaming and OTT apps, as users tend to spend more time using these apps. Make sure that the screenshots you use should be of high quality and should exactly match the user interface of your app. 
Pro Tip: Whether you are optimizing app title, description or screenshots always include a Call to Action "CTA" in your optimization strategy. Call to Actions improves the chances of app installs.
Off Meta Factor Optimization
How satisfied your users are with your app can be determined using app reviews and ratings; an app with a positive rating has a high chance of installs.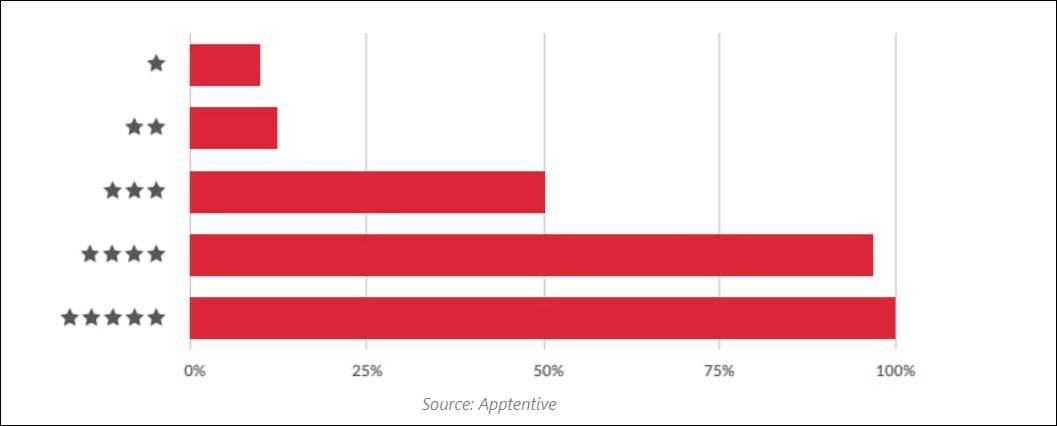 According to the research published by Appentitve on an average 80%, the user downloads the app having ratings four stars and this number low as the rating drops.
App install is directly proportional to user reviews and ratings.
Marketers should always connect with their users, find out how satisfied they are, and find out what issues they are currently facing as excellent customer experience is a plus!.
The more positive app reviews and ratings you have, the online reputation of your app will be maintained, which may lead to a better conversion rate.
Conclusion
Keep in mind ASO takes time; there is nothing like a silver bullet. No one can state an ASO strategy that will 100% guarantee a higher rank on App Store searches; however, the above mentioned ASO factors are based on tried and tested methods that experts have followed over the period. SEO where more than 200 ranking factors determine Google Ranking Algorithm, ASO is also dependent on Search Algorithms, but there is no conclusive evidence on how it works.
Consistent leg work is required to test the effectiveness of the ASO strategy, as being found amongst millions of apps on the app store is a challenging task. To reap the rewards of ASO driving consistent efforts in the right channel is the only get to go solution.
A pro tip would be to always keep track of your efforts. Also, learning what your competitors do can help you improve your ASO results. Most importantly, never forget to optimize the app regularly.
Popular Searches
Google Web Stories | Slug | Outbound Links | Toxic Links | Technical SEO Tools |Guest Blogging | What is ROAS | Mobile Marketing | Google Tag Manager | SEO Periodic Table | Bot Traffic | 404 and Soft 404 Errors | SEO tips for Online Grocery Stores | Google Bert Update | Robot.TXT and Meta Robot Tags | 301 Redirects | Mobile First Indexing | Podcast SEO | W3C Validation | Link Building Tools | Local Citation | Google Multisearch | How to Deal with Plagiarized Content | Increase Youtube Views | SEO Job Interviews Questions Answers | What are the Types of Digital Marketing | What is Search Engine Optimization | What is Canonical Tags | On Page Optimization Techniques | Types of Off Page | Link Building Services | What is Image Optimization in SEO | Boston SEO | SEO Company Dallas | Houston SEO Services