One of the most challenging tasks in the digital era is to get your website or Web page to rank at the top of the search engine results page (SERP). Hundreds of articles comparable to yours are written every day. Thousands of sites in your domain are featured on search engines every day. How can you beat them? The simple answer to this question is: by working on all the parameters that are vital for high rankings. 
Google announced that it evaluates a website against approximately 200 parameters to determine its ranking. This post discusses the seven most crucial ranking factors. 
What Are Google Ranking Factors?
Ranking factors are the parameters that Google uses to evaluate various pages of a website. It then determines the order in which pages must be set and shown in response to a search query. Understanding various ranking factors is vital regardless of whether you are a content writer, content marketer, or an experienced search engine optimisation (SEO) executive. 
Ranking factors consider various aspects. For example, it checks for the site speed, keywords placement, content and image optimisation, and many more factors. All of the parameters it takes into account are critical to providing a better user experience.
10 Crucial Google Ranking Factors
So, how can one ensure that their site gets maximum visibility online? Here are a few of the most important Google ranking factors to help you understand how to rank higher on its SERPs:
If you want to rank well on Google's SERPs for a keyword(s), your pages must carry original, well-researched content that is a value addition to the user. If they do not understand what you are telling them, then there will not be repeat visits. Besides, the bounce rate will be high (conversely, the dwell time will be low). Keep the search intent of the user in mind and think of the different queries/questions they may have about a topic. In fact, Google has now launched a new featured snippet to deal with multi-intent search queries. 
Do a thorough keyword analysis using Google's Keyword Planner to chalk out effective SEO strategies for various search topics. Keeping an eye on what the competition is doing also helps immensely in this regard. Make sure to analyze mobile, local and voice search keywords too and include them in your plans. 
HTTPS became a Google ranking signal in 2014 while 2017 saw Google strongly encourage sites to go secure. In fact, now sites without the secure HTTPS connection are shown as 'not secure' in the address bar of the Chrome browser, a definite eyesore to site visitors. Thus, not making the transition to HTTPS can lead to increased bounce rates. But be warned, you can face canonicalization challenges if you do make the change. 
If you have an exact-match domain name that includes the keyword you are targeting, then you definitely have a strong organic search advantage. However, it is not always practical to target every major keyword this way. Moreover, studies have revealed that consistently top-performing, older domains do better in organic search than new brands – this is because Google has monitored their activity for extended periods and views them as trustworthy.
A Mobile-friendly Website is a Must
The number of searches conducted through mobile devices is skyrocketing. This means that if you want to stay in the game, you will have to ensure your site is mobile-responsive. If you have a mobile-friendly site, Google can quickly and accurately index it, rather than having to refer back to its desktop version.
Mobile usability has been a top Google ranking factor since 2015 and in order to satisfy this mobile-first index rule fully, your mobile and desktop sites must have identical content. You can also refer to Google's guidelines on the topic for more information.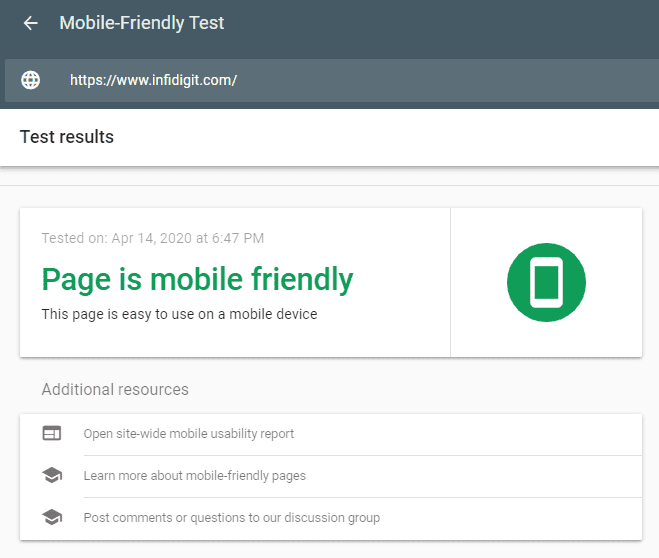 Page Speed Could Make All the Difference 
Recent studies have concluded that the bounce rate doubles for every two-second delay in page loading. In fact, there have been instances of large online businesses losing millions of dollars in revenue with just a second's delay in page loading. You can increase page speed by compressing your HTML, JavaScript and CSS files, reducing page redirects, optimising images, troubleshooting any server performance issues, etc. Additionally, for mobile pages, you can use AMP (Accelerated Mobile Pages) to reduce any bottlenecks. You can measure your page speed by using the Google PageSpeed Insights tool. 
Check out this video to know more about Site Speed
Make User Experience Top Priority
Google constantly monitors user behaviour when they visit a site. The time spent on your site, the number of visitors who leave the site after viewing only one page, the number of other pages visited, etc. are all important SEO ranking factors. Work on your site structure to ensure that users can navigate smoothly from one page to another and find what they are looking for in as few clicks as possible. 
On-page SEO, as we all know, are the measures that you employ on your site to gain better organic search rankings. While you can read our detailed post on it here, making simple changes like updating old content, cleaning up your metadata, including header tags in your content, using the appropriate schema so that Google better understands what your site is all about and populates rich snippets for your pages, etc. can help you get better organic search rankings. Even technical SEO techniques like getting rid of duplicate content, fixing broken links, optimising URL structure and your robots.txt file are a must. 
Backlinks are essential to increase the authority of your website. It informs Google that other websites think your material is interesting and valuable, which is why they link to it from their content. The three common ways to obtain backlinks are natural, manual, and self-created links. However, remember that not every backlink is beneficial.
Here are some pointers on how to build high-quality links that help with SEO ranking factors.

Look for the sources that are your website's top referrals. By contacting them, you can create similar content and gain additional links.

Try outbound links to authoritative sites. If such links assist other websites in gaining traffic, the likelihood of gaining backlinks from them is considerable.

You may use the Google search console. The reports they provide will assist you in determining how to obtain more links.

Inspect the websites of your competitors regularly. Assess the sources from which they obtain their links.
If you can attract attention to your brand and target more brand keywords or search terms, it sends a strong signal to Google that you are a popular business. This will in turn increase your Google rankings and get you more site traffic. In fact, studies have found that 50% users will click on a result if they see that the brand is making an appearance in multiple organic search results on an SERP. 
Having a formidable social presence comes with its own set of perks. Choose a social media platform that suits your brand voice and has your target demographic actively engaging with you. Partner up with influencers within your niche so you can tap into their followers base too. Post engaging, share-worthy content regularly so that your followers always have something to look forward to, and address their queries and concerns. Although social media marketing is not a standalone Google ranking factor, it, coupled with brand power, can help you see positive organic traffic growth.
Internal linking is one of the most important ranking factors. It defines the overall structure of a website. It allows users to navigate your site more easily while also assisting search engines in understanding what your site is all about. Effective interlinking is essential for page indexation as well as ranking on Google. It further enhances the Call To Action (CTA) and conversion rates.
According to Google, new content links are known for helping Google bots to crawl through the new pages. 
The Core Web Vital was introduced in 2020. It comprises three metrics: Largest Contentful Paint (LCP), Cumulative Layout Shift (CLS), and First Input Delay (FID). The entire purpose of Core Web Vital is to determine how user-friendly a page and the content on it are. It helps Google evaluate mobile-friendliness, secure surfing, HTTPS, and pop-up content accessibility. Thus, disregarding this area of SEO is one of the most common errors that adversely impacts your rankings.
Title tags and header tags are communication mediums because they tell search engines about the page context. It aids search engine crawlers determine which category a particular page belongs to. In simple terms, header or title tags assist Google in determining whether a particular title is relevant to a specific Google search.
If your title tag does not correlate with the content on that specific page, it will be tough to rank in search engines.
The URL establishes a link between the content and the visitors to your site. It informs search engines about the information the various pages of your website seek to convey and how they relate to one another. The URL is not only a ranking criterion, but it also helps in the acquisition of links from authoritative domains. As a result, while crafting the URL, make sure it's concise, free of special characters, and includes a keyword.
The alt tag tells search engine spiders what the image is about. Crawlers can correctly index the image after understanding this tag. In the context of users, such tags will advise them of what the image is if the website takes a long time to load or if there is a rendering issue.
Using a suitable alt tag creates the perception of user-friendly content, which can help you enhance your Google results.
The term "content relevancy" refers to whether the information on a page corresponds to the title tag and search intent. Many people feel that strategically placed keywords are all that is required to rank a page. Your page will not rank no matter how many keywords you use if the information around it is irrelevant. Furthermore, content relevancy aids in the reduction of bounce rates, the increase of page sessions and social shares, and the acquisition of high-quality backlinks.
In Conclusion
Besides the steps you take to ensure your site is discoverable online, SEO is often influenced by the Google algorithm updates that are released almost every single day of the year. While you can always start off with a few simple steps to maintain basic SEO hygiene, it may be a good idea to hire a team of professionals to work in-house or contact an SEO company like us to do all the heavy lifting for you.
If you liked this post and want us to bring you more such content, tell us so in the comments section below! 
Popular Searches
SEO Company | SEO Agency | SEO Consultants | SEO Services | Ecommerce SEO Services | SEO Audit Services | Google Penalty Recovery Services | Local SEO Services | PPC Services | App Store Optimization Services | Conversion Rate Optimization Services | Link Building Services | Content Marketing Services | Enterprise SEO Services | Amazon Advertising Agency | Professional SEO Services  | Google Reverse Image Search | Types of SEO | List of HTTP Status Codes | What is Off Page SEO | Benefits of SEO | What is PPC | Website Structure | WordPress SEO Plugin | Types of Sitemaps | Schema Markup | SEO vs PPC | Cloaking | Google Algorithm for SEO