What Is Programmatic SEO? 
A great SEO strategy helps rank your website on SERPs and enhance your brand presence. It is crucial for bringing in traffic and converting leads.  67% of all clicks go to the first five organic results. Programmatic SEO is an important SEO tool for brands to increase their online presence. 
Programmatic SEO refers to a tool that helps to build a large number of pages using a specialized program. The pages so created are based on the keywords you selected for the program to work on. 
An advantage of programmatic SEO is that it lets you create many different versions for a specific/target keyword with similar landing pages but based on a variation of the target keyword. 
For instance, TripAdvisor has a landing page for almost every user query related to travel. Programmatic SEO is the tool used to create such landing pages.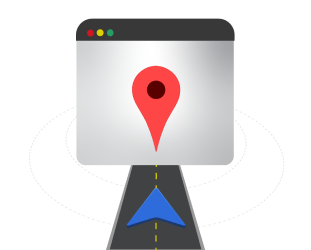 Be the local choice on 'near me' searches.
Elevate your presence in local searches and let interested customers locate your products and services with ease.
Be the local choice on
'near me' searches.
Elevate your presence in local searches and let interested customers locate your products and services with ease.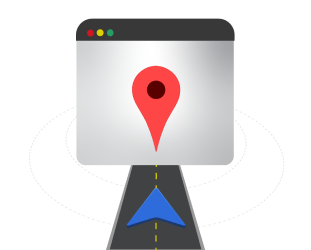 The benefits of programmatic SEO 
Programmatic SEO is highly beneficial for a business that needs a huge amount of landing pages. Companies involved in real estate, travel, retail, e-commerce business, etc., can benefit from Programmatic SEO tools. It helps bring massive loads of online traffic without you toiling over the content and optimization. 
Some of the benefits of programmatic SEO include the following:
Keep the business going
With the continued influx of online shoppers hopping e-commerce websites and other portals, there is an urgent need to determine strategies that would define the future of your online business. As billions of people move online, businesses must need to define, determine, and attract their target audience. 
The potential market for online businesses is getting bigger, and to ensure continuity, you need to invest considerable time and resources in business continuity management software and a programmatic SEO strategy that would help your business extend its digital footprint and perpetuate even in unprecedented circumstances.  
Creating beneficial linkages
By using programmatic SEO, you can meaningfully interlink your pages such that the visitors have something relevant to click on and navigate on the website. Internal linking is also crucial to optimize your SEO scores. 
Instead of hosting useless, subpar-quality landing pages on your website, which the Google algorithm simply discards, opt for landing pages that are formed using a programmatic SEO tool based on relevant keywords. 
Putting effort in a productive direction
Manual updating of your landing pages to improve SEO is not only cumbersome but also a waste of crucial human resources. Instead, organizations can opt for programmatic SEO alongside affiliate tracking platforms and automation centers for your organization. 
Programmatic SEO can work in harmony with other tools while the employees are freed to concentrate on more core tasks. 
People Also read – What is White Hat SEO 
The negative effects of programmatic SEO 
Programmatic SEO also comes with its own set of cons, such as:
If the execution is poor, it can dearly hurt the site's growth

This kind of SEO is limited by data resources 

Indexing can get tricky while doing programmatic SEO 

It requires data depth and production efficiency despite being able to produce thousands of pages

Refrain from using programmatic SEO to trick Google or create

People Also Ask

(PAA) scraper sites
Steps To Implementing a Programmatic SEO Structure.
Here's a four-step guide to implementing a programmatic SEO structure. 
Keyword research 
Programmatic SEO allows you to aim for entire directories of keywords that fall under the same entity. You don't need to pick just a bunch of keywords or pay for expensive content hubs. 
There are a few steps you need to take to identify your keywords. 
Set objectives and intentions
The first step in identifying your keywords will be similar to a conventional SEO keyword analysis. Begin by identifying the category or topical group that will ultimately drive value for your business. 
One thing to remember here is that traffic generation shouldn't be an end in itself; rather, it should be a way to move the business forward. Business value can be generated from full conversions using transactional keywords. 
It can also be rendered through a medium as light as a session hit that will introduce your brand to the prospective audience and consequently result in a later visit as your customer researches the product they need.  
Determine the top concerns
Once the broad categorization of your business is complete, funnel down to define and identify the target intent and goals. Define the niche of your site, driven by the product. 
To better understand this, consider cars as a broad topic. Though it may be a highly researched keyword, it doesn't carry strong intent that would actually drive business. To narrow it down, we can consider 'Mercedes Benz' as a category that's more specific but broad enough to be targeted. 
Mercedes Benz is a specific brand search, but we aren't trying to outrank the brand here; we are only trying to improve the search experience for the Mercedes Benz audience. 
Find modifiers and associated terms.
Mercedes Benz is not a keyword; it's our niche/category that we will convert into a traffic machine by identifying questions surrounding it. Remember, your topic should have the capacity to be modified through repeatable searches to be eligible for programmatic SEO.  
The questions may be:
Timely: Useful for a specific timeframe. E.g., the price of Mercedes Benz stocks in October 2022. 

Comparable: Value creation via comparison. E.g., Mercedes Benz vs. Audi. 

Hyper-specific: relevant for certain parameters and not the broader audience. E.g., the price of a Mercedes Benz 2012 model. 
Search for topic+modifier in your keyword aggregator to look at the opportunity size of your keyword directory.  
Target Long-Tail Keywords 
Programmatic SEO is effective as a growth strategy to target long-tail searches based on intent information keywords. E.g., Play in Delhi today. The SEO or programmatic SEO for this intent would be Play in (Place) (Time). 
When a site targets specific ZIP codes and town names with low search volume, even an unknown site with a good backlink profile can win millions of sessions per month.
Keywords that have multi-intents or hyper-specific keywords get pulled directly onto the SERPs without a click. Even if a featured snippet earns you no clicks, it is still essential for the brand introduction.  
Construction Of The Content Template
The most important aspect of your pSEO is the programmatic template. In programmatic SEO, you aren't building final pages like traditional SEO, but you are building templates. These templates are built by stacking data points and using the art and science involved in SEO to create one unified, impactful content piece that is able to satisfy the user's intent. 
This means that the SEO updates must be done at scale via engineering tickets; there are three crucial goals a page template needs to fulfill. 
Add value when the standard content flow cannot 
Your template should be able to create value beyond a traditional content pipeline. Remember that content may yield a better result when we do not try to stop it inside a blog post. The programmatic approach allows a programmatic comparison of pain points which can be a great use case also.
A great example of this is the G2 website which lists all kinds of software, their price comparisons, reviews, and related products directly on a category page; this kind of page brings additional value. That's not feasible in the case of handwritten content.
Go far into the question, but establish limits 
The ultimate goal of a template should be to do an extremely deep dive into a topic to help scale the website; therefore, when you build your template, consider your audience and the SERPs.
Set limits around when your content will stop changing; for example, in the case of geographical content, will it change by state, country, or zip code? If you aren't setting limits, these thousands of pages, also called Gateway pages, can easily be eliminated by Google and are also unhelpful to the visitor. 
Provide access to previously restricted information 
The template you build as a part of your programmatic content gives access to the data that was previously inaccessible. This is because, now, your content is built for a human and powered by a database. 
A high-quality template answers multiple questions as unique data points have more page value than a traditional pipeline, and each page has a unique value. It visualizes an extremely vast database into an easily consumable medium consisting of multiple templates that add new value to the conversation. 
Low-quality templates are dropped from the Google Index and considered spam. 
Access a database 
The templates would require a database serving as the source of information to build content on. The database can be any CSV export from a government data source or a complex data warehouse frequently updated. 
The database should meet the goals you decided for the template to find the right data you need to be in sync with your audience's needs and a few Excel skills. 
The database may be open source or built from scratch via
 listening to your customers

building a repository of reviews 

group support ticket questions by topic

tracking industry prices in relation to time and geography
Get indexed by publishing
The next challenge is to successfully drive traffic using programmatic SDO by indexing as results show at scale. There is no need to worry if your indexing is less than 30%, even if you have followed all programmatic SEO best practices. 
The pages will be similar in nature and make most pages into categories like discovered, currently not indexed, crawled, etc. When you publish large quantities of content together, the pages may start to get discovered in a crawl but not get indexed. However, if you feel that you are bringing something new to the SERPs, move forward with the next steps. 
Improve the internal linking structure 
There is more importance for internal links in programmatic SEO than in traditional editorial pages. This is because when you build hundreds, thousands, or millions of pages from one directory, you need to build context between each related page. 
Do not hardcode the same 20 links into every page as they will be disregarded by the visitor, and Google instead creates link silos from directory >leaf pages. 
Dedicate sufficient time to contextual linking and collaborate with your engineer to set up the correct logic and relation between each individual page. This would help avoid creating thousands of other pages and eliminate the number of Dead Ends on your site. 
Build a solid sitemap structure
To build a robust site map for programmatic SEO structure, make sure your robots.txt file is in line with your site structure. Assignment for each individual directory can be great to categorize them by subject rather than publishing date. This step allows Google to index each category easily.
The maximum number of URLs on a robot.txt statement counts to 50k, but for larger sites, many sitemaps and sitemap indexes are required. Remember to force crawl each individual site map, even if you have hundreds of site maps. 
The frequency can be two times or until Google returns to the page enough times.
Create HTML sitemaps
If your site has millions of leaf pages, it is almost impossible to link every individual page. Instead, focus on targeting category>subcategory links. By identifying each directory page, you can use it as a linking guide for each milestone page. Your directories function as link hubs to create an easy flow from Homepage>category>subcategory to enhance your link structure. 
A recap of the process of implementing programmatic SEO structure includes:
Pindown is a search opportunity that's repeatable

Make a diverse template

Form and connect a strong database

Integrate internal links into templates

Build robots.txt sitemap structure

Publish, optimize, and repeat. 
Conclusion
SEO is essential for the online success of any business. Companies are able to reach a larger audience, attract more traffic, and convert them into potential leads. 
Programmatic SEO as an SEO tool can be powerful to grant you the right optimization to achieve these results and offer maximum value and return on investment. Programmatic SEO optimization is cost-effective and requires minimal effort on the part of the SEO team. Once up and running, you get to benefit from the optimization without much human interference.  
Popular Searches:
What is Cloaking | SEO Friendly Website | What is Black Hat SEO | Pdf SEO | What Are SEO Services | Digital Marketing Updates | Latest SEO News | White Hat SEO Techniques | Search Engine Result Pages | What Are Outbound Links | What is Pay Per Click | Alt Tags in SEO | Search Engine Optimization Company in India | How to SEO | Reverse Image Search Mobile | Method of Digital Marketing | SEO Pricing | Local SEO Company | Blogger Outreach | Panda Update | Google Analytics For SEO | Best SEO Service | Define PPC | PPC vs SEO | Google Panda Update | Mobile Optimization | What Are Negative Keywords | Keyword Difficulty Checker | Internal Linking SEO | Best Link Building Tools