YouTube is testing a new tool called 'Search Insights' which shows Creators what their Viewers are looking for.
The Search Insights tool will help Creators get access to more information about the users' queries within YouTube Studio. The tool will provide key insights such as the search volume of the keywords, the topics your channel's subscribers are searching/browsing on YouTube, and many more.
What is the Search Insights Tool?
The Search Insights Tool is an experimental feature by YouTube aimed towards helping content creators to understand what their audiences are searching for.
Here's how the user interface of the Search Insights tool looks like: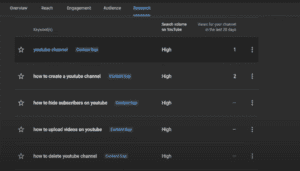 What are the features of the tool?
YouTube's Search Insights tool has some pretty neat features. Let's take a look at each one separately:
Your viewers' searches
This section will show you how some of the most popular searches from your channel's users across YouTube. It will also provide data related to channels similar to yours.

Searches across YouTube
This section of the Search Insights tool will provide you with information related to a particular keyword, search term, or topic. This will be data from all users on YouTube, not just your channel.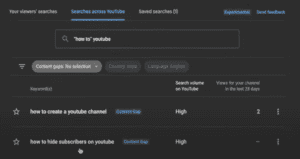 There are two important metrics that both sections show:
Search Volume
This is the search volume of a particular keyword on YouTube. It is divided into 3 buckets:
Views for your channel
This shows the number of views your channel managed to get for the particular search term in the last 28 days.
Why did YouTube introduce the Search Insights tool?
According to YouTube's official statement, the company received a lot of feedback from YouTube Creators who wanted to learn more about what their viewers are looking for on the platform. This, as per content creators, will enable them to create more meaningful content for their audience.
"And we heard feedback that creators want to know what their audiences are looking for, because it will help them create more relevant content and help to create content that resonates with the audience and viewers interests. So with this experiment, with this launch, we will now give creators the opportunity to see parts of what's been searched in the last 20 days", said YouTube's product lead Alina Verbenchuk.
Key Takeaway
This is great news for YouTube content creators as it will provide them with additional insights into search terms and what their subscribers are looking for. This will help them create content as per users' interests and connect more to their audience. It will also greatly benefit YouTube keyword research.
Youtube said: "While the feature it's in an experimental phase, we'd love to hear your feedback and we'll keep you posted as access to it expands."
Do let us know if you like YouTube's new Search Insights tool in the comments down below.
Popular Searches
SEO Company in USA | SEO Services | Professional SEO Services | SEO Agency | SEO Consulting Services | Ecommerce SEO Agency | SEO Audit Services | Google Penalty Recovery Services | Local SEO Company | App Store Optimization Service | Conversion Rate Optimization Services | PPC Services | Enterprise SEO Company