YouTube is the second-most preferred search engine choice for over a third of the internet's users after Google. In fact, over 5 billion videos on the streaming platform get consumed by users daily, making video content a core part of introducing your brand to your target audience. There are two ways you can amplify your reach – through paid YouTube ads or YouTube keyword research. However, getting noticed through ads can be quite expensive and drain your money over time. A better and more cost-efficient way to push your YouTube content to the top is through keyword research for YouTube. Like other search engines, YouTube requires the usage of specific keywords to gain traction online. The keywords that are likely to garner organic traffic are those that are popular or trending at a given period of time. And to find the right keywords, you will have to dive into the world of YouTube keyword research.  
What is Keyword Research on YouTube?
Keyword research on YouTube is the process of finding the most-used words and phrases by those who visit YouTube in search of video content. These are words entered by users manually or through the help of autocomplete suggestions on YouTube's search bar. The purpose of finding keywords for YouTube channels is to get more people to click on your video, subscribe, or make a purchase (if you are an e-commerce enterprise). Through keyword research, you can find catchwords and phrases that are target and brand-specific and use them in the title tag, description, or hashtags of your YouTube video. However, for keyword research to be a success, you need to have some idea of the words you want to use to promote your brand. A list of potential keywords related to your brand can be the first step towards mapping the right keywords. 
Importance of Keyword Research for YouTube
Simply publishing your videos on YouTube does not guarantee that they will get noticed by viewers. The main aim of creating and publishing video content is to attract users and prospective customers to your brand. For this purpose, knowing what your user is searching for is necessary. In SEO terms, this is called recognizing user intent. You need to have an accurate or near accurate awareness of what your users want to see when they type into the search bar. For instance, if someone is searching for Top Galaxy products, YouTube knows that the user is searching for popular variants of the Samsung Galaxy smartphones/ products and not the chocolate bar Galaxy – unless the user specifically adds chocolate after Galaxy. Keyword research can help you identify what people are searching for and the words they are using to search for it.
YouTube Keyword research is not only crucial to catch user attention but is also vital to get YouTube's algorithm system to understand the main crux of the video content uploaded and who it is targeted for. So it takes a look at the meta data uploaded alongside your video in the title, thumbnails, descriptions, and other spaces. If it finds that the words and phrases used by you correspond to the ones used by a large number of viewers, it categorizes your video as popular and pushes it to the top of the page. 
The end goal of finding keywords for a YouTube channel is to create maximum brand awareness. 
How to do YouTube Keyword Research?  
There are several ways to carry out YouTube Keyword research. 
Use autocomplete feature in YouTube 
YouTube has developed an easy way for its creators to find the right YouTube channel keywords. It lets you peek into users' minds through its autocomplete suggestions list. This list clearly indicates what search queries are trending in relation to the word or phrase you input into the search bar. By giving you a direct idea of what keywords will work to gain organic traffic, the search engine pushes you to create video content revolving around popular and trending keywords. You can enter both short and long-tailed keywords and you will find the most popular suggestions at the top of the search bar. Short keywords are between 1 to 3 words and long-tailed keywords are around 4 to 5+ words. The best part of YouTube is that the number of long-tailed searches is higher compared to one or two-word searches as YouTube's audience generally want actionable solutions to their queries.
Check your competitors' videos 
Your competitors' channels will tell you exactly what works and what doesn't. They give you an idea of relevant keywords that make for a massive hit with the audience. Here is a step by step process on how to identify popular keywords through competitor videos: 
Visit the chosen competitor's YouTube channel and go to the Videos section. 

Click on most popular and you will see a list of videos with the highest views and ranks. 

Notice the video's title and the words/ phrases used in the video's description for a brief idea of popular target-specific keywords. 

For a more detailed report, right-click on the video and choose 'View page source'. 

You will see a comprehensive HTML code that you don't have to read in its entirety. Simply click 'Control + F' and enter in 'Keywords' in the search bar. You will see the exact keywords used by the competitor.
Use keyword research tools 
If you don't want to use the HTML method to find YouTube channel keywords relevant to your brand, you can also use free Google chrome extensions or keyword research tools to get an in-depth and quick result. For instance, instead of finding keywords manually, you can add free extensions such as TubeBuddy, Tags for YouTube, or any other free tool that will display all the tags attached to the video. By modelling your video tags around the already popular tags, you can at least walk alongside your competitors. However, free keyword extensions do not give you exact details on the search volume, the number of clicks, the position (ranking) of a particular keyword, competitor score, and the countries/ locations using that keyword. To hit bullseye, you might have to use paid keyword research tools that give you a detailed analysis of a keyword's performance over a specific duration of time. These paid tools include: 
SEMRush 

Ahrefs 

VidIQ 

Wordtracker, and more
Before you search a keyword's performance on a keyword research tool, it is crucial to see its trend value in the present and its popularity over several seasons. 
Apart from autocomplete suggestions, YouTube provides keyword insight through a YouTube analytics report. This information is available right in your YouTube account and is retrievable by logging in to your account. All you have to do is visit the 'Profile' section of your channel and click on 'YouTube Studio'. A dashboard containing the icon 'Analytics' will be visible to you. Simply click on it to get the metrics on your reach, engagement, audience, click-through rates, revenue, and other performance factors. 
To find the keywords that have trended, click on the 'Reach viewers' icon where you will see the percentage of popularity for each keyword used by your viewers in descending order. These are the exact keywords used by searchers to find you. From this information, you can find better keywords to amplify your visibility. 
 Optimize Google video result keyword 
To increase your reach on two search engine platforms at the same time is like winning the lottery twice. You can get your YouTube video to rank higher on both YouTube and Google by carrying out a simple Google search of a specific keyword relevant to your brand. If you see a video result featured in the search results, you will know for sure that the keyword you want to use can gain traffic and rank higher on two platforms simultaneously. These keywords are called video result keywords and are limited to specific words or phrases, which you can only find through a manual Google Search. 
If you have the financial resources, you can use YouTube ads to promote your video content and reach out to people on a larger scale. As ads fall into the paid category of marketing, more often than not, they guarantee a fixed viewership/ reach. There are different types of YouTube ads based on the length of the ad and the user's freedom to skip or not skip the ad. These include: 
TrueView ads 

Non-skippable ads 

Sponsored card ads

Bumper in-stream ads

Display ads 

Overlay ads 
However, before you select the type of ad, you should have an idea of the keywords you want to use. By using popular keywords, the chances of your ad reaching more people increase. 
Conclusion 
Keyword research is the fine line between people finding you and you running after them. It is an essential and continuous process needed to amplify your brand's reach. Moreover, it is dynamic as YouTube algorithms and trends keep changing with the times. However, it is the only cost-efficient way to further your reach and increase your revenue. 
Read More :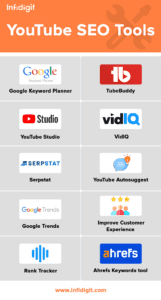 Popular Searches
List of Search Engines | Top Google Searches | Importance of Digital Marketing | Importance of  Website | Youtube SEO Tools | Types of SEO |Website Structure | Benefits of SEO | Cloaking |Google Sandbox | SEO Friendly Website | Blog Commenting for SEO | Server Side Rendering Vs. Client Side Rendering | Youtube Trends | Types of Sitemaps | Social Bookmarking |Off Page SEO Checklist | HTTP Status Codes | Vanity URL | SEO Vs. PPC | Best SEO Blogs | Benefits of LinkedIn Ads | Keyword Density | How to Use Keywords in Blog Posts | Website Migration | Digital Marketing Types | Search Engine Optimization | Canonical Tags | On Page SEO | What is Off Page SEO | Link Building for SEO | Image Optimization | SEO Company in Boston | Dallas SEO | SEO Company Houston