In today's digital age, content has become the biggest medium to reach an audience and establish yourself in any domain. Content creation has become one of the most critical aspects for any business looking to make a splash online.
Using the right content creation tools has made things much easier for businesses and content creators alike. While there are a lot of stages in building solid content, using the right tools for content creation streamlines the process, and speeds the process up. They also help creators in gaining valuable insights that can help in creating better content.
So, what are these tools and what purpose do they serve? Let us dive into the various content creation tools which can help you in creating striking and valuable content across various domains.
Content Planning and Research Tools
BuzzSumo is a great platform that offers a plethora of content creation tools to give multiple new angles to the users for creating the best content.
If you are looking to build a content strategy, the Content Analyzer tool can help you in researching all the relevant topics in your domain and finding valuable insights about them such as traffic, likes, shares, etc. This is an effective tool to find new content ideas to help users in creating a solid content strategy.
BuzzSumo also has a Journalist Research and Outreach Tool, which can be used to look up what subjects top-tier journalists are publishing and the various angles they are using. This can help you in gaining authoritative content ideas which often drive the most traffic for websites.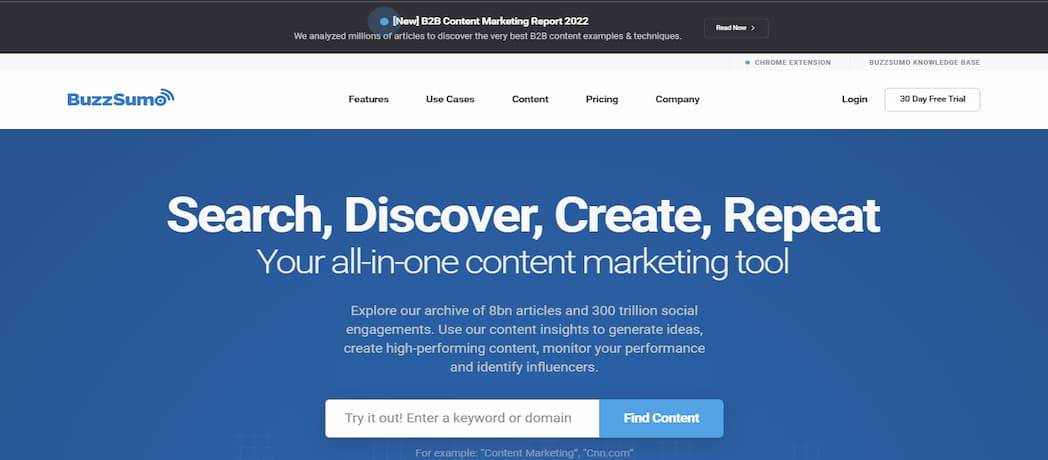 Google Trends is a content creation tool that can help you in finding the most popular or trending topics in your domain. This tool provides you with all the relevant information about topics such as their search volume, keywords targeted, and much more.
All you need to do is enter a search term or a query to see what kind of engagement it is getting on the search engine. It presents you with data like how the query has trended over time, where it stands, and what other related queries are currently gaining traction.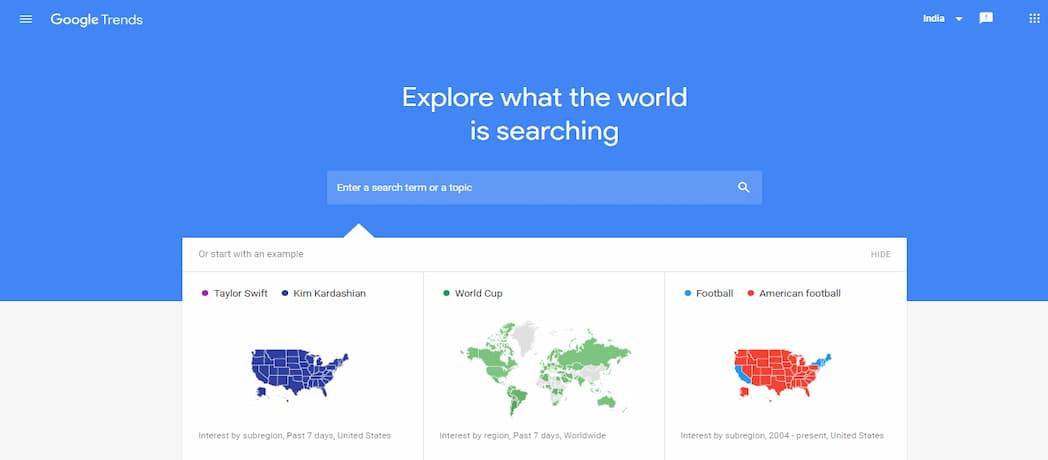 SEMRush Topic Research Tool
Topic research is a critical element in any content planning. The most effective method of conducting topic research is using this tool from SEMRush which can help you in finding topics related to your search term.
This tool makes the process of researching topics easy by providing users with a host of related topics for their core topics in seconds! All you need to do is enter your core topic in the tool, and the tool will find all the related articles, topics, and questions that are being asked on search engines in real-time.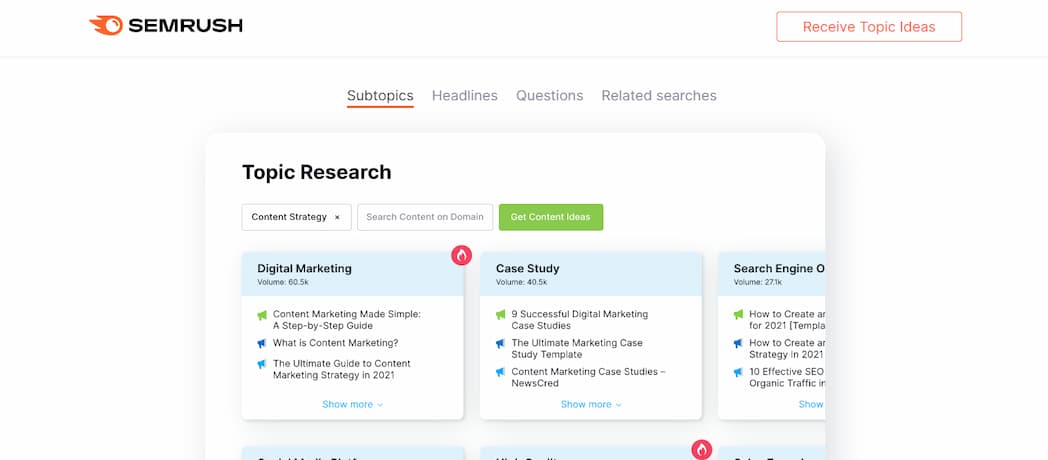 Answering the questions your target audience are asking is the most effective way to generate content ideas with the potential to generate good organic traffic. AlsoAsked.com is a good place to find these questions.
This tool analyzes and presents the most searched for questions from sections on search engines like Google's "People Also Asked" section. This insight can present you with a lot of content ideas, as well as long-tail keywords which you can use to find the relationship between new topic ideas and user queries.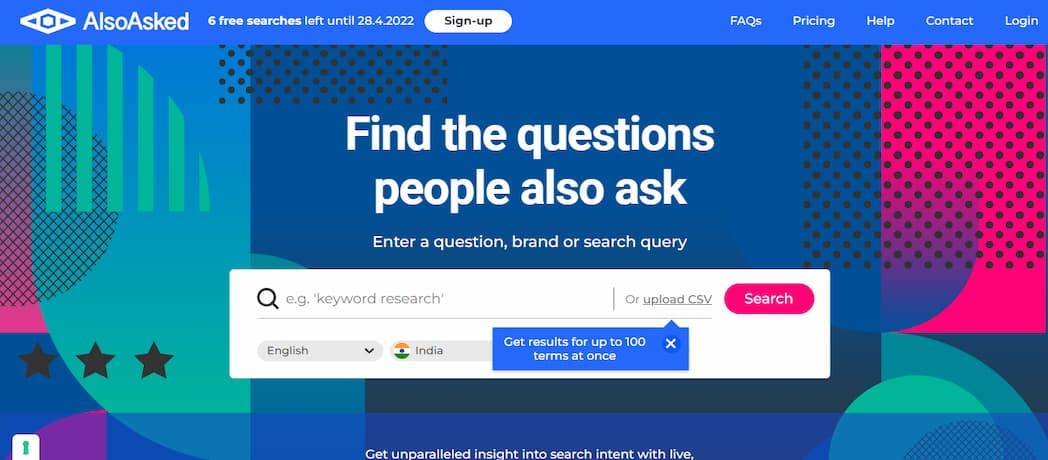 Optimizing your SEO strategy to serve your target audience's needs is an imperative part of the process, and Answer The Public is another tool that can be of good assistance to you. While AlsoAsked.com can give you the questions users are searching for the most, this tool can return you with the most looked-for results from Suggest sections. These also include different auto-complete suggestions for better results.
Using both AlsoAsked.com and Answer The Public can help you fill the gap of missing content on the internet and gain good organic traffic on your website.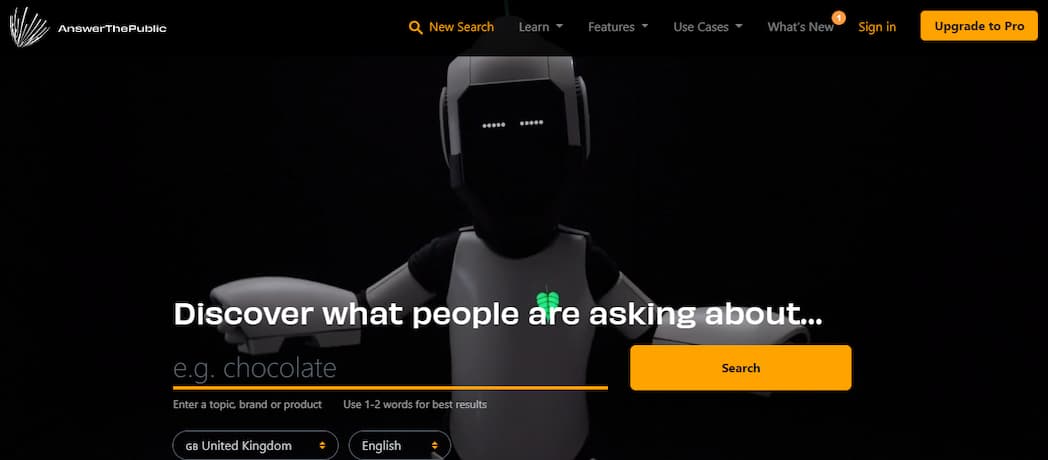 Google Docs is one of the most used collaborative tools in the world. This tool offers you the convenience of sharing documents with anyone and collaborating with them in real-time on the same document. It has many customizations which can help you refine the document any way you like. Most of the content marketing teams across the world use this tool to actively collaborate with each other. Leaving comments, making suggestions, editing, or just limiting sharing privileges also makes it an amazing tool for sharing content across various teams for different forms of collaboration.
Google Analytics is a top-tier tool for any user who wants to generate content ideas or take a look at how their content is performing. This free tool helps you monitor and measure critical engagement metrics such as session duration, bounce rates, page views, and much more.
This can help users in finding out different types of content across the internet which are performing well and focus on creating content strategies that have the most potential of working out. For instance, Google Analytics can help you find out if your blog posts are performing better than your email marketing, helping you double down on the blog topics to generate even better traffic.
Written Content Creation Tools 
Hemingway is a widely used content creation tool used by writers, editors, copywriters, and others to check up on their finished work. As Hemingway themselves put it, "Our app makes your writing clear and bold".
The tool analyzes your written content and provides suggestions to make it more readable. Its "Readability" metric provides all the insights which can help you in making your content crisp and more understandable to layman readers.
All you need to do is put your written copy on the app, and it will provide you with the suggestions to enhance its quality within seconds!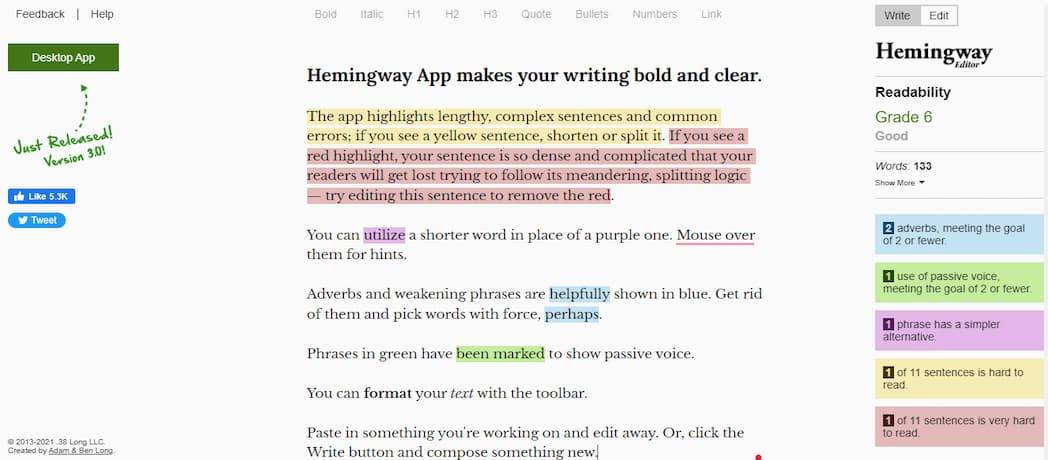 Grammarly is the most recognizable and used tool across the written content creation community. This app helps you in making your written content mistake-free.
This app provides a helping hand in reviewing your content and helps you find all the scopes of improvement, along with highlighting all the grammatical mistakes your write-ups might have. It also gives suggestions about how you can improve the tonality of your content, and also suggests various alternative terms or phrases which increase the readability factor.
Another great advantage Grammarly offers with its premium subscription is a Plagiarism Checker tool, which can help you in removing any similarity index from your content with already published content on the internet.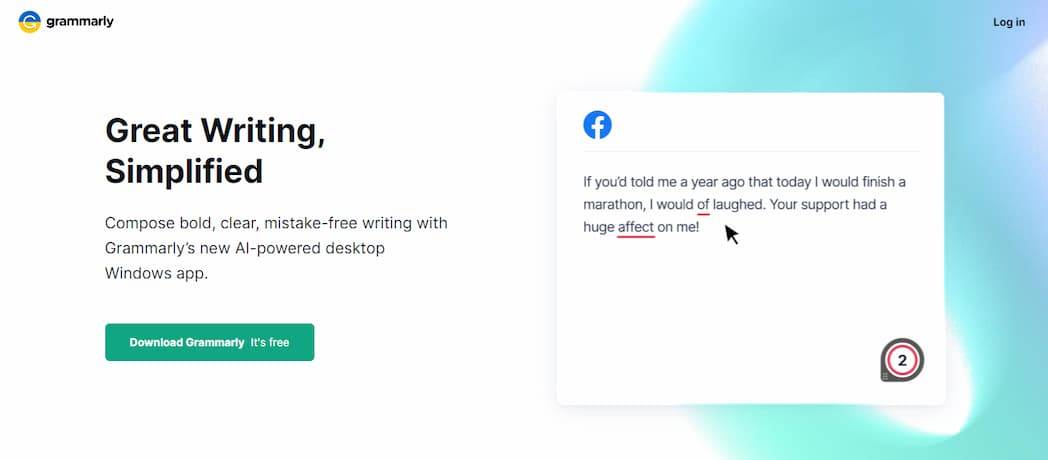 Izitext is one of the most used tools by journalists, podcasters, video creators, and transcribers. This tool helps one in transcribing the audio into text.
The AI used in this tool is quite advanced and very efficient in providing almost accurate word-for-word transcription for audio content. This platform has become a go-to for content creators across various platforms to generate subtitles for their content, as well as journalists to provide textual context for their interviews or news.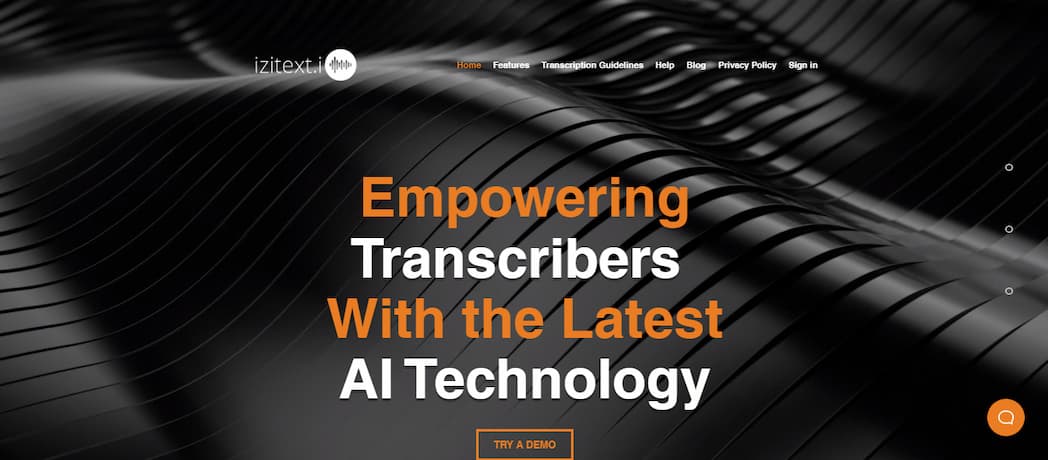 Visual Content Creation Tools
Canva has become the most recognizable and used platform for designers and content creators. The platform offers a multitude of free features, as well as a premium membership with even more.
Graphic designers use Canva to create cover images, visuals, designs, graphics, GIFs, and much more to add to blogs, videos, and much more. The tool can also be used to make creative infographics, get templates for various types of documents, and more. It is easy to understand and can even be used by a layman with its amazing interface that guides you in creating content.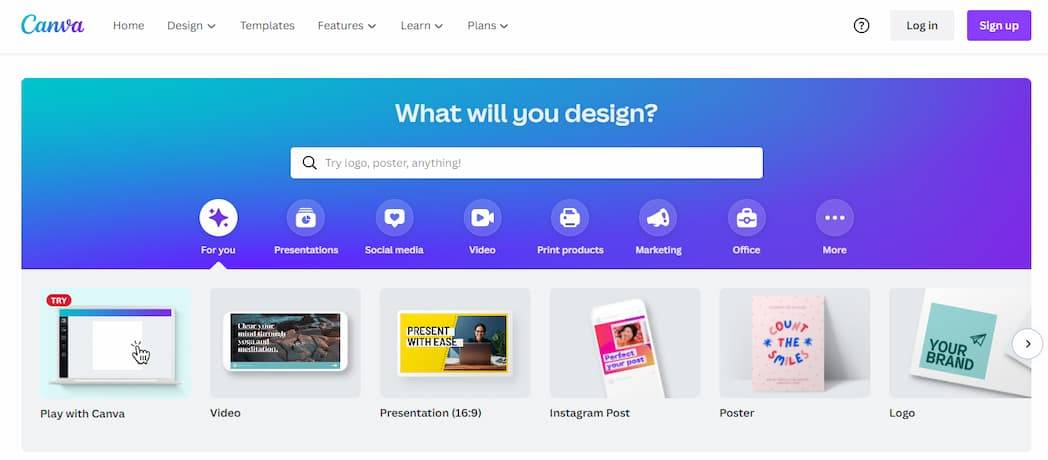 Any graphic designer or content creator out there knows about this tool. One of the most easily accessible tools for removing backgrounds, remove.bg is literally what it says.
Add any image to this tool, and its AI will remove the background in a matter of seconds. The tool does exactly what it says. You can save the graphics with removed backgrounds in various formats, and use them for any purpose you want within a minute. The tool can be used for free, but also offers a couple more features in its paid subscription for graphic designers.
Infographics have become a critical element of creating authoritative and valuable content. Visualizing data for easier consumption is the best way to capture the attention of users. This is where Piktochart can be used by content creators. Even people without any designing skills can make the most out of this easy-to-use tool.
It offers various templates and designs which can be automatically implemented across any form of data you want to visualize. This makes the charts and graphs more engaging and visually appealing.
Giphy has grown to be the most popular platform for sharing GIFs online. It is also now the second most used search engine in the world!
GIFs have become a very popular medium for content marketing, visualizations, and much more. Whether you want to use existing GIFs for your social media posts or create new ones that capture your message, Giphy can help you do it all. With a collection of over a billion GIFs on the platform, you can explore a multitude of options to help you in elevating your content's engagement!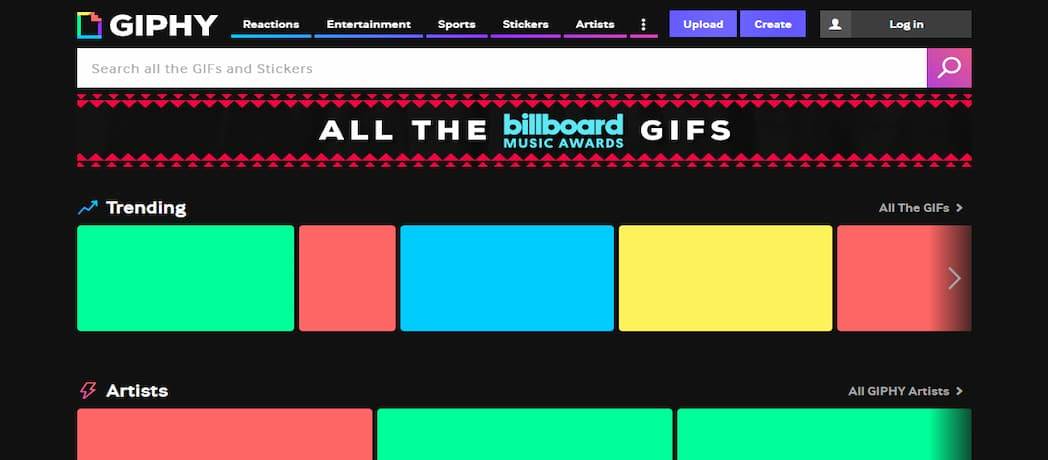 Having access to platforms that provide images to use for your content without the fear of getting a copyright strike is a valuable asset for any content creator. Unsplash offers exactly this. The platform houses millions of images that are license-free and can be used for enhancing your content. Best part? The platform has images across various niches and also claims to have photos for everyone for every purpose.
Another tool for creating visually stunning infographics is Flourish. This tool helps you in elevating the engagement in your stories by presenting you with various templates for creating graphs and charts.
Flourish Studio offers these templates to be used for free and helps you out in going all out in creating striking visuals for your data. In fact, Flourish was used by thousands of journalists worldwide to create maps and charts during the COVID pandemic.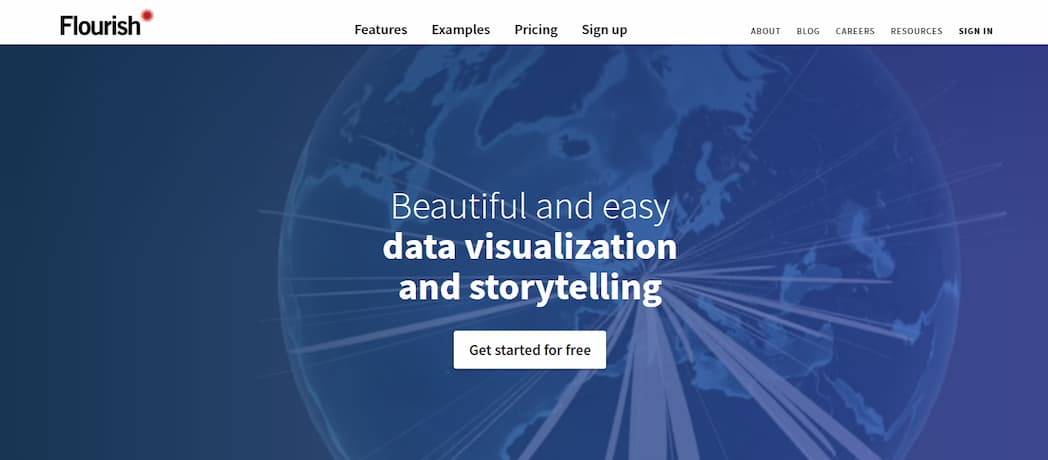 Podcasting Tools
One of the best podcasting tools for newcomers and veterans alike, Audacity offers multitrack audio recording and editing to the users. Its easy-to-use interface coupled with a plethora of features makes it the go-to tool for many podcasters out there.
The editing tools on this platform are very easy to understand and use, and the audio rendering is top-notch. Being a free-to-use open platform, Audacity has been helping many journalists and podcasters produce regular and high-end audio content.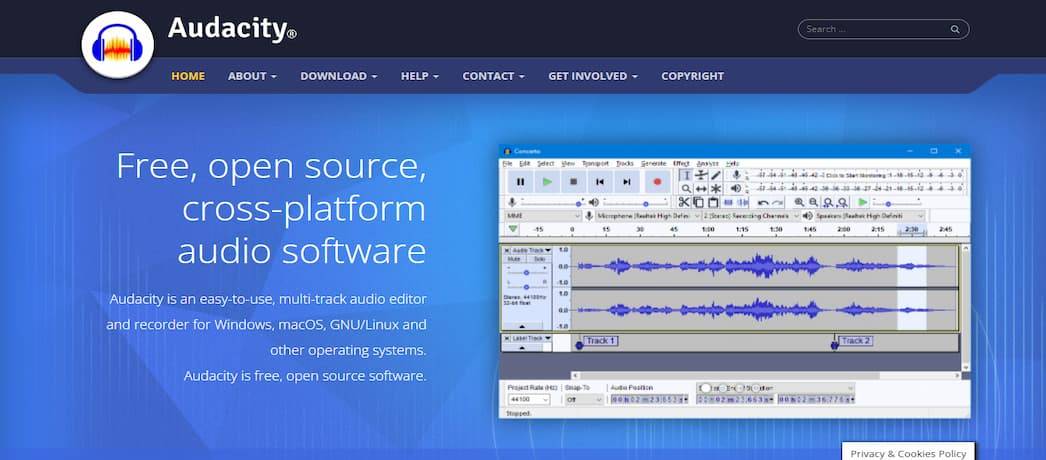 After recording your podcast, you will be looking for a platform to host it. Buzzsprout is a widely known hosting platform that can help you seamlessly share and manage your podcast from a centralized place.
This platform is also great in terms of keeping a check on the performance of your hosted content. It can give you valuable insights into the performance metrics of your episodes. These include the number of devices used to listen to your episode, where the traffic is coming from, the number of shares, and much more. This can help podcast creators in tailoring their content based on these insights to gain even more listens and reach a wider audience.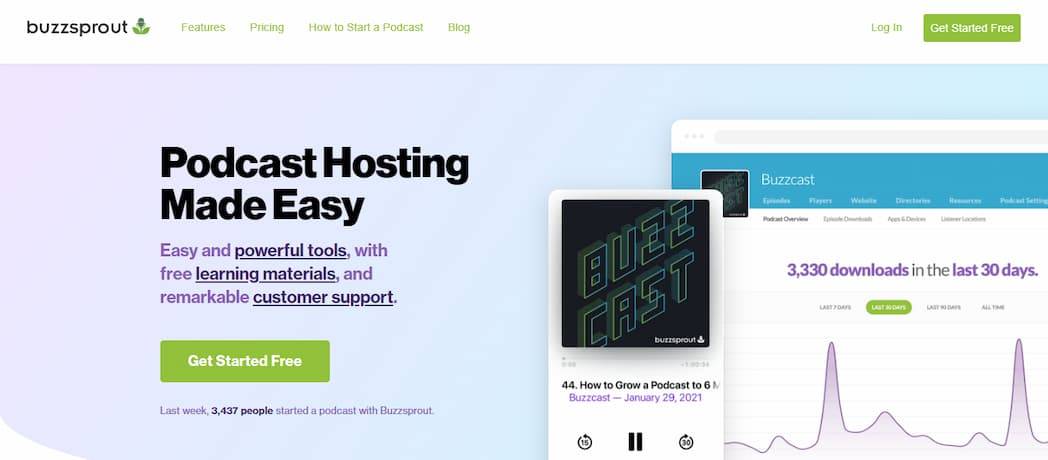 With the evolution of podcasts, all types of audiences have come to the forefront to be catered to their liking of content. With this, there has been a big surge in audiences who prefer a text alternative to podcast episodes. Transcribing long episodes can prove to be a tedious task and that is where Scribie comes in. 
The tool offers accurate transcriptions of all types of audio content, which is executed by professionals using AI tools. The results are efficient and save podcasters a lot of time in transcribing their episodes for the reading audience.
This newly surfaced live podcasting tool has become very popular over the last year. With an active community of over 2 million weekly users, you can jump in on any live streams from people like Serena Williams, Bill Gates, and many other influential people.
You can even host your own live streams which users can join anytime. This tool has also become quite popular for hosting digital conferences and even concerts!
Podcasting is one of the most effective ways to connect with prospects, address their concerns, and inform them about your products. However, you end up spending a significant amount of time editing before promoting your podcast. 
At the same time, if your podcast is of poor quality and not done professionally, you would get limited engagement. This is where Alitu can help. This content creation tool can perform all your editing-related tasks. You only need to upload the raw content, and Alitu will handle the rest. In order to utilize this content development tool, you will have to spend $28 per month.
Video Content Creation Tools
Widely considered as the best webinar software, Webinar Ninja is a great tool to create webinar videos and present them to a wide audience. One of the reasons for its popularity is its simplicity. New users can learn all about its features in a matter of minutes!
You can launch live webinars, use a mammoth library of templates to create professional-looking pages for sign-ups, and much more using Webinar Ninja. Moreover, you can even edit your webinars after recording them to elevate their quality and share across multiple channels seamlessly.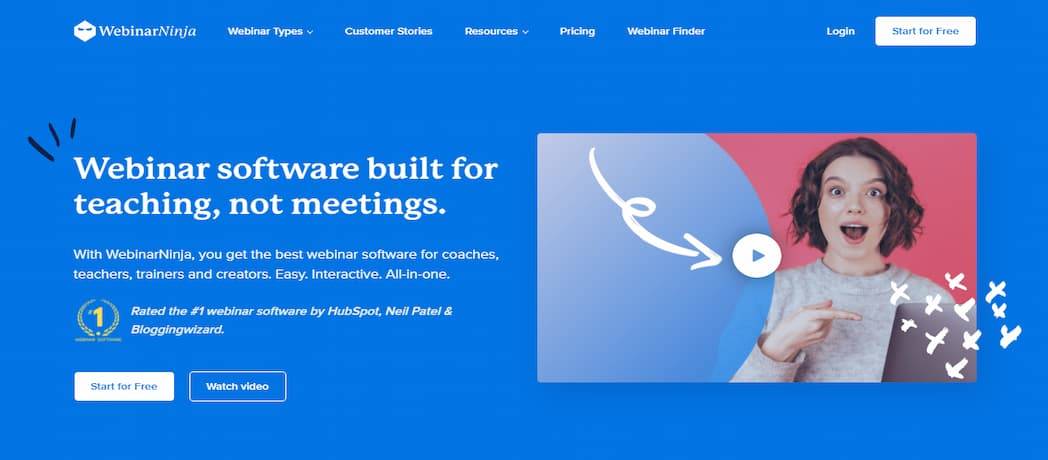 Producing video content that looks professional can be a touting task for content creators. With Biteable, a lot of video creators have been able to overcome this issue to generate more engagement with their videos.
Offering a massive library of templates to create interactive and visually appealing videos, Biteable helps users in creating powerful video content. Companies like Panasonic, Airbus, and Virgin have been using Biteable to create their video content, amongst the more than 7 million active users on this platform.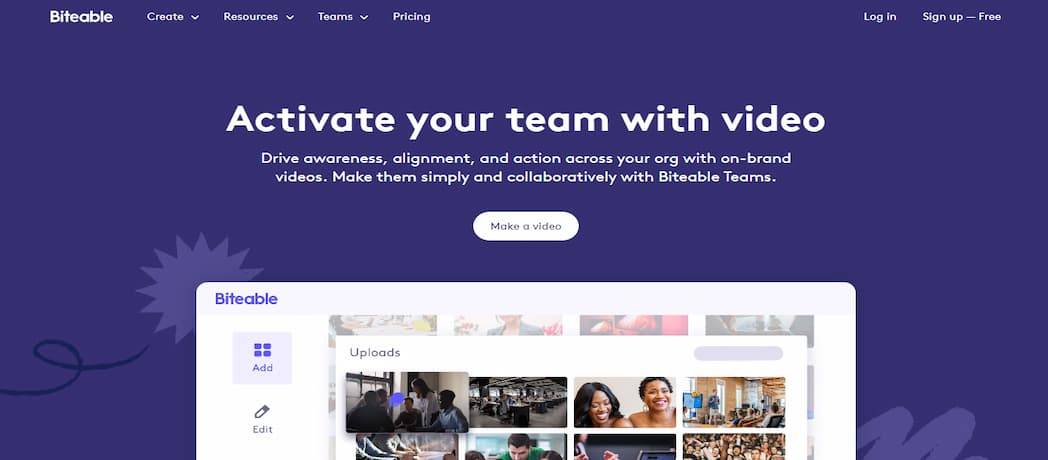 Content marketing is a tedious task in itself, and online reviews can prove to be tricky to handle. It has become increasingly hard for users to determine the real reviews from fake reviews.
With Video Peel, you can create videos of customers directly recommending products or services as reliable reviews. This SaaS tool helps businesses in creating engaging user-generated content for social proof from the customers of businesses. This helps in creating a very personal, heartfelt, and direct connection with the receivers who become more encouraged to engage with the business.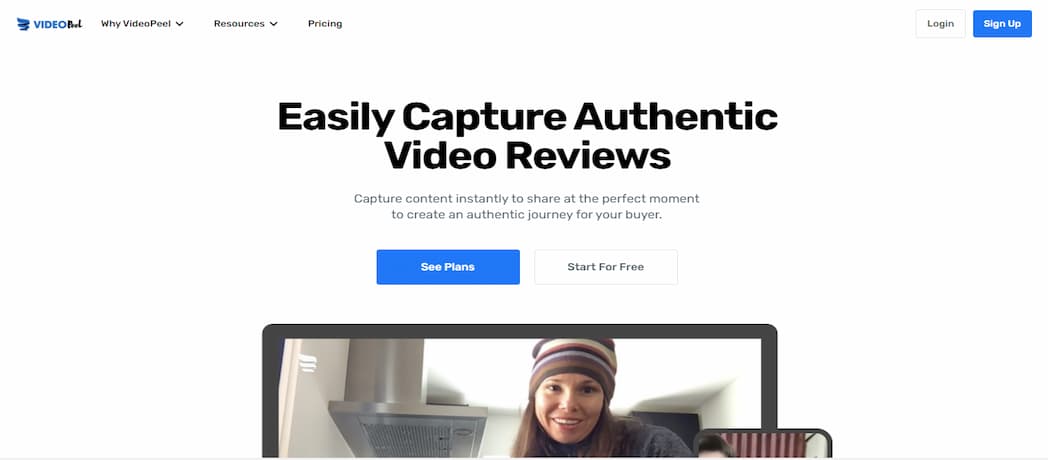 Video content is an effective form of marketing material. If you can craft your content in a way that is creative, witty and provides all relevant information, your chances of obtaining qualified leads increase. 
But the problem is how to create an effective video? The answer is Animoto. You can select from a variety of templates when using this video content creation tool. You can even use this tool to add a personal touch to your videos and photos. Another useful feature of this tool is drag and drop, which simplifies the video creation process. Animoto is available in both free and paid versions.
Frequently Asked Questions (FAQs)
Q.1. What Does Content Creation Mean? 
Content creation is a broad concept that begins with the generation of topic ideas, followed by research and the creation of a piece that appeals to your prospects and persuades them to take action. Your content could be in the form of text, videos, podcasts, or infographics. You can use various content creation tools to help you create exceptional content.
Q.2. What are the Most Important Tools that Every Writer Should Have?
The tools for which a subscription is recommended are determined by the type of content you create. For example, if you only create textual long-form or short-form content, a Grammarly or Hemingway subscription is enough. If your content includes graphics or videos, you may want to look into Canva, Animoto, and other similar content creation software.
Q.3. What are Some of the Best Content Creation Tools?
You will find various tools for your different content requirements. If you are creating video content, you can turn to Streamyard, Biteable, Animoto, etc. For graphics, subscribe to Canva, Giphy, or Piktochart. Whereas for content planning, you may use SEMrush topic research tools, SparkToro, Google Trends, or SEMrush Marketing Calendar.
Q.4. What is an Example of Content Creation?
There are various types of content. Some are intended for product marketing, others for information dissemination, and some for brand awareness. Different content formats require different planning and strategy. The most common content creation examples are:

Emailers

Newsletters

Blog post

Comics

Corporate handbook

Explainer and how-to videos

Webinars and podcasts
Time to Create Powerful Content
Now that you have a list of the most reliable content creation tools across all domains, it is time to pick the one most suitable for your purpose and goals. Make your content creation game strong with these tools, and create valuable and powerful content to boost the engagement of your audience
Read More :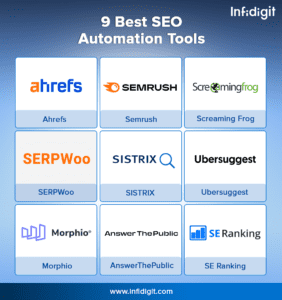 Popular Searches
List of Search Engines | Top Google Searches | Importance of Digital Marketing | Importance of  Website | Youtube SEO Tools | Types of SEO |Website Structure | Benefits of SEO | Cloaking |Google Sandbox | SEO Friendly Website | Blog Commenting for SEO | Server Side Rendering Vs. Client Side Rendering | Youtube Trends | Types of Sitemaps | Social Bookmarking |Off Page SEO Checklist | HTTP Status Codes | Vanity URL | SEO Vs. PPC | Best SEO Blogs | Benefits of LinkedIn Ads | Keyword Density | How to Use Keywords in Blog Posts | Website Migration | Digital Marketing Types | Search Engine Optimization | Canonical Tags | On Page SEO | What is Off Page SEO | Link Building for SEO | Image Optimization | SEO Company in Boston | Dallas SEO | SEO Company Houston