We have all been in a situation where we needed to buy something and have done a Google search to get a sense of all the available options. And after we have compared the choices presented to us, we proceed and make a purchase. This alone is ample proof that organic search plays a crucial role in every marketing campaign. In fact, as per a recent study, it was found that 51% of all website traffic comes from organic search and over 40% revenue is generated from organic traffic.
While you may already have a basic idea about what organic traffic is, you may be looking for ways in which you can maximize the same for your website. That is why we have curated this detailed guide to take you through what it exactly is as well as how you can increase it.
What is Organic Traffic?
Simply put, organic traffic can be defined as the number of people reaching your website by clicking on a non-paid result on search engine result pages (SERPs). It is one of the major traffic sources that most inbound marketers focus on because once you succeed, it will be a long-term source of traffic.
While perfectly implementing an organic search strategy can take some time, it is worth the hassle. This is because it is more likely to generate more leads and revenue.
If you are still wondering what organic search in Google Analytics is and where you can find that data, follow these simple steps: 
Login to your Google Analytics account and click the 'acquisition' tab. 

Next, click 'all traffic' and then 'channels'. 

Here you'll find the organic search data. 
Organic search data helps you understand how many users discovered your website organically in the selected time frame.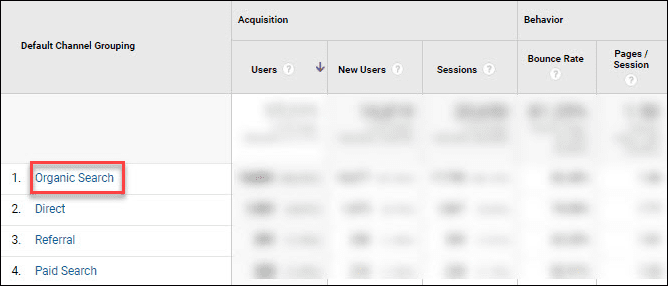 What Organic Traffic is and How You Can Increase it for Your Website
A great website is ever-evolving. You don't just make a website and leave it at that—it's important to monitor user acquisition, activity, and SEO rankings to keep your foot ahead in the race of getting traffic directed to your website. The starting point and perhaps, the most important part of this process is understanding, decoding, and enhancing your website's organic traffic. 

Introduction to Organic Search in Google Analytics 
Google Analytics is an advanced tool that helps developers and website owners understand their audience: where they are directed from, how long they stay, and what pages they visit most, to name a few. 
One of the key terms and metrics that Google Analytics provides its users is organic search data. When a viewer lands on your website without the aid of ads or direct marketing attempts, it is classified as organic traffic. This essentially means that the user has searched specifically for your website or your website has shown up in response to certain terms entered in the search engine. 
Why is Organic Traffic Important? 
Now that you have understood what organic traffic exactly is, the next query is, why is it important? Well, organic traffic is crucial for more than one reason. We have curated the top reasons why a marketing campaign should focus on organic traffic. 
High Quality Leads are Generated
This is probably one of the biggest advantages of organic traffic. Since the traffic from search engines is specifically targeted towards queries related to your website, the probability of them converting to leads is high. Furthermore, it not only increases the numberof people who visit each day but also paves the way of getting new customers interested in what services you offer.
Long-term Sustainability Can be Achieved Through Organic Search
If you are someone who wants their website to achieve sustainable SEO, i.e., a long-term source of traffic, organic search should be your go-to choice. Unlike paid marketing campaigns, organic traffic will not cost you anything as it relies on keywords in targeted searches. Additionally, it also provides you the opportunity to target specific keyword queries that will ensure a continuous flow of traffic to the website.
Customer Faith is Increased
It has been noticed that generally, people tend to click on top-ranking organic results as compared to ads. This makes them extremely credible and stand out from the rest of their competitors.
Economical
Another significant advantage of focusing on organic traffic is that you do not have to pay anything to appear in organic search results. This makes it one of the most cost-effective approaches to digital marketing. With that said, you will have to invest time to optimize your site as well as invest in search engine optimization (SEO) services. All of this is worth it your website would have a continuous stream of traffic come its way.
How to Increase Organic Traffic?
Since organic traffic is extremely important for any website to grow and flourish, one should keep a tab on the data, identify areas of improvement and constantly keep attempting to enhance the website to garner more organic traffic. 
Four important tips and points to consider here are: 
Publish relevant content (via blogs)
There is a reason that people say content is the king. It is what makes, builds, and holds your website together. While writing the content, keep in mind that: 
The content serves a reader/viewer's purpose. It should focus on giving solutions and adding value to the user's search. 
It should be evergreen yet topical: Topical keywords and content have great organic reach and traffic. 
Keywords play a major role in directing organic traffic to one's website. In fact, they are the sole link between a search and the result. A great way to go about enhancing keyword density in your content is asking yourself, "what will a user who wants to reach this Web page lookup?" The answer will help you identify the right keyword. 
Backlinks in the SEO world are a hidden yet effective tool to increase browser listing ranking and to generate more traffic. Try writing to websites that collate listicles or have references and backlinks features to direct more audience to your website. 
While content is king, SEO is its throne in the digital and tech world. It is important to extensively focus on SEO. Be its keyword density, backlinks, technical SEO, alt attributes, they all make a lot of difference in attracting organic traffic. 
What are Some Other Forms of Website Traffic?  
To understand this better, let's identify a few other forms of traffic and how they're different from organic ones: 
This includes the traffic that gets redirected to your website via paid ads on the Search Engine Results Page (SERPs).  
When a user manually enters your website's URL or comes from an unknown but direct source, it gets counted under direct traffic. 
Interlinking, backlinking, and seed linking your website to other websites and platforms can potentially lead to some redirects. These amount to referral redirects on Google Analytics.  
The traffic that lands on your website via different social media platforms, including Instagram, Facebook, Twitter, Pinterest, to name a few, forms the 'social' category on Google Analytics. 
This refers to the targeted traffic that comes via different banner and display ads. 
Email marketing, an evergreen tool, also generates a lot of traffic. This forms another source of viewership on one's website. 
Conclusion
We hope that the pointers in this article show you how important organic traffic is. While the implementation of a detailed campaign strategy can be a little difficult to do all by yourself, it would be worth the hassle. However, you can even avail the services of a SEO company such as Infidigit to help you do the same. Keep following Infidigit to uncover more digital marketing tips and tricks.
Reviewed By – Kaushal Thakkar
Popular Searches
Google Web Stories | Slug | Outbound Links | Toxic Links | Technical SEO Tools |Guest Blogging | What is ROAS | Mobile Marketing | Google Tag Manager | SEO Periodic Table | Bot Traffic | 404 and Soft 404 Errors | SEO tips for Online Grocery Stores | Google Bert Update | Robot.TXT and Meta Robot Tags | 301 Redirects | Mobile First Indexing | Podcast SEO | W3C Validation | Link Building Tools | Local Citation | Google Multisearch | How to Deal with Plagiarized Content | Increase Youtube Views | SEO Job Interviews Questions Answers | What are the Types of Digital Marketing | What is Search Engine Optimization | What is Canonical Tags | On Page Optimization Techniques | Types of Off Page | Link Building Services | What is Image Optimization in SEO | Boston SEO | SEO Company Dallas | Houston SEO Services