Backlinks are said to be the foundation of the internet and have held it together since the beginning. Even today, SEOs consider external links as an essential ranking factor when it comes to Google's ranking algorithm and this is what we will be exploring in this blog post.
What are External Links?
The link pointing from one domain to another is termed as an external link. Simply put, if a website links to your website, it is known as external linking. Likewise, if your site links to another website, this is also called external linking. When a hyperlink from a website links to your website, it is commonly known as an 'inbound link' or a 'backlink', and when you link to a different website, it is popularly known as an 'outbound link.'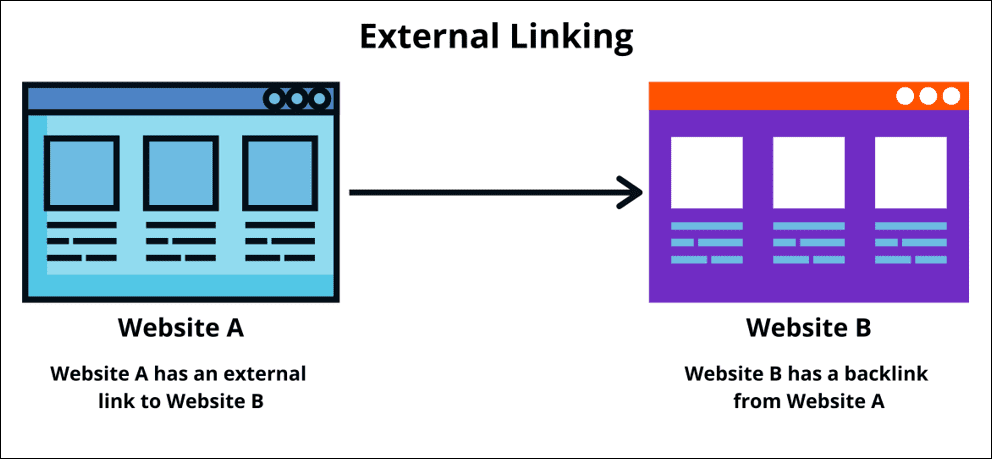 Why are external links important?
External linking plays an influential role in increasing your website's ranking. These links are considered as a third-party vote of confidence by search engines, based on the simple idea that how people talk and recommend your website can say a lot about you. In fact, external linking has always been a crucial ranking factor since the launch of Google. Here are some important facts about external linking.
Increases the visibility and relevance of the website
Search engines value their users and always aim to show the most relevant results to their query. External links coming from websites of the same niche can help Google understand the relevance of your website content for a specific query and the degree of your popularity. This can boost your website's ranking.
Adds value to user experience
By linking to another website, you can help users find some additional and relevant information that they are looking for. This can enhance the user experience and encourage them to revisit your website for more quality content in the future.
Increases backlinking opportunities
Linking out to other reliable sources on the web can help you get a backlink from them and this can build a natural linking environment. This is one of the best techniques to boost your ranking on various SERPs (search engine results pages).
What are the Types of External Links?
External links are broadly classified into two types
Dofollow links indicate to search engine crawlers to follow the link and pass link equity or link juice to the linked site. This can boost their rankings.
Nofollow links tell the crawlers not to follow the link and not to pass any link juice. This is done by adding a rel='nofollow' in the <a> tag.
What is an external linking strategy?
In simple terms, an external linking strategy is a comprehensive process that involves building external links or backlinks, to improve various metrics for your website. It follows the best off-page SEO practices that are implemented to improve your domain authority, reachability, and rankings on SERPs. It can include activities like backlink building.
How do you find relevant links?
Finding relevant links that support your blog content can be highly beneficial for your business growth. Many publishers avoid adding external links to their website content as it is considered a time-consuming process. However, when you include external links in SEO strategy and use them in your content, the relevancy of your content increases. 
Make sure to add links to only authoritative websites that people trust. Also, the page that you are linking to must be relevant to the content on your blog. Do not unnecessarily link to renowned websites that have nothing to do with your content. It will be taken negatively by the viewers and can impact your rankings. 
To find relevant links for your website, thoroughly research the internet for trending topics in your business niche. There are many tools available on the web that can help you find the relevant links to your content. 
Internal Links vs External Links
Internal linking involves web pages being linked within a website on the same domain. The purpose of internal links is to help users easily access relevant content on the website and navigate through various related content conveniently.
The link value of internal links is not as high as external links. To be more precise, the link value for both is measured in completely different ways by Google. Google puts more value on external links when it comes to ranking than internal links. While internal linking is a very healthy on-page SEO practice, a website can build hundreds of links internally. Google sees external links as an impartial third party "vote" of confidence on a website or its content.
What are the Best Practices in External Linking?
Always link to relevant pages
External linking is all about helping the search engine understand your website's relevance for a particular query. You should only link to pages that are within the context of the topic that you are talking about.  
Publish great content to get backlinks
The simplest and most natural way to earn backlinks is to create great content that can answer the user's query. This will encourage others to link to your website.
You should refrain from the practice of two-way backlinking and linking to private blog networks. After the Penguin update, Google is devaluing any such backlinking.
Avoid excessive outgoing links
Having too many hyperlinks on a page can be annoying from the reader's perspective. Try to link to fewer, relevant blogs only and pay attention to your on-page optimization.
Anchor text is the clickable text you see on a website that takes you to another web page. An anchor text can be used both for internal and external linking. Google suggests that the anchor text used on your websites must be descriptive and provide an idea about the content on the web page. 
The best practice is to create anchor text using variations of keywords. It keeps the content direct and natural and establishes a better connection with your audience, eventually leading to higher website traffic.  
What Factors Contribute to High-Quality External Linking?
Let us look at the factors that search engines like Google take into consideration while evaluating external linking:
The credibility of the linking domain.

Page popularity of the source.

Relevancy of the content between the linked source and target page.

Natural-language & keyword-rich anchor texts that do not seem forced or repetitive.

The number of links on the source page.

The number of root domains of the source page.
So, Do External Links Matter in SEO?
External links are a small yet significant factor in SEO and should be paid close attention. The community and rank-building activities related to external links should not be ignored whether you are creating a new website or already have an established one. External links are one of the toughest metrics to manipulate. Thus, it is one of the best ways for a search engine to determine your website's reputation and boost your rankings.
Want to know more SEO tips and tricks? Subscribe to our blog.
Popular Searches
Private Blog Networks |Most Subscribed Youtube Channels |Permalink|Backlink Audit | People Also Ask |What Are Backlinks | Hreflang | Submit Url To Google | Local Seo Ranking Factors |Introduction To Schema Markup |Best Blogging Platforms |Reciprocal Links |Artificial Intelligence In Digital Marketing | Subdomain Vs Subfolder | Content Syndication |Google Disavow Links |What Are Google Alerts |Lsi Keywords |Eat Seo Guide |Website Navigation |Zero Search Volume Keywords |Dwell Time|Heatmap Tools|Google Hummingbird Update|Referral Traffic|What Is Digital Marketing And Its Types |How To Do Seo|Canonical Tags|What Is On Page Seo|Off Page Techniques In Seo| Link Building Companies |Image Optimization Seo |Seo Company In Boston |Dallas Seo Services|Seo Service In Houston