SEO is crucial to any online business today. It plays an essential role in your business growth and brand recognition. While there are many factors involved, there are tools available in the market that make an SEO expert's life easy. One of them is Yoast SEO.
What is Yoast SEO?
WordPress is globally recognised as a premium CMS tool, supporting numerous plugins and Yoast SEO is one of the most notable of them all. It is designed to improve your SERP rankings, offering free and premium versions. Users benefit from features like XML sitemap generation, internal link suggestions, meta title, and description customization, and readability scoring, all aimed at optimising on-page and technical elements of your website.
What Yoast SEO does, and how does it help in SEO?
As stated, Yoast SEO offers multiple features and recommendations to simplify the process, staying true to its motto "SEO for everyone". Here are some ways it keeps that promise:
SEO for your page and post
Once the post is ready, the challenge is to rank it as well as the page on the SERP. Furthermore, optimization opportunities need to be identified before making it live. Yoast SEO tools provide detailed suggestions that help address these challenges in blog optimization. SEO is far from its reputation of mere keyword seeding. Yoast understands that and takes user experience in consideration when assessing a draft.  
Yoast SEO will help you optimize it properly.
Keyword research forms the core of SEO, let alone blog posts. Once done and the written content is ready, post optimisation can begin. The process uses an SEO Yoast feature called focus keyword. When we add the focus keyword, it will start analysing your content, and provide a content score based on its ranking criteria. The prioritization uses red, orange, and green colours as identification for various scores. The criteria is It will even check for content length, internal links properly, and keyword density.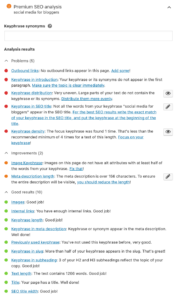 Previewing Google SERP Appearance
Understanding the possible appearance of your page on Google search results is essential. Yoast SEO offers a tool that provides a snapshot of how your page is likely to appear, enabling the creation of user-friendly and appealing snippets. However, it is important to remember that the final appearance depends on Google's ever-evolving algorithms.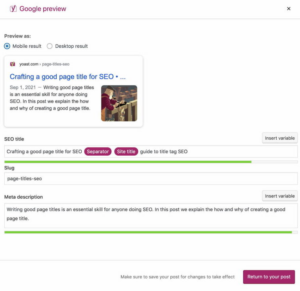 How to Install the Yoast SEO Plugin?
Here, we will provide a step-by-step guide on installing Yoast SEO on your WordPress website.
Log in to your WordPress website, find the "Plugin" option in the navigation bar. Click on the plugin>add new> search for "Yoast".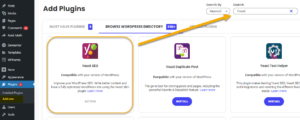 Click on the installation option and activate the plugin. Proceed with the one-time Yoast SEO tool setup.

Add basic information in the provided sections, as per your needs.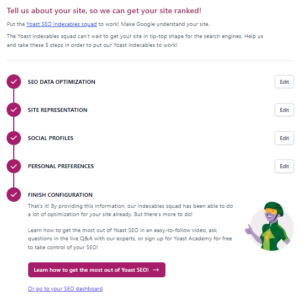 Once the basic setup is done, Yoast SEO will automatically initiate some changes on the website, like 
Adding Robots.txt

Adding XML Sitemap

Adding Basic Schemas
How to Use Yoast SEO in the WordPress Editor?
The Yoast SEO plugin is most beneficial for users in the WordPress editor. You can either expand the plugin's settings in the sidebar or use the "Yoast SEO" section at the bottom of the editor when editing a specific page or post in WordPress.
To expand the sidebar, click on the Yoast SEO symbol in the top right corner of the menu.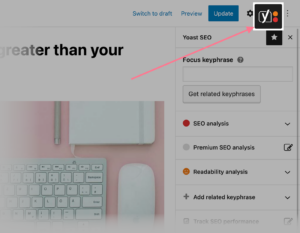 Explore the essential components of Yoast SEO
Readability Analysis
The readability analysis feature of Yoast SEO evaluates the user-friendliness of your content, ensuring it's easily comprehensible to your audience. It offers suggestions to modify the content structure, such as employing active voice, constraining paragraph length, and incorporating sufficient transition words to maintain flow.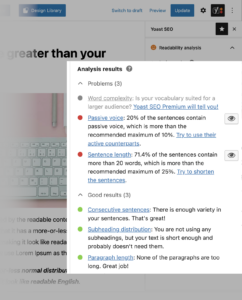 Also, you will spot an eye option besides the recommendation. Once you click that, it will highlight the paragraph that requires changes.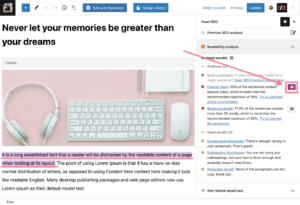 Schema 
Schema tag is the text that helps Google bot understand your website and help it attain a richer look on the SERP. However, be cautious using this feature as there's the risk of automatically deindexing your entire page section. The wrong Schema tag can also harm the overall website and negatively impact SERP rankings. 
Use different types of Schema on your website, depending upon the content of your website.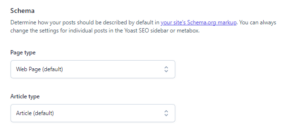 The Social Tab
It is well known that social media is not a part of SEO. However, sharing great content on your social media feed can boost brand awareness. Hence, it is advisable to use Yoast SEO's Facebook and Twitter preview feature. It will automatically fill in some basic details of the post and create a link featuring SEO title, Featured image, etc. In case you are unsatisfied with the changes, there's an option to override them.
Note: Social Tab is a premium feature in Yoast SEO.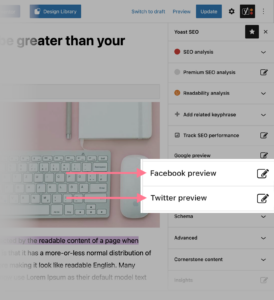 Summary
For WordPress users, the integration of a sophisticated SEO plugin like Yoast SEO is non-negotiable. It renders the optimization of diverse elements, such as meta titles, descriptions, schema tags, and sitemaps, uncomplicated, eliminating coding necessities.
In today's digital age, the competition is tough and the internet is overflowing with content. Using tools like Yoast SEO is essential for anyone wanting to strengthen their online presence and stay competitive.
Popular Searches
List of Search Engines | Top Google Searches | Importance of Digital Marketing | Importance of  Website | Youtube SEO Tools | Types of SEO |Website Structure | Benefits of SEO | Cloaking |Google Sandbox | SEO Friendly Website | Blog Commenting for SEO | Server Side Rendering Vs. Client Side Rendering | Youtube Trends | Types of Sitemaps | Social Bookmarking |Off Page SEO Checklist | HTTP Status Codes | Vanity URL | SEO Vs. PPC | Best SEO Blogs | Benefits of LinkedIn Ads | Keyword Density | How to Use Keywords in Blog Posts | Website Migration | Digital Marketing Types | Search Engine Optimization | Canonical Tags | On Page SEO | What is Off Page SEO | Link Building for SEO | Image Optimization | SEO Company in Boston | Dallas SEO | SEO Company Houston