Google Search Console's new updates will change the way you analyze data. Recently, GSC has rolled out two new updates that improve the efficiency of analyzing data. We can now use GSC to filter data by Regex (Regular Expression) as well as utilize a revamped comparison mode that supports more than one metric.  
Regex Filters: The new update of GSC is Regex that will help create more complex query and page-level filters. For example, let's say your company is called 'Milk and Honey' but is sometimes also abbreviated as 'Milk & Honey' or even 'M&H'. You can use a regex filter to capture all of your branded queries by defining the regex filter: milk and honey |milk & honey | m&h."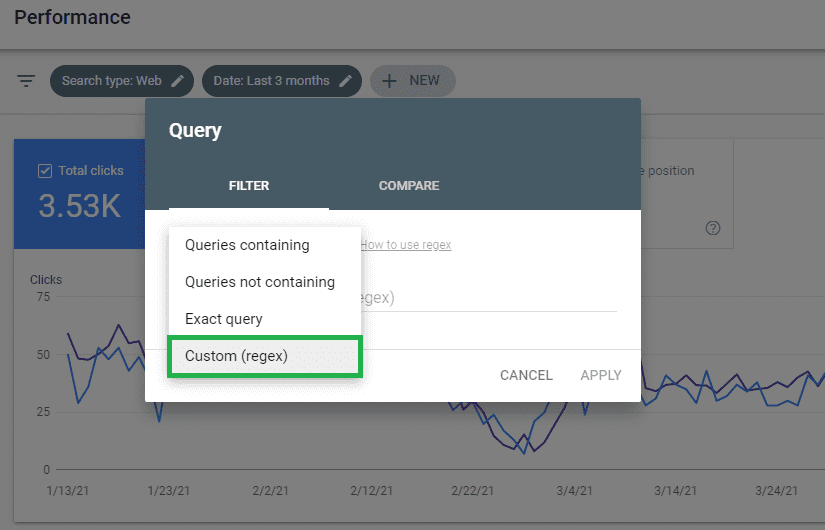 Back then, GSC did not support complex queries such as above, but now it allows to filter queries and page URLs in three different ways: containing a string, not containing a string, and exactly matching a string. To use this new update, start by creating a query or page filter, then select the dropdown menu and select Custom.
Revamped Comparison Mode: We use this mode in GSC to get results for comparison-based queries. Previously, the table did not show a comparison column with a relative difference in percentage if more than one metric was selected but now that is not the case. 

The new revamped comparison mode allows us to select more than one metric, thus improving the interface that doubles the area available for the data table and makes it easier to view results/data side by side.
GSC revamped comparison mode supports the new regex filter as well as, for queries and pages. Also, the new comparison mode allows us to get data for more than one metric and compare it; only one filter at a time can be applied to those metrics. Adding this new revamped comparison filter will replace the existing comparison.
Popular searches
SEO Company   |  Ecommerce SEO Services  |  SEO Audit Services  |  Google Penalty Recovery Services  |  Local SEO Services    |  PPC Services  |  ASO Services  |  Conversion Rate Optimization Services  |  Link Building Services in India  |  Content  Marketing Services India  |  Enterprise SEO Company  |  Amazon Advertising Agency  |  Professional SEO Company  |  What is SEO  |  What is Digital Marketing  |  Canonical Tags  |  What is Featured Snippet  |  Schema Markup  |  What is YouTube SEO  |  Google Knowledge Graph  |  Hreflang  |  What is AMP  |  Cloaking  |  On-Page SEO  |  Off-Page SEO  |  Technical SEO