Search engine optimization (SEO) techniques are constantly evolving so that they can help websites rank higher on search engine result pages (SERPs). Some practices, though old-school, remain relevant. Guest blogging is one of them. If guest blogging is unfamiliar territory, allow us to help you understand what this concept is.
What is Guest Blogging?
Guest blogging refers to posting blogs on another person's or company's website. The main purpose of doing so is to attract visitors from the website you are posting on to your own website. It is also known as guest posting in SEO. Let us take a deep dive into why a lot of people implement this technique and how it benefits their website.

Why Guest Blogging?
Say you are an author who needs to promote and reach out to an intended audience. You approach a webpage or blog site of an established brand or company that will help you to reach out to the audience using content that conforms to the quality standards. You both reach an arrangement that helps you promote your content as well as fulfils their requirements too. Guest blogging helps you engage with a new set of audience.
The Importance of Guest Blogging
Guest blogging opens up many opportunities for your website and can facilitate its growth and development. This practice gives your website the potential to be recognized by users, fellow bloggers, as well as search engine bots. Let's go over some of the benefits of guest blogging:
When you post your content on another website, their visitors become aware of your website. Moreover, inserting a link that redirects them to your website increases your chances of acquiring new followers. If users find your website valuable, they might visit it again. A consistent trend of guest posting on multiple websites might eventually lead to an increase in the number of visitors to your website.
Guest blogging is one of the most effective ways to build backlinks. A backlink is a link that redirects you from one website to another. Having a lot of backlinks makes a website seem more valuable to search engine bots. On top of that, if a website has high-quality backlinks, i.e., links from high-authority domains, then there are better chances of it ranking higher in SERPs. Guest blogging with premium content opens you up to that possibility.
If your website caters to a brand, you can spread awareness about it through guest blogging. If you guest post content that highlights, promotes, or even mentions your brand on a lot of websites, people will start knowing about it. Moreover, if you do it consistently, people will recall your brand and might even seek out a product or service that you offer.
Building Good Relationships
While guest blogging on different websites, you can build and improve relationships with different people as well as companies. Guest posting on their websites and allowing them to do the same on yours helps build trust. It also creates opportunities to do more business with them. Guest blogging can help you create a network of trustworthy entities that you can collaborate with to further grow your website.
These are a few of the reasons why many website owners take to guest blogging. It helps you create your presence on the Internet and potentially rank higher in SERPs. If you are wondering how to achieve this, keep reading.
How Do You Find Guest Blogging Opportunities?
When searching for websites that accept guest blogs, google search helps one reach the intended Web pages and sites. All one needs to do is type keywords like-
Keyword "Write for us."
Keyword "become an author."
Keyword "guest post."
Keyword "guest article"
Keyword "submit a guest post."
Google will list out the relevant web pages and guest blogging websites and direct you to them.
There are well-known guest bloggers in every field, and if you are looking forward to guest blogging, you should be aware of the established guest bloggers in your area. You can search for the sites and Web pages they have posted by typing "Guest blog by (the blogger's name)". This way, you are directed to the Web pages that accept guest posts for your field.
Backlink analysis of your competitor organization or marketing agency can also help you track the right website for guest posting. This is done with the help of tools like SEMRush and Open site explorer, or by simply searching on the google search, link: competitor domain.com "guest post". 
Social platforms are the best place to search for sites that allow guest posts. The authors of the guest posts or the Web pages share their content on social media platforms to attract more visitors. Twitter, for example, is the most convenient space for guest bloggers to tweet.
How to do guest blogging?
If you have an answer to the question, "What is guest posting?", let us discuss the correct ways to implement it. As easy as it sounds, guest posting can become a little challenging due to increasing competition and the constant changes in search engine algorithms. Listed here are a few guiding principles for effective guest blogging:
1. Determine the Intent
Before jumping into guest blogging, you need to determine its purpose. Is it simply to build backlinks, increase brand awareness, or attract users? By gaining clarity on what you want, you can try out methods that help you achieve those specific goals.
2. Do Market Research
If your website belongs to a certain market or industry, you should do some research as to how it is doing online. This will give you some insight on what to post about. You should be aware of the trending topics in the niche your website belongs to. This will help you determine what type of content you should post.
3. Analyze Competitors' Backlinks
There are several SEO tools available online that allow you to analyze website backlinks. This analysis includes the quantity, quality, and nature of the backlinks. This way, you can check what your competitors are doing right or wrong while guest blogging. It will also help you be unique and authentic by not doing what they are doing.
4. Write Quality Content
The search engine algorithm places a higher value on content that seems most useful to visitors. Similarly, users will only check out your website if your content is useful to them. Therefore, you need to write quality content that provides some valuable information to the users or satisfies their needs
Best Tools for Guest Blogging
For a smooth and systematic guest blogging process, you need the right tools. These tools help you in research, initiation, analysis, and development of your guest posting project. Here are a few good ones that you can use:
BuzzSumo

Ahrefs

Semrush

Clearscope

BuzzStream

HubSpot CRM
Track Results
As soon as you begin a guest blogging project, start analyzing the performance of your blogs. You can track the referral traffic coming from the blogs you posted on different websites. This will help you evaluate the success or failure of your guest blogging project.
These are some of the many guiding principles for efficient guest blogging. When you start guest posting and understand how SEO works, you might come up with your own strategies and techniques.
A Recap of Guest blogging
Guest Blogging is an excellent platform for generating content to market one's personal or corporate brand. With the assistance of an SEO company, you can use guest blogs to communicate with your field's target audience. This will help you get in touch with consumers efficiently and help you in generating direct traffic to your website through SEO.
Conclusion
There is a common misconception that guest blogging is done only to build backlinks, though it is much more than that. Guest blogging helps in the overall development of your website. It has the potential to advertise your website on a large scale and gain an audience that you might never have seen before.
With the successful implementation of guest blogging, you can improve your SEO practices, expand your brand online, and sell a product or service you might be offering.
Read More :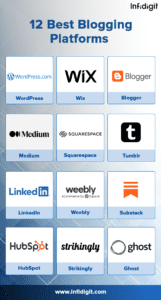 Popular Searches
Private Blog Networks |Most Subscribed Youtube Channels |Permalink|Backlink Audit | People Also Ask |What Are Backlinks | Hreflang | Submit Url To Google | Local Seo Ranking Factors |Introduction To Schema Markup |Best Blogging Platforms |Reciprocal Links |Artificial Intelligence In Digital Marketing | Subdomain Vs Subfolder | Content Syndication |Google Disavow Links |What Are Google Alerts |Lsi Keywords |Eat Seo Guide |Website Navigation |Zero Search Volume Keywords |Dwell Time|Heatmap Tools|Google Hummingbird Update|Referral Traffic|What Is Digital Marketing And Its Types |How To Do Seo|Canonical Tags|What Is On Page Seo|Off Page Techniques In Seo| Link Building Companies |Image Optimization Seo |Seo Company In Boston |Dallas Seo Services|Seo Service In Houston