URLs are one of the most basic yet crucial elements of SEO. Even today, many SEO experts tend to overlook it. Good URL structure of a website can help improvise SEO by providing an excellent navigational experience. It can also be tracked in Google Analytics or Adobe Analytics for data monitoring purposes. 
In this article, we will discuss the necessary information of URLs like, what is URL? How a URL looks like? What are the URL structure and the importance of it?
What is the URL?
URL is an abbreviation for "Uniform Resource Locator" and is used to identify the address of particular documents or other resources on the internet. URLs consist of multiple parts that include "a protocol and a domain name." It tells a browser about how and from where to retrieve a resource.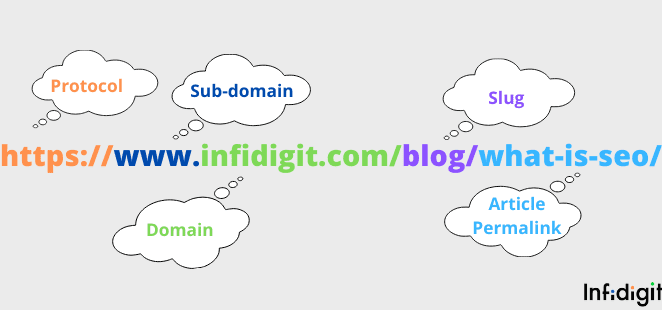 Example of URL:

https://www.infidigit.com/e-commerce-seo/
This is an example of an URL that houses content related to E-commerce SEO at the domain Infidigit & the path /e-commerce-seo/. Together forming a URL: https://www.infidigit.com/e-commerce-seo/
What is the URL structure?

URL structure is the anatomy of how a particular URL looks like. Usually, it either starts with "http or https."

S stands for the secured version of websites in "https." It is recommended to use "https" for the various reasons that you can read here.

Then follows, www and the name of your domain, like https://www.infidigit.com and then comes the directory or the path where your content is stored that is, https://www.infidigit.com/e-commerce-seo/.
Now,
What is the importance of URL structure in SEO?
If you observe the SERP results carefully, you won't see a URL that has improper structure. Either you see a search result with breadcrumbs or a proper URL structure.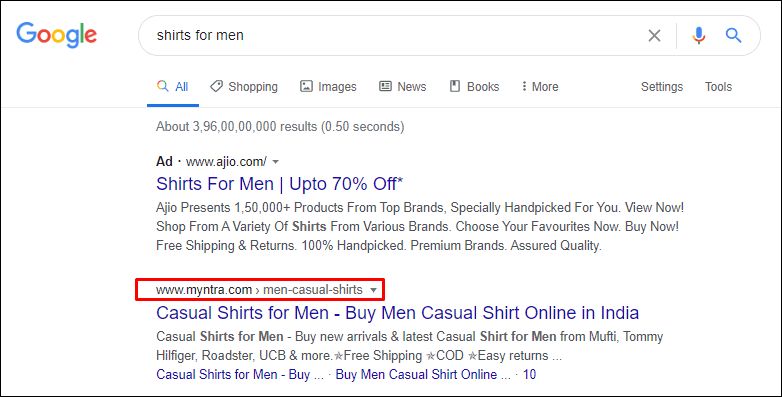 Every search result has three main components that a user will see. They are: 
Title 

URL & 

Description. 
We believe that the first impression always counts and search engines like Google takes this very seriously. Based on these components, a user is likely to click on a search result.
Also Read:
Besides these, there are also other reasons for the importance of URL structure in SEO.
An ideal URL structure will describe the web page, both humans and search engines. This improves click-through rates and limits the bounce rate. It shouldn't include un-necessary parameters.
In the article "200+ Ranking Factor," Backlinko reported that URLs play an important role in ranking a particular page. Although URLs do not have the ability to rank themselves, a keyword in the URL can improve the page's ranking, providing better visibility. Hence it is crucial to create URLs that describe the content and not just add keywords randomly.

A well-written and descriptive URL can serve as an anchor text when used in blogs, social media, forums, and more. A few websites provide completely unformatted links. These abnormally long URLs look unwieldy, incoherent, and unoptimized. Instead of being click-magnets, they repel traffic since most semantically inaccurate links don't appear trustworthy. 
For example, look at these two links: 
and
The first link looks like an unending string of numbers that do not make sense. The second link is as clear as day, and users know where the link is taking them.
It is crucial to know how the landing pages of a website are performing. Let's say the site you are tracking has thousands of landing pages. Having a clean URL structure makes it easier to identify which pages are receiving what amount of traffic. You can tell which pages of the website have performed well by looking at the landing page.

Keep it Simple & Concise.
Create URLs that are easy to understand, relevant, compelling, and accurate to the content. A short URL with keywords embedded into it is always a best practice. It should be easy for users and search engines to understand what to expect from the URLs by looking at them. 
The best way to keep a URL structure clean is by making them SEO friendly. SEO friendly URL structure demands to follow a specific structure that could vary depending upon the type of a website. E.g.,

For a blog, the structure could be:


https://www.domain.com/blog-name

. If your blog has multiple categories, then it can be changed to: 

https://www.domain.com/category/blog-name

. 

For E-commerce, it could be:


https://www.domain.com/department/category/sub-category/product




where; dept = mens, womens, boy, girls, kids; category = top-wear ; sub-category = t-shirts ; product = black t-shirt



Today, the competition to rank at the top of Search Engine Results Page (SERPs) is higher than ever. Businesses heavily invest in Digital Marketing services and majorly into SEO services since the cost per lead is less than paid or other channels. Hence, while you take care of every technical aspect of a website, do not miss to consider the structure of the URL.
Read More :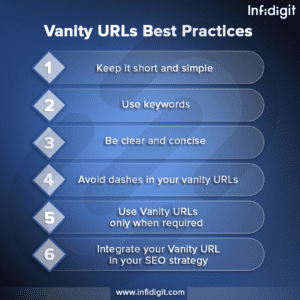 Popular Searches
Ad Groups | SEO Tips For Creating Better Content From Google John Mueller | Display-Advertising | Redirects | Anchor Text | Pogo-Sticking | SEO Competitor Analysis | Google Penalty  |Common Robots Txt Mistakes | Breadcrumbs | Seed Keywords | Rankbrain Update |Search Term |SEO Skills Required To Become An SEO Expert | Social Media Marketing | Mobile Optimization | Content Ideas | Pagination | Website Speed Optimization | SEO For Yahoo | Natural Links | Importance Of Robots Txt | Local Link Building |Low Competition Keyword |Pdf SEO | How Many Types Of Digital Marketing | What Is SEO And How It Works | What Are Canonical Tags | On Page SEO Technique | Importance Of Off Page SEO | Link Building SEO Services | How To Do Image Optimization | Dallas SEO Agency | SEO Service In Houston| Boston SEO Company