Blogging has become one of the most efficient ways to connect with your desired audience. Over 77 million comments are generated on blogs by readers every month on just WordPress! 
There could be more than one reason for building a blog. Maybe you are passionate about creating relevant, yet consumable, content about your personal interests. Or maybe you want to connect with the target audience of your business. Either way, this medium can prove to be quite rewarding.
So, if you are looking to start your own blog and are confused by the myriad blogging platforms to choose from, we're right here to help. Let's take a look at the best blogging platforms out there and the features they offer so that you can choose the one that's best for your goals.
13 Best Blogging Platforms in 2022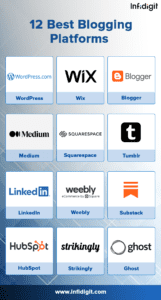 1. WordPress
After gaining popularity, WordPress began to offer themes, plugins, pages, custom post types, etc. Eventually, it became one of the best content management systems (CMS) the world has ever seen.
Today, it powers almost half of the websites present on the internet. Many believe that WordPress.com is the best platform for blogging and is the perfect content management system.
One of the main reasons that WordPress is so popular is that it is not just a good platform for expert website developers, but also for people who do not know much about the field. Being so easy to use, it now caters to a vast audience.
WordPress offers a lot of functionality while blogging as well as creating a website. Along with the various themes that it offers, you will find numerous plugins that can help you modify your blog or website. It also provides a lot of templates for blogs, posts, pages, etc.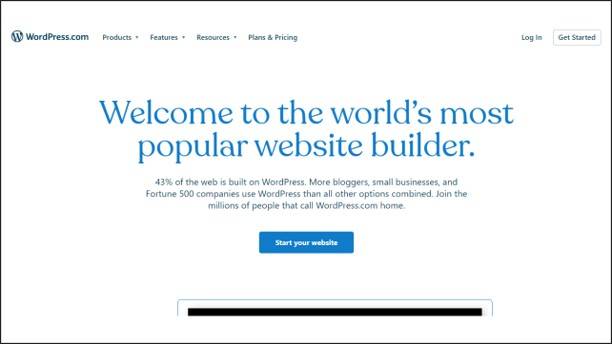 Pros
Easy to use for people who have less knowledge about website management.

You can create any kind of website including blogs, online portfolios, e-commerce websites, etc.

The platform is growing at a quick rate and continues to offer game-changing features and updates.
Cons
Requires some domain knowledge related to managing your own website and operating with a hosted provider

Requires that you, as the website owner, take care of your own backups and choose your own security options

Requires the assistance of external service provider/s to help run the full website, if built extensively
Pricing
Even though WordPress is popularly known as one of the best blogging platforms, it is quite affordable. Let us check out the prices and features of the plans offered in India by WordPress.
Free: – In this plan, you can create unlimited pages and users. It offers themes, patterns, newsletters, etc.

Personal: – This plan costs around 200 INR and offers a free domain for one year. It provides an ad-free experience, fast DNS with SSL, and support via email.

Premium: – This plan costs around 300 INR and offers live chat support, premium themes, style customisation, site activity log, and many more features.

Business: – This plan costs around 700 INR and offers high-burst capacity, global edge caching, high-frequency CPUs, and a plethora of features.

Commerce: – This plan costs around 1200 INR and offers inventory management, store customisation, sales reports, and payments in over sixty countries.
2. Wix
Wix complements the services provided by WordPress.com and is one of the best options for beginners who want to build a blogging platform. This hosted platform offers a feature that is its USP—the Drag and Drop website builder. This feature enables beginners and small businesses to seamlessly build their own websites without needing any prior coding knowledge!
Wix also offers the Wix Blog App, which can be used to directly add blogs to your website. The platform offers users hundreds of free templates for all types of blogs, which ultimately enrich your website. Their drag and drop editor assists website owners in conveniently customizing any Web page on their site, with an added assistance from an Artificial Design Intelligence (ADI) builder. This builder utilizes an intrinsically built questionnaire, which assesses your answers and leverages AI to provide you with all the help necessary to build the exact website that you envision.
Founded in the year 2006, Wix was built as a holistic platform for anyone and everyone (especially those who had no knowledge of coding) to build their own website. With this amazing model, Wix has become one of the best blogging platforms in the world, with over 180 million users across the globe.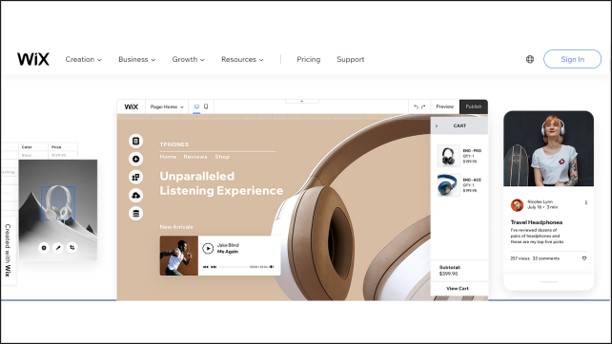 Pros
Allows integration of third-party apps, and also offers many templates to customize your website.

Contains drag-and-drop tools to help builders create the best version of their website. No coding skills required. 

Has one of the fastest setups to build a blogging platform.
Cons
Displays ads and shows the Wix branding on your website if you are a free account holder

Has limited availability of Wix-compatible third-party apps

Contains e-commerce features that can only be availed through paid plans on the platform. Based on your requirements, you will have to choose a pricing plan to get access to the e-commerce features on the platform.

Is difficult to change the website template once it is chosen
Pricing
Here are the price plans offered by Wix:
Connect Domain – This plan costs 80 INR per month and offers 1GB of bandwidth and a storage space of 500 MB.

Combo – This plan costs 125 INR per month and offers 2GB of bandwidth, a storage space of 3GB, and a video time of 30 minutes.

Unlimited – This plan costs 185 INR per month and offers unlimited bandwidth, a storage space of 10GB, and a video time of 60 minutes.

VIP – This plan costs 325 INR per month and offers unlimited bandwidth, a storage space of 35GB, and a video time of 5 hours.
3. Blogger
Blogger is one of the earliest blogging platforms in existence. This free blogging platform was acquired in 2003 by Google from Pyra Labs, who launched it in 1999. After acquiring Blogger, Google redesigned this solution into the platform it is today.
Blogger is a completely free blogging platform. All you need to create a website is a Google account. This is an especially convenient blogging platform for people who don't have any knowledge of how to code or build a website. 
Once logged in, the user only has to pick a domain name and they can start blogging. You just have to type your content after researching, add relevant photos in the content, and then simply publish. It's that easy!
Blogger also offers users the option to add widgets to their blog and edit HTML, which is an added bonus for beginners and a feature that many blogging platforms for beginners don't offer. Since this platform is a Google service, users also get access to many add-ons from Google to enhance their website. However, Blogger is also a platform that many users outgrow after a while, especially beginners. Once they have gathered enough knowledge about how the blogging world works, they move on to other platforms that can help them build a blogging website with many more features.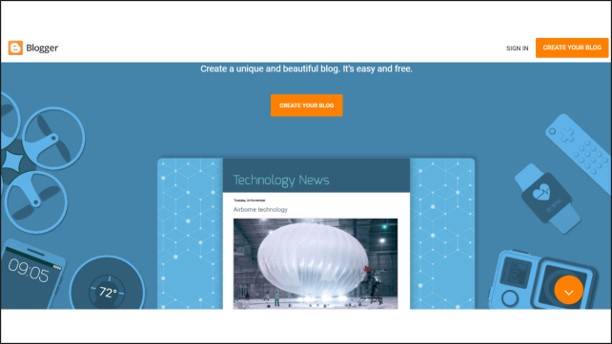 Pros
Is a free blogging platform

Requires no prior knowledge of coding or website development

Integrates seamlessly with other Google services like Google Drive
Cons
Aside from the advantages of Blogger, there are some downsides to this website. Let us discuss some things that need to be considered before choosing this platform.
Google has the power to shut down your blog or blog service anytime without warning.
Pricing
Blogger is one such platform that is completely free for blogging. It offers a subdomain like https://example.blogspot.com that you can use. However, if you wish to have your subdomain, you can buy it from a third-party domain registrar. The platform certainly has its downsides, but many people think that for a free website, it is the best platform for blogging.
4. Medium
If you are looking for a blogging platform that has a built-in audience and social networking features, Medium is perhaps the best option for you. This platform has built its own massive community of bloggers, subject matter experts, journalists, and much more. It has become very much like its own social networking platform, where users can interact and build connections with several publishers on the website. Readers and publishers can comment on posts, follow accounts, share blogs, and recommend the posts they like on the platform.
You can sign-up on Medium for free, and start publishing your blogs immediately. You can even add your voice to other posts, and refer to various publications, which are curated by Medium and its users.
The feature that attracts many bloggers to this platform is that it allows third-party embedding, which means that you can embed content from other sites like YouTube, Twitter, Vimeo, and so on in your blogs. 
The platform also offers readers the convenience of checking out the estimated reading time for each post and bookmark it for referring to or reading later. Medium also allows readers and publishers to track the number of reads, and also gives creators the option to track where their traffic is coming from.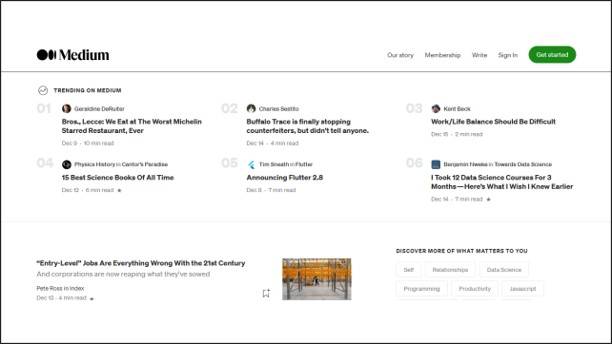 Pros
Launches your page without a setup

Gives you access to reach an existing online community of thousands of readers and creators

Is perfect for bloggers who want to create and publish content rather than build their own website
Cons
Doesn't allow you to have your own unique domain name. You will get a profile page, much like other social media platforms like Facebook, and that will be your domain.

Since the Medium's community is based on the platform, you will lose your audience if you lose/delete your blog

Has very limited design options for revamping or enhancing your profile pages
Pricing
Just like Blogger, this is a free blogging platform. However, Medium prevents you from creating your subdomain. In this free plan, you can create a profile on this website. So, your domain name would look something like — https://medium.com/@yourname. Overall, it is a decent platform if you do not want to spend your funds.
Also read:
5. Squarespace
Squarespace offers four different plans, where the number of features increases along with the prices. Here they are:
Personal: By paying $16 monthly, you get a mobile-optimised website, versatile templates, and a free custom domain.

Business: By paying $23 monthly, you get website analytics and e-commerce with a 3% transaction fee.

Commerce (Basic): By paying $27 monthly, you get merchandising, domain checkout, and e-commerce without any transaction fee.

Commerce (Advanced): By paying $49 monthly, you get advanced shipping, discounting, and subscription sale.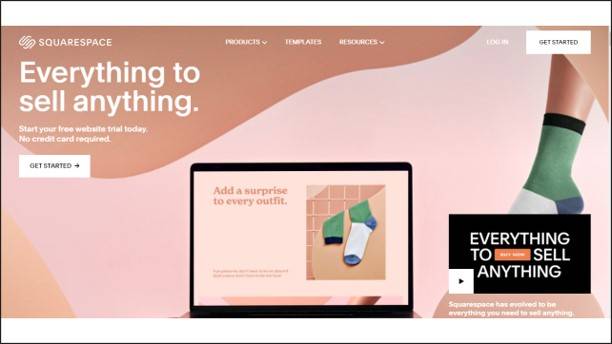 Pros
Has enterprise-grade professional templates to choose from. The platform offers many themes and designs which can go toe to toe against big websites.

Provides hosting and offers users domain names with HTTPS or SSL, and even eCommerce stores in the Business Plan

Is convenient to use and replete with features for beginners
Cons
Can use only the features built into the platform

Limits the scope for third-party integrations

Allows limited number of contributors in the Personal Plan. Users might have to switch to the Business Plan if they want more contributors or want access to bigger features like marketing tools, eCommerce store, and so on.
6. Tumblr
If you are an aspiring visual blogger, i.e, if you enjoy creating images, infographics, GIFs, and so on, to complement your content, then Tumblr is the blogging platform for you. This platform is very popular amongst the young demographic. Created as a microblogging platform, Tumblr makes it quite easy for you to create your website for free. Tumblr has over 496 million blog accounts!
This platform has a very large community of content creators and bloggers and offers features like reblogging, sharing, upvoting, and other built-in sharing tools for every post on the platform. However, the platform doesn't give text content too much importance. It mainly focuses on visual media like GIFs, infographics, photos, and so on. If you are a passionate writer and are looking to pursue blogging only in text, then Tumblr might not be the ideal platform for you. Another downside to Tumblr is that you won't own the content you publish on the platform; not even the domain name.
This might be a red flag for bloggers who like to have complete control over their content, including protections like copyright. However, with its large community, it is a good place for visual bloggers to begin and capture an audience belonging to a certain demographic and then move on to platforms that let you create your own website with full control over any content you publish in it.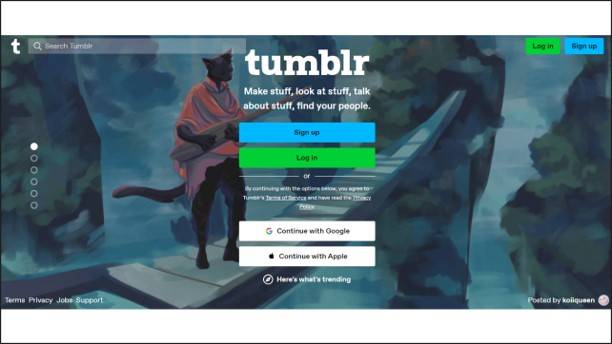 Pros
Tumblr is a modern blogging website that allows you to include videos, audio, GIFs, etc. in your blogs. When it comes to inclusivity and versatility, it might just be the best platform for blogging. It allows you to post with freedom and artistic expression. Here are some of its advantages:
Cons
You don't own the domain name or the content you publish on the platform

If you want to back up your Tumblr blog or import your blog to other platforms, then it is a very difficult process that requires knowledge of various tools and coding

Text blogging isn't given much importance on the platform, which is a disadvantage for writers
7. LinkedIn
LinkedIn aims at creating a professional networking environment for its 260 million monthly active users. Whoever has a LinkedIn profile can publish posts or blogs to reach their connections and the larger active audience for free. It is much more of a social networking platform for industry professionals than a blogging platform.
Through LinkedIn, businesses, freelancers, and bloggers can not only reach their target audience through articles and blogs but also engage and connect with them. The platform already has an audience that any business or professional blogger would dream of having on their own website. Another one of the advantages of blogs and articles on this platform is that LinkedIn has the most potential of increasing your influence and building a community of active readers from blogging.
LinkedIn has a built-in editor, which is quite similar to that of WordPress, which anyone with an account on the platform can use. This gives the users an opportunity to create high-end B2B content and publish it.
So, if you are aiming to write blogs on business or anything related to the B2B sphere like management, technology services, and so on, then LinkedIn is the best platform to do it on. Moreover, your content will be more accessible on LinkedIn than any other platform because of the massive audience on the platform.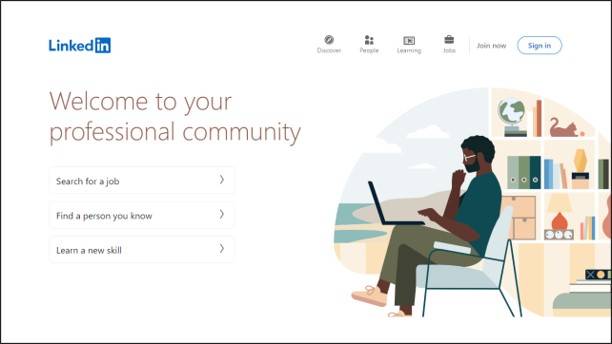 Pros
Is home to a big community of potential readers and business connections 

Has higher engagement in published blogs than any other platform

Has business professionals scouring through the platform 24/7 to look for well-built content, which can reward the publishers in the form of job opportunities, business prospects, and much more

Is an active community of experts and users, who will engage with your content. This presents an opportunity to not only enhance your content but also create a conversation, which is one of the main goals of blogging.

Has third-party embedding available to embed other sites for enhancing the quality of the content
Cons
Your profile is your website. The platform doesn't offer an option to create your own publishing website.

You have very limited options for themes and designs.

You won't own your traffic and be bound by the platform's algorithms.

You will have to post or publish regularly to reach more people.
8. Weebly 
Weebly is a CMS that was developed in 2006 by a group of Penn State University students. For beginners, it might be the best platform for blogging. It offers numerous templates and themes. You can do everything from managing an online store to owning a blog.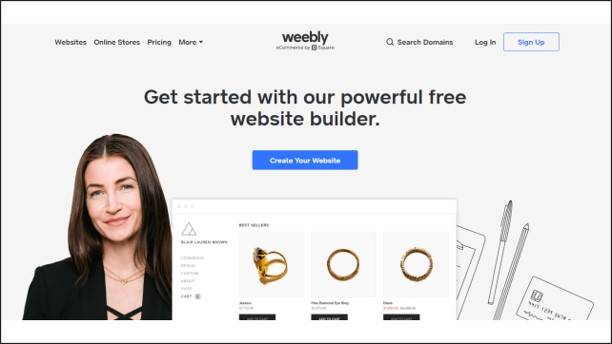 Pros:
Fully hosted blogging platform

Several themes to pick from

Easy drag-to-drop feature that makes the setting up process straightforward

Third-party integrations to improve the site's functionality
Cons:
Weebly's free plan comes with a limited feature set.

SEO and Blogging features are not strong

Paid subscription plans are pricey
Pricing
Here are the price plans that Weebly offers:
Free: This plan allows you to add third-party embed code and provides free SSL security.

Personal: By paying $10 every month, you get to connect a custom domain.

Professional: By paying $12 every month, you get unlimited storage, site stats, free domain, and password protection.

Performance: By paying $26 every month, you get additional features for marketing and e-commerce.
9. Substack 
Substack is one of the most preferred blogging platforms for new writers starting their blogs or newsletters. This blogging platform is built with a CMS solution – perfect for publishing newsletters – a built-in payments system, and a hosted site.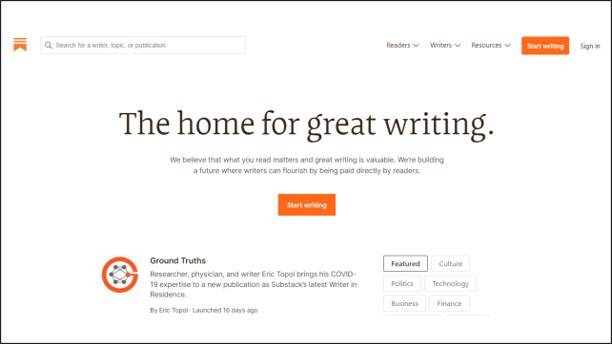 Pros:
User-friendly and mobile-ready platform

Doesn't demand experience or technical know-how

Gives complete flexibility to write blogs and creative newsletters
Cons:
The minimum $5 subscription can turn out to be expensive

Additional fees such as transactions fees, Stripe, and Substack's percentage take away a large chunk of your profits

Content discovery function is sorely missing

Third-party integration leaves much to be desired
10. HubSpot 
As one of the top-rated blogging platforms, HubSpot delivers top-notch tools for both small and large-scale enterprises. You can create websites, publish content, manage customer lists, and do much more using this single platform.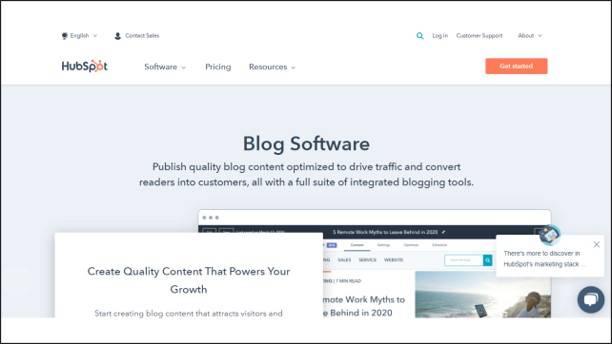 Pros:
The drag-and-drop feature makes website building easy – even for those without coding knowledge

SSL certificate comes included in the package

Comes with fully optimized SEO features and tools 

Straightforward set-up along with hosting
Cons:
Although the HubSpot CRM comes with free tools, the CMS version doesn't. 

Packages in the higher end of the features tier are super-costly

Migration from another blogging platform to HubSpot can get tedious. 
11. Gator 
Created by HostGator, Gator is a user-friendly blogging solution and website builder. Gator is fast becoming one of the best blogging platforms chosen by new and budding entrepreneurs looking for a complete website solution.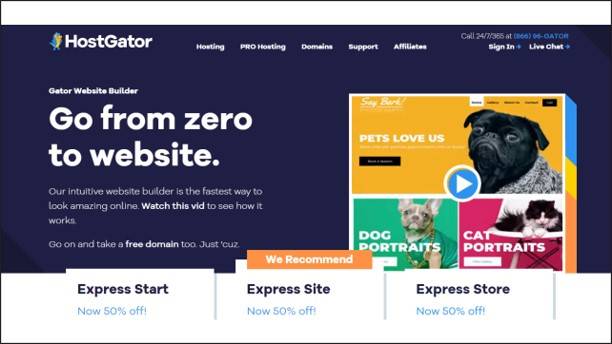 Pros:
The drag-drop feature makes website customization easy

The set-up is straightforward- it doesn't require a single line of code

SSL certificate and Domain are free and included 

Hosting, backups, security is taken care of by HostGator
Cons:
Gator doesn't have a free account

Preferred eCommerce features are not included in the free plans – confined to higher-end plans

The apps and extensions are very limited in number

Doesn't suit the needs of complex websites
12. Ghost 
Ghost was designed as a feature-rich alternative to WordPress – one of the best blogging platforms. It serves as a core publishing platform that allows you to stay focused on creating extensive blogs. It comes with SEO tools built into the system.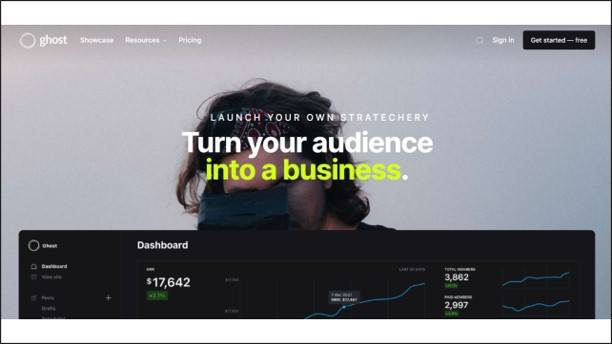 Pros:
SEO optimized complete solution

Minimalist and light-weight solution

Customizable and fast

A plethora of integrations available 

User role management and full documentation provided
Cons:
The comment functionality is missing

Expensive hosting 

Themes are limited when compared with other platforms

Self-hosting demands technical knowledge from your end.

Building a complete website (for business) such as an eCommerce site on Ghost can be challenging
13. Strikingly 
Strikingly is a popular website builder best suited for small to medium-scale businesses and personal use. It allows budding entrepreneurs to build a website – with little to no technical knowledge.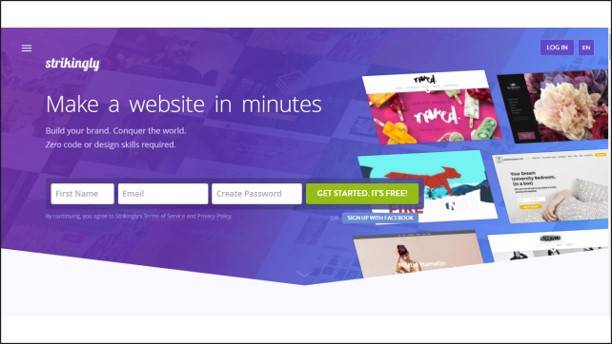 Pros:
Easy-to-use blogging platform perfect for beginners with limited experience

The support center responds well to queries, and every step of the way is well-documented

The editor is simple and effective to use
Cons:
Mobile optimization is present but only to preview your site but not to make edits in elements or sections

If you are moving to a custom domain, the prices get competitive 

Most plans come with some extent of limitations – either in storage, domains, or number of sites that can be hosted
Choose the Best Blogging Platform For Yourself
With so many content management systems and bloggers available, choosing the best platform for blogging might be challenging. However, having a diligent selection process might clarify which website would be ideal for you. Here are a few things you should consider while choosing the best platform for blogging:
1. Intent
You must decide the exact purpose of your blog and what you are planning to achieve through it. It will help you figure out which is the best platform for blogging and the type of content you intend to post.
2. Resources
The content you will post on your blog has a certain set of requirements. Some might need minimal tools for simple posts, while others require complex ones to present your content in a specific manner.
3.Budget
The third and final step in choosing the best platform for blogging is evaluating your budget. These platforms offer various price plans depending on the purpose of your blog. Choose between a personal, business, and commercial plan to spend your funds in the right place.
Frequently Asked Questions (FAQs)
Which blogging platform is perfect for beginners?
You will find numerous platforms offering various features and tools. However, you need to have the proper knowledge to use these tools correctly. If you have a limited understanding of these features, you need to choose a website that is easy to use. Some of the most convenient platforms for beginners are WordPress, Wix, and Squarespace. They offer various features for blogging and it is easy to modify your webpage as the tools provide are not that complex.
How frequently should I keep updating my website's blog?
In order to retain customers and attract new audiences, it is important to have a consistent posting schedule. Not only that, but you must also ensure that your website becomes more and more interesting to visitors. In order to achieve this, a few tweaks every week should be made wherever necessary. On the other hand, your website might need a major overhaul every few years. Trends and norms keep changing over time, so it is necessary to verify whether the design and content of your website are relevant or not.
Which blogging platform is perfect for marketers?
If you want to create a website for marketing purposes, you must ensure the platform you are building it on has the required tools and features. Many platforms offer business and e-commerce plans that come with a variety of features. You should choose one that benefits your company the most. Some of the best platforms for marketing include Squarespace, WordPress, Wix, Strikingly, and Gator. If you are looking to post commercial articles, you can create a blog on Linkedin. It is one of the best platforms for posting business content.
What safety precautions should an online blog take?
The internet can into a dark place if you are not careful while blogging. To protect yourself and the people associated with your website, you need to take certain precautions. Here are some tips that help you stay secure along with your site:
Keep your content as clean and unoffensive as possible. The last thing you want is threats that could not just affect you online but also offline.

Include as less details about yourself as possible. Consider using an assumed to hide your identity.

Make sure to have a good anti-virus or safety system in place to prevent your website from being hacked. Your data can be sabotaged and your reputation can be damaged overnight.
How can I publish a blog free of cost?
There are many blogging platforms that allow you to publish without any annual or monthly fees. Each of these websites offers a limited set of features that you can use to create your blog. Usually, these platforms do not provide you with a custom subdomain. So, if you are okay with running a blog under their domain name, you can publish a blog free of cost on some of the best platforms for blogging.
Do WordPress.com and WordPress.org differ from one another?
Yes. The main difference between WordPress.com and WordPress.org is that the former is great for hobby bloggers and the latter is one of the best CMS. Both have their own strengths and weaknesses. Here are some of the key differences between the two platforms:
WordPress.com is hosted platform, whereas on WordPress.org you need to find a hosting provider for your blog.

WordPress.com has limited customization options, whereas WordPress.org allows you to add custom plugins and themes.

WordPress.org gives you full control and ownership over your website, whereas WordPress.com can terminate your website if you act against its terms and conditions.
Popular Searches
Private Blog Networks |Most Subscribed Youtube Channels |Permalink|Backlink Audit | People Also Ask |What Are Backlinks | Hreflang | Submit Url To Google | Local Seo Ranking Factors |Introduction To Schema Markup |Best Blogging Platforms |Reciprocal Links |Artificial Intelligence In Digital Marketing | Subdomain Vs Subfolder | Content Syndication |Google Disavow Links |What Are Google Alerts |Lsi Keywords |Eat Seo Guide |Website Navigation |Zero Search Volume Keywords |Dwell Time|Heatmap Tools|Google Hummingbird Update|Referral Traffic|What Is Digital Marketing And Its Types |How To Do Seo|Canonical Tags|What Is On Page Seo|Off Page Techniques In Seo| Link Building Companies |Image Optimization Seo |Seo Company In Boston |Dallas Seo Services|Seo Service In Houston