Breadcrumbs are secondary elements of website navigation. A breadcrumb is a text path, located at the top of a page, which reflects the site structure of the website. It tells users where they currently are on the site and helps search engines to understand the structure of a website. You can find breadcrumbs on websites that have content which is organized more hierarchically. 
Here is an example of a Breadcrumb Trail Menu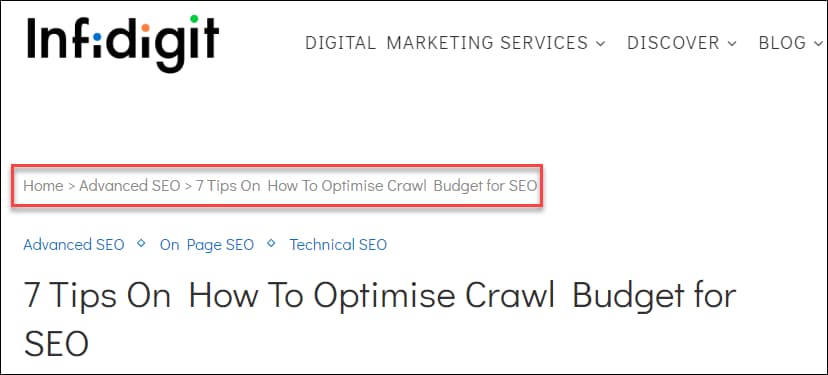 In this image, you can see that the breadcrumb's trail starts from the home page, and then it displays the category page and existing page (that is, the page where the user currently is) at the end.
In this post, we have listed the different types of breadcrumbs, their benefits and some best practices which need to be considered while implementing breadcrumbs on a website.
Breadcrumbs are generally of three types
Location-based breadcrumbs
Location-based breadcrumbs are also known as hierarchy-based breadcrumbs. They show users the path to easily navigate to the higher-level pages of the website. Location-based breadcrumbs are popularly used in blogs and websites that have a hierarchical structure. Breadcrumb trails look like this:
Home > Category Page > Sub Category Page > Product Page
Attribute-based breadcrumbs
Attribute-based breadcrumbs are dynamically formed as per the user's click path. Attribute breadcrumbs are applicable to service and product category pages, where users select options from available filters. Once the attributes are finalised, they become a part of the breadcrumb trail. They usually show the list of attributes that users have previously selected. Attribute-based breadcrumbs are commonly found on e-commerce websites.
You often find that navigation routes are a combination of locations and attribute-based breadcrumbs. Attribute-based breadcrumbs look like this: 
Home > Product page > Attribute 1 > Attribute 2 > Attribute 3
Path-based breadcrumbs are also known as history-based breadcrumbs. They provide users with the path taken by them to arrive at a particular page. 
Such breadcrumbs are not popular and can be replaced with a back button which is recommended by the website developers.
Benefits of Breadcrumbs
Here are some benefits of implementing breadcrumb trails:
Breadcrumbs offer a direct way to the users to navigate to higher levels of category pages quickly. They are mainly helpful to the users that come through search engine page results (SERPs). Typically, these users don't have an idea of the website structure.
Compelling Google search snippets
Breadcrumbs provide Google with another way to identify the structure of the website. Google has now replaced URLs with breadcrumb trails on the search results to provide users with improved search results. If you don't use breadcrumbs, Google will decide the breadcrumbs on its own, based on the URLs. To make sure Google shows your breadcrumb in the search snippet, add breadcrumb list schema on the website. You can go through the steps on how to implement structured data as per your requirements.
Improve internal linking structure
Along with the top navigation, breadcrumbs help to improve the internal linking structure across the website.
Small size and horizontal oriented
Breadcrumbs are usually short, horizontal oriented, and written in plain text so they don't take too much space. Also, breadcrumbs do not create any negative impact in terms of content overload.
Reduces clicks / action to return to top-level pages
Users can avoid clicking the Back button, as they can reach the higher level page with a single click using a breadcrumb link.
While implementing breadcrumbs, consider these practices
Use breadcrumbs for websites that have multiple levels of hierarchy. This helps users to navigate to higher-level pages quickly.

Use appropriate keywords related to the targeted URLs. From a search engine optimisation (SEO) point of view, using relevant breadcrumb anchor improves the relevance of the page.

Avoid linking the existing page in the breadcrumb trail; simply mention the breadcrumb text.

Place breadcrumb at the top left corner, above the content section that gives direct visibility to the users.

Separate the breadcrumb link using the arrow, slash and vertical bars. To keep it simple, using an arrow is the best option.

Treat breadcrumbs as secondary navigation; they can never replace primary navigation.
Conclusion
Breadcrumbs are useful to enhance user experience. Breadcrumbs are most useful when a site has a complex structure. They can help users navigate to higher-level pages easily. Breadcrumbs help search engines understand the internal structure of your website and this can have a positive impact on SEO. To make your website SEO friendly, find the top SEO agency in India that strives to offer high-end SEO services to acquire desired results.
Popular Searches
SEO Company in India  |  SEO Company in Delhi  |  Digital Marketing Services in India  |  Enterprise SEO Services  |  Ecommerce SEO Services  |  Local SEO Services  |  PPC Services  |  Link Building Services in India  |  Content Marketing Services India  |  Google Penalty Recovery Services  |  Google Reverse Image Search  |  List of HTTP Status Codes  |  What is Local SEO  |  What is PPC  |  Optimize Website Speed  |  Progressive Web App  |  What is SEO  |  Google Tag Manager  |  What is Google Analytics  |  What is Digital Marketing