A content audit is auditing your content to understand which of them are performing and which of them are not. It is one of the most neglected concepts in the SEO world due to its time-consuming and arduous process. However, It's vital to perform content audits regularly at least on an annual basis to outperform the competitors in the search results page. 
For the last few years, the content has become an integral part of SEO. With proven results of sites getting quality traffic owing to content has cemented its place further. Content is now one of the pillars of SEO along with technical and off-page, no wonder content audit is a regular feature in SEO audit services. With Google advocates regularly emphasising on the importance of valuable content, it has become inevitable to create & audit such ones for optimal performance.
Importance of auditing the content
Following are few reasons as to why audit of content is required.
Yes, that's right. Who doesn't want to? Every business owner would love to know what kind of content is giving the highest ROI. Knowing that would undoubtedly help the owner to reduce his cost considerably. If a business has an in-house SEO, it could surely help them to concentrate on other important SEO tasks.
Every business operates to accomplish a goal, so it becomes imperative for online businesses to chalk out a strategy to achieve that. With content playing a major role in it, it is necessary to audit content to check whether it is helping to achieve the goals or not.
To avoid obsolete content
People love to consume new content regularly. If the website has not updated its content for years, the content may become obsolete and irrelevant to the modern time. It might not provide real value to the customer. Having obsolete content can affect the crawl budget and rank in the search result.
For providing accurate information
Some websites contain facts and figures as their primary content on the site. With time these numbers and facts become outdated. Such substances can provide inaccurate information to the users risking the chance of hampering the brand's reputation.
Tools Required for Content Audit
Following are the tools required to content audit
Screaming frog 

Content Inventory Data Sheet

Google Analytics

Google Search console 
Before starting the audit, it is necessary to have a goal or objective in mind. Having a clear purpose helps you chalk out a roadmap to achieve that goal in stipulated time. Collecting data can be a time-consuming process. With limited time in hand we would want to collect data which are vital for audit and help us save valuable time and resources. The saved time can be better utilised for in-depth analysis which is valuable to create more meaningful content for the business. 
Content Audit Checklist
A checklist is an excellent way to keep track of the necessary task on hand. Keeping track of completion of these tasks may help us achieve a particular goal. Having a good content audit checklist will keep the focus over the course of the audit. A content audit checklist is the core of your content marketing strategy.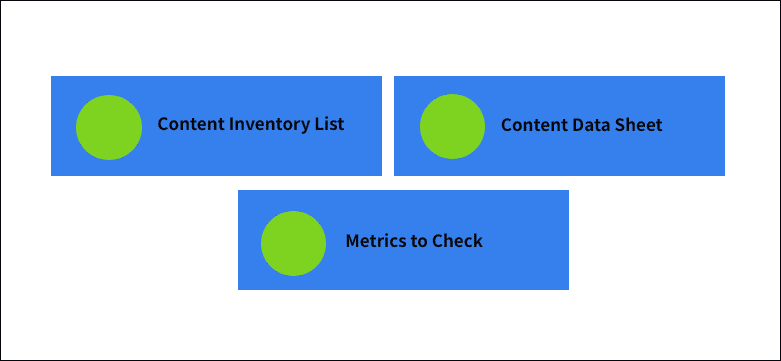 Following are some of such checklist
Content Inventory List

Content Data Sheet

Metrics to Check
Having the content inventory list is the first step towards starting the audit. It's crucial to audit content to create better content for the future. Content audit checklist contains all the content URLs on the website, be it webpage or blog. Fetching all the URLs manually is a tedious process, so we can use screaming frog, a crawling tool, to collect all the pages on the website. 
Content-type

Content published date

Author

Word count

Page Score

Comments 

Shares

Sales funnel Stage

Content relevance

Calls to action
Secondly, we have to collect the data mentioned below for all the content pages on the website. Data collection could be a time-consuming process and requires quite an effort. We can use tools like SEMrush and Ahrefs to pull data needed to fill the Excel sheet.
 Headings

 Title

 Meta description

 Primary Keywords

 Organic Traffic

 Bounce rate

 Backlinks

 Avg time spent

 Pages visited

 Unique Users

 No. of Images 

 No. of Videos

 Page entry and Exit

 Broken Links

 Conversion Data
Past data of at least a year should be collected to have a fair analysis and evaluation.
If you find this an overwhelming task, then you may create a content data tracker for every post monthly. At last, you can collate yearly data for an audit. This could be good practice to follow.
Key Metrics to looked upon
Here are the metrics you'll want to track for your content data audit
Organic traffic is the most important of them all. Traffic is the focal point for which everyone is optimising the site. If your content is not generating enough traffic, it might indicate there is a need to tweak the content strategy. It could be in terms of content format, content distribution or the entire content itself. The content on the page may not have covered the topic elaborately, or the wrong keyword has been focused.
High bounce rate on the pages require immediate attention; this could signal that we have entirely misunderstood the user intent. 
Backlinks are an essential Google ranking factor, and quality backlink acts as a vote of confidence for your pages. It's alright to have only a couple of backlinks on newly created content pages. Backlink takes time to grow. Keep auditing your backlinks regularly, sometimes content tends to acquire wrong links. It is necessary to get rid of such backlinks which may degrade your page authority in the eyes of Google. An SEO agency wary of these backlinks, audit the backlinks regularly to get valuable insights.
Any webmaster would want to create content that can grab user attention as well as his time. The more time a user spends on the site, the more the chances of him are for converting. It is vice versa if a user spends less time on the website, it may indicate the content is less sticky and not resonating with the user.
User spending time on pages is essential but how many pages a user explores on the site is also equally important. More the pages a user explores, the better are chances of him getting converted. It can also be helpful in measuring the viability of the sales funnel we have created through inter-linking of content on the site. 
Unique visitors are those who are visiting your website for the first time. New unique visitor means the content is getting a lot of views. More views mean better ROI from content like conversions, shares and backlinks.
Measuring the traffic source can help you determine which sources are sending the most qualified traffic. Businesses can increase promotion of content through that channel on a consistent basis to acquire a new customer.
Conversion goals metrics must be measured to check if content pieces created solely for conversion are achieving the desired result or not. 
Analysing the data and measuring the result
Analysing the data and deriving valuable insights is crucial to produce likeable content in the future. Continually testing and updating the content is paramount in finding the type of content user engages with the most. Looking at the content marketing trends can help you pick up content which resonates with the customers. Each piece of content your audit will have several data metrics attached to it. These metrics will tell you if you're hitting the mark or missing it drastically. The content pieces which worked in the past can give a clue of the type of content format you should produce most often. Content which has fared poorly should be modified or merged depending upon the presence of related content or it should be removed if it offers little value to the user.
With content gaining prominence in the SEO amidst constant algorithm updates, it has become clear that content audit is going to play an important role in the development of your content strategy.
So, creating a checklist and using them with your customised metric tracking can simplify the audit process to a great extent.
If you really want to step up your content marketing efforts, you can check out the Specialised Content Marketing Services offered by us.
Popular Searches
Google Web Stories | Slug | Outbound Links | Toxic Links | Technical SEO Tools |Guest Blogging | What is ROAS | Mobile Marketing | Google Tag Manager | SEO Periodic Table | Bot Traffic | 404 and Soft 404 Errors | SEO tips for Online Grocery Stores | Google Bert Update | Robot.TXT and Meta Robot Tags | 301 Redirects | Mobile First Indexing | Podcast SEO | W3C Validation | Link Building Tools | Local Citation | Google Multisearch | How to Deal with Plagiarized Content | Increase Youtube Views | SEO Job Interviews Questions Answers | What are the Types of Digital Marketing | What is Search Engine Optimization | What is Canonical Tags | On Page Optimization Techniques | Types of Off Page | Link Building Services | What is Image Optimization in SEO | Boston SEO | SEO Company Dallas | Houston SEO Services