Heatmap: Introduction
A heat map is a data visualisation technique that uses colour-combinations to depict user behaviour. The colours vary from red to grey. Red exhibits the hottest place where users clicked the most and grey represents the areas where the users least interacted with.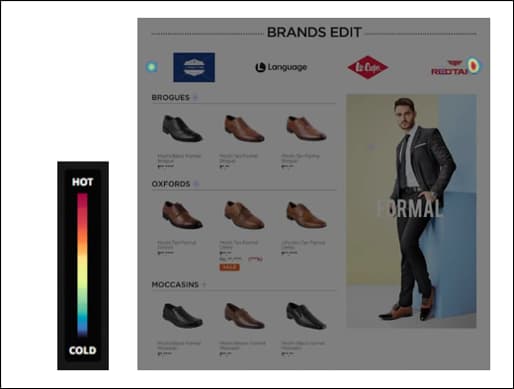 Note: The combinations of colours employed by various tools are different. The key concept is 'that the warmer the area the more users are clicking on it.
Heatmaps are a vital part of any SEO strategy. It is particularly important for an agency providing e-commerce SEO services as they would want to help their clients increase their conversions.
We've compiled a list of best Heatmap tools for SEO to help you understand user behaviour on your website.
Here are Five Best Heatmap Tools of 2022: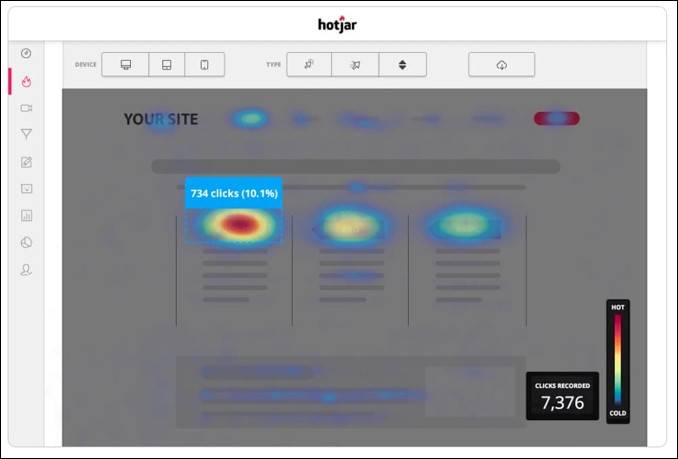 Hotjar is the first one on our list, because it is the most widely-used and trusted heatmap tool. It offers various ways to track user behaviour and generates powerful, detailed reports. It lets visualise how users interact with a website.
Features 
Represents click, move and scroll heatmaps

Records screen of users visiting your website

Sets conversion funnels to see where the user drops off

Let's unlimited users use the software

Has simple user interface

Enables to see heatmaps by device type

Has good customer service

Integrates HubSpot CRM, Crowded Communities, Smarty, QuickSilk, Unbounce Marketing, Omniconvert, Optimizely, Qwilr, and Astronomer
Short-coming
Channel-wise segmentation of users absent

Limit on the height of the pages that can be captured is 1500px

Potentially slows down your website due to heavy JS code.
Free trial
Yes (15-days)
Pricing
Starts at $29 per month (10,000 pages views per day)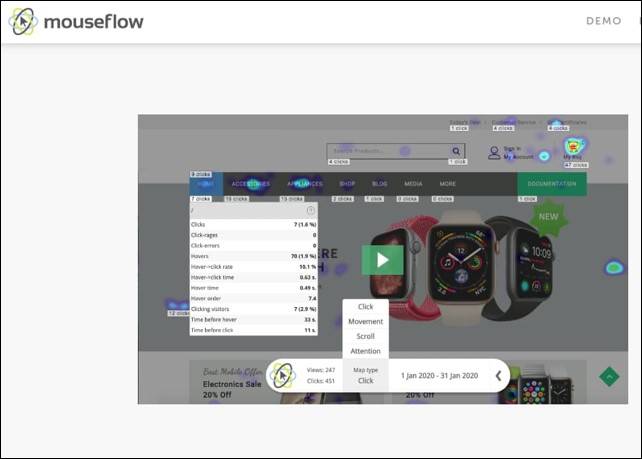 Mouseflow is a heatmap tool focussed on conversion-optimisation. It helps see the entire session replays of website visitors. Mouseflow also provides A/B testing features to help understand which UI elements are performing and which are not.
Features
Captures forms and points out any blanks/errors in submission

Provides option to create custom interactive surveys targeted towards a specific audience

Enables channel-wise segmentation of users

Enables customers to perform A/B testing by allowing them to change some elements on the page. (without any coding)

Integrates 3dcart, Bitium, Freshdesk, HubSpot Marketing, Joomla, Optimizely, SITE123, Shopify, WordPress, Zendesk.
Short-coming
Complicated UI for people who are new to user-behaviour tracking

Difficult to track pages served with a lot of Javascript
Free trial
 Yes (14-days)
Pricing
Starts at $24 per month (2,500 recordings and unlimited page views)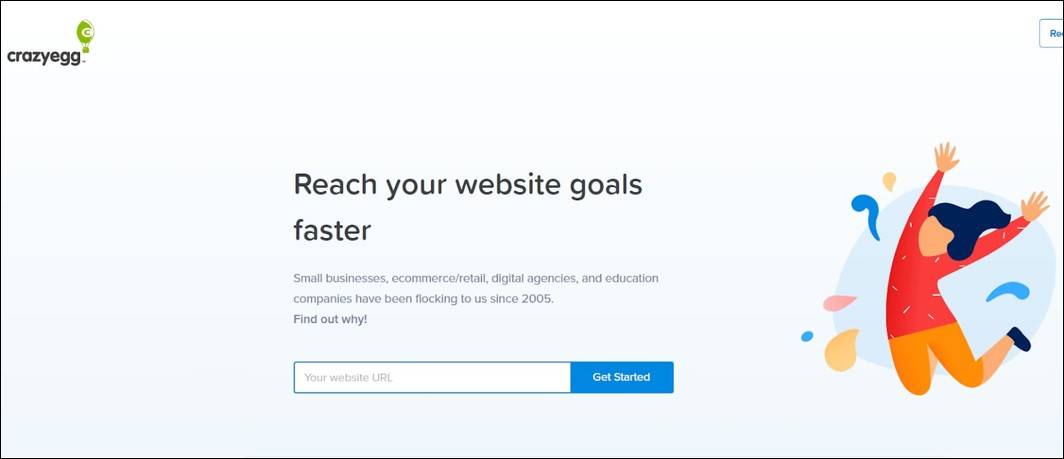 The Crazy Egg is an online application founded by Neil Patel and Hiten Shah. It provides heatmaps, overlay, confetti, and other tools to capture the user's interests. It uses mouse-tracking technology to record how users interact with a website.
Features
Ability to re-design a page and its elements

Analysis of your CTA's (Call to Action buttons)

Possibility to track users' activity on pop-ups and login forms

Layering of insights possible to Google Analytics data

Minute details of the users are captured
Short-coming
Has tedious registration process 

Does not fully capture statistics of websites with responsive design

Records of dynamic objects are not collected

Does not have a screen recording feature

Is a bit pricey
Free trial
Yes (30 days). You have to enter your credit card details and will be charged $29 per month after the trial ends.
Pricing
Starts at $29 per month (30,000 visits)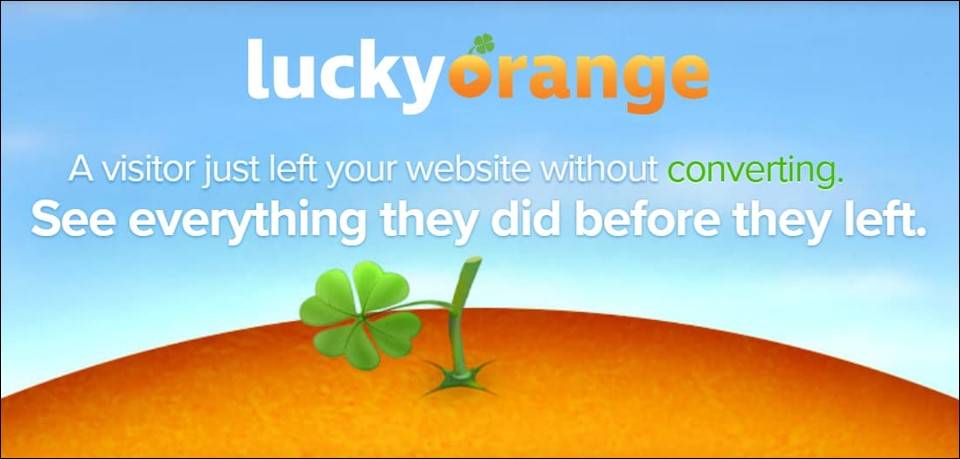 Lucky Orange is a tool for CRO (Conversion Rate Optimization) and customer feedback. The tool provides various heatmaps, form analytics, polls, recordings, and sales charts for understanding the journey of the users that come to the website.
Features
Heatmaps have location-based tracking features

Clicks on the pages can be analysed

Control on how and where the polls are triggered

Behaviour on interactive elements of the website can be tracked

Integration of "Lucky Orange Chatbox" to collect feedback from customers is easy
Short-coming
Does not track links and buttons opened in another tab of a browser

Has traditional UI (Seems a bit dated)
Free trial
Yes (7 days) 
Pricing
Starts at $10 per month (25,000 visits)

Plerdy is a professional multi-functional SAAs application that collects large user data to increase conversions. The tool displays clicked elements, scroll depth, area with the most interactions, and click sequence.
Features
Can locate and point out flaws in website design

Provides time-to-time SEO alerts

(SEO site audit

, keyword targeting, hyperlinks and more)

States possible reasons for a bounce rate reduction and subsequent solution

Does not increase page load time owing to lightweight script

Generates leads with its ability to add smart forms 

Possesses a proven 99% accuracy

Does a channel-wise segmentation of users

Can set up individual tags for tracking

Let's view the entire scroll depth of the page
Short-coming
No provision to export the information on the dashboard
Free trial
 Yes (They have a free version that provides 2000 pages views per day) 
Pricing
Starts at $29 per month (10,000 page views, 1,000 video views, and SEO audit of 2000 pages)
Conclusion
One of the most important advantages of Digital Marketing over Traditional marketing is its measurement capability. If you are an SEO agency or a site owner, you already use tracking tools such as Google Analytics to understand the behaviour of your customers.
Heatmap is a very powerful tool to understand user interaction on your website. The various insights provided by these Heatmap tools can be very crucial for conversion optimisation. It is especially important for businesses that offer conversion rate optimization services to set up Heatmaps.
The various types of click, scroll, and move maps can help you understand exactly how users interact with your website. This can help you in your A/B testing by replacing certain elements on the page. Or you could also try a different layout altogether.
All the tools mentioned above have impressive features and have their own pros and cons. Hotjar is one of the most popular out of these. Plerdy is starting to gain popularity due to the SEO features it provides.
Let us know what Heatmap tools you have tried and share your experience using them in the comments section.
Read More :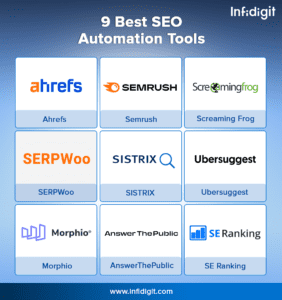 Popular Searches
URL Structure | External Links | What is Sitemap | What is Digital Marketing | Google Ranking Dropped | Sitelinks | Linkbait | Guide to Google Analytics Audience Report | Grey Hat SEO | History of Google | Digital Marketing Blogs | SEO Tools | Reverse Image Search on Google | Black Hat SEO | Googlebot | What is PPC | Blogger Outreach | Local SEO | Link Spam | SEO Chrome Extensions | History of SEO | ASO Ranking Factor | What is Youtube SEO | Organic Traffic in Google Analytics | Technical SEO | Types of Digital Marketing | What is SEO | Canonicalization | What is On Page Optimization | Off Page Activities | Link Building Service | What is Image Optimization | Boston Services | Dallas SEO Company | SEO Agency Houston