SaaS companies develop and host applications that they offer to customers. These applications can serve distinct or multiple requirements. Since their target audience are businesses using online services, a SaaS company's visibility on the web is key for its success. While the target is clear, it is difficult to achieve. 
It is true. Till SEO gets into the game. 
SaaS SEO is a driving force of any SaaS company you can find online. A successfulSaaS business will always be backed by a solid SEO strategy.  Hence, in this guide, you will get familiar with everything you need to know about SaaS SEO. 
Let's cut to the chase!
The Basics of SaaS SEO
The definition of SaaS SEO is pretty straightforward. It is all about applying SEO strategies to increase the organic traffic for a SaaS company's website. 
Lots of SaaS companies choose to focus more on paid traffic than SaaS pricing models and performance marketing strategies. While the approach does promise a swift growth story, it costs money that some companies can't afford. 
Furthermore, paid traffic has one huge disadvantage. When you stop paying for the ads, the traffic fades away. Therefore, SEO is the ideal solution in terms of getting free and consistent traffic to your site. 
What is the role of SEO for a SaaS company's website?
SaaS SEO strategies will help you put the site in front of potential customers. These customers are looking to:
Search software

(your software can help solve their issues)

Explore information about software

(they want to know what there are software alternatives on the market)

Want to buy software

(potential customers are looking for pricing)

Want to read content related to software
Keep in mind that SaaS SEO strategies may differ from strategies used for other types of business. Nevertheless, there are a few core ranking factors that Google takes into account, irrespective of business type — backlinks, content, and RankBrain.
SaaS SEO strategy strongly relies on the content you produce. If your content helps users find answers to their questions and attract backlinks, then your approach to SEO works. 
Why Do You Need to Invest in SEO for Your SaaS Company?
SEO focuses on delivering free organic traffic to your website. In other words, people will be able to find your SaaS product on Google in a blink of an eye and buy from you. 
However, are there any specific reasons why you should rely on SEO for your SaaS website? 
Let's review them one by one:
SEO reduces a Cost-Per-Acquisition
You know how paid media (PPC especially) works. When a user clicks on your website, you will have to pay for each click. And you can never predict if these clicks will convert into real customers of your SaaS product. Consequently, you start running an optimized campaign. Even though you can reach a limit where you won't have any chance to reduce your cost.  In contrast to this, SEO helps gradually reduce cost-per-acquisition. 
Your first investments in SEO will likely be high. However, clicks to the website won't cost you money as it happens with PPC. You will get clicks free of charge organically. That helps reduce your cost-per-acquisition spendings with time. 
SEO helps estimate your growth substantively
SaaS SEO works only with content. Thus, without content, you won't be able to drive free traffic organically. And here is an example of how it is important to create high-quality content.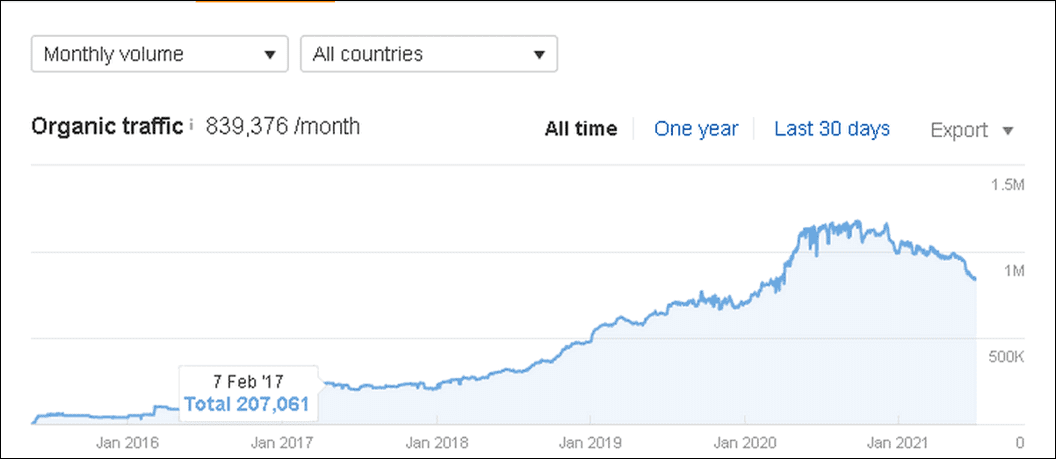 From the example shown above, you can see how one of the leading SEO SaaS companies Ahrefs has been growing its organic traffic from 2016 till that point. You might wonder if there is any specific way to make sure your content will drive traffic to your site. Just follow these simple but effective rules:
Enrich your content with topic-related target keywords

Build links 

Analyze the results and optimize content accordingly

Repurpose posts into various forms of content (infographics, charts, listicles, etc.) using specific design services like

chart maker

tools

Reach out to Google top-ranking positions with the rest of the topic-related keywords

Repeat the process over again
If you think creating optimized content helps you rank target keywords only — you are wrong. Content gives you way more opportunities for promotion. You can convert customers from other third-party channels as well. 
What Is the Real Purpose of SaaS SEO?
SaaS SEO cares about two things — the audience and their problems. 
Here is the explanation for this — when you know the target audience, you use SEO strategies that help these people find your product on Google. 
How do people search for your SaaS product online?
The thing is that your target audience might even not know about the existence of your service. People start exploring a solution to the problem they have.  For example, a person wants to find a tool that would help run keyword research. The person goes to Google and types a query like "keyword research tool" to find alternatives to choose from.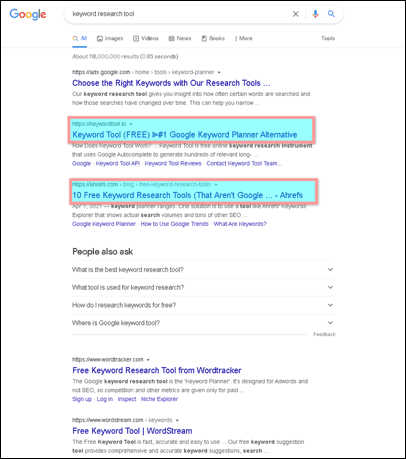 The problem has a few solutions — keyword research tools and blog posts that suggest a list of keyword research tools for consideration. If your SaaS product is a brand new keyword research tool, you will need to create content that would be related to the "keyword research tools" topic and use SaaS SEO to optimize your website.  Focus your SaaS SEO strategy on your target audience via helping people solve their problems with the help of your tool.
A Step-by-Step SaaS SEO Process to Follow
Now, let's run through the entire SaaS SEO process that you apply for a website in the niche. 
Start with setting goals and KPIs
SaaS SEO strategy starts with setting goals and KPIs. You can't begin your work if you don't know what you want to achieve. 
Don't think that it would be enough to set up a broad goal like "increasing the number of sales" – yes, it is the final goal. But focusing on something achievable in a short period makes more sense.  For your SaaS company, an SEO goal can be increasing monthly recurring revenue (MRR). As an example, you need to boost your sales up to $10K during the month. 
Regarding KPIs, your task is to keep an eye on SaaS metrics such as traffic, impressions, rankings, backlinks, etc.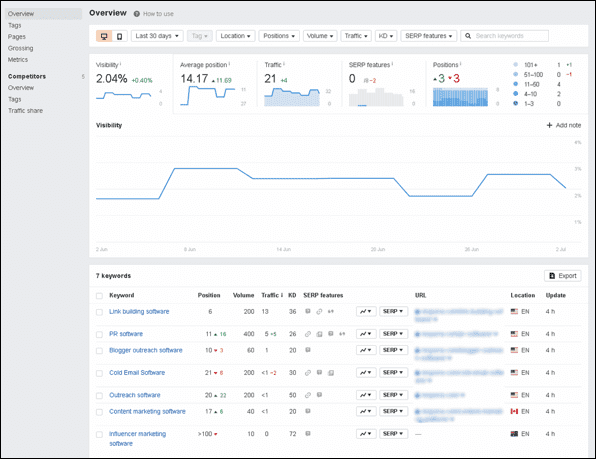 Therefore, you must have a clear understanding of each metric and how to analyze it. 
Work on identifying your buyer persona
You already know that SaaS SEO aims to solve the problems a target audience has. Hence, you must know the audience if you want to identify the problems people want to solve. 
How to do this?
Create a buyer persona portrait. You can do this by analyzing the information via Google Analytics, social channels, quizzes, and analyzing your competitors' customers.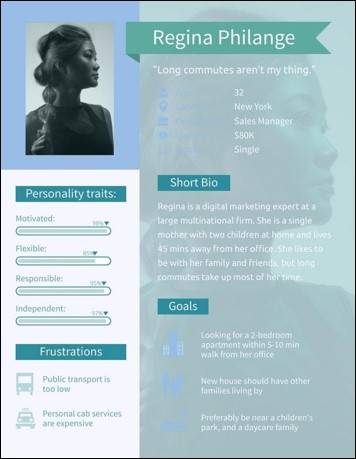 Conduct a competitor analysis
Competitor analysis can give you tons of information about SEO strategies your competitors use. Grab a few main competitors related to your SaaS business niche and run the analysis.  It would be fair to ask — on what basis should you analyze your competitors?
There are a couple of SEO metrics to take into consideration — keywords, backlinks, top pages, top landing pages, and a few other reposts. There are several SEO tools you can use for this purpose. Ahrefs is one of them. 
For example, let's assume that your SaaS company offers coworking management software. The first thing you need to do is to find a few competitors. Go to Google and type a query "coworking management software":
The next step is to use the "Domain Comparison" tool on Ahrefs. You can review the comparison analysis of up to five domains.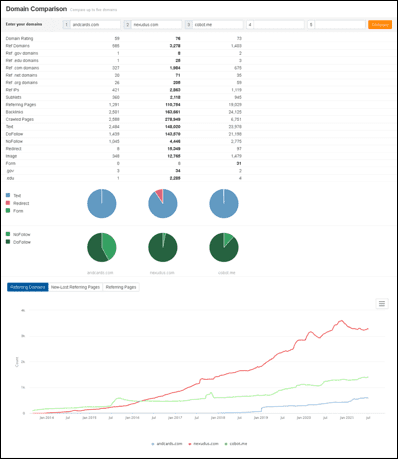 This report provides general SEO metrics of each domain, comparing it with others.  Then, you'll need the Site Explorer tool where you should pay attention to the first report called "Referring domains"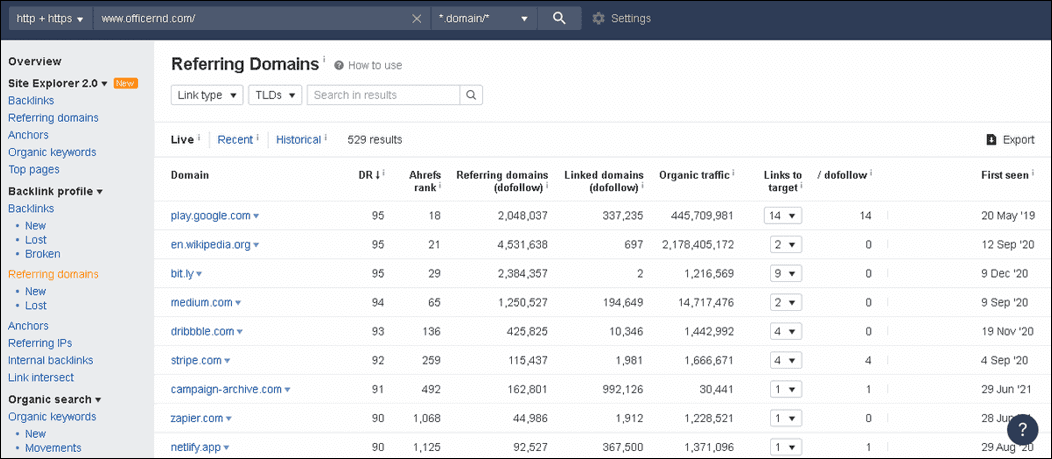 This report reveals all third-party domains that link back to the domain in question (your competitor's website). Skim through the report and review those domains that haven't linked back to your SaaS website. 
"Organic keywords" report will show you all keywords your competitor ranks for. Explore strategically important keywords for yourself and rank for them as well.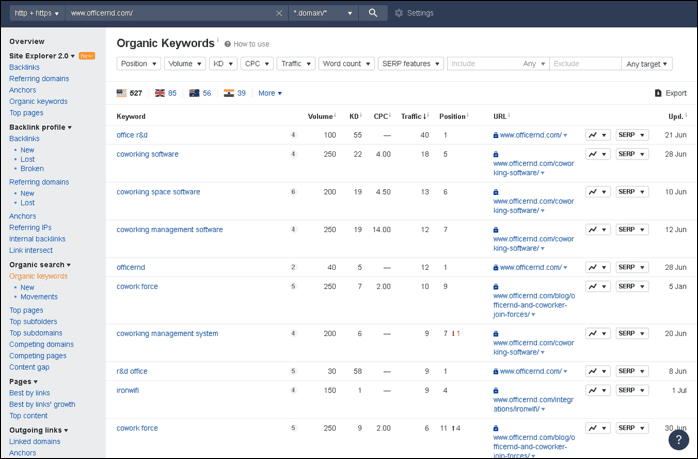 "Top pages" report ranks target pages based on their monthly organic search traffic.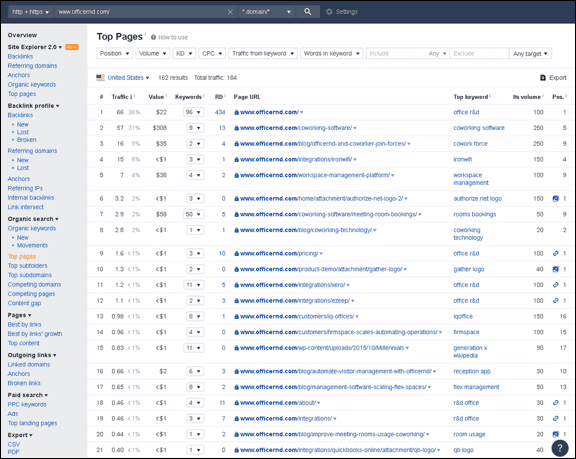 "Top landing pages" report shows which pages of your competitor receive the most paid search traffic.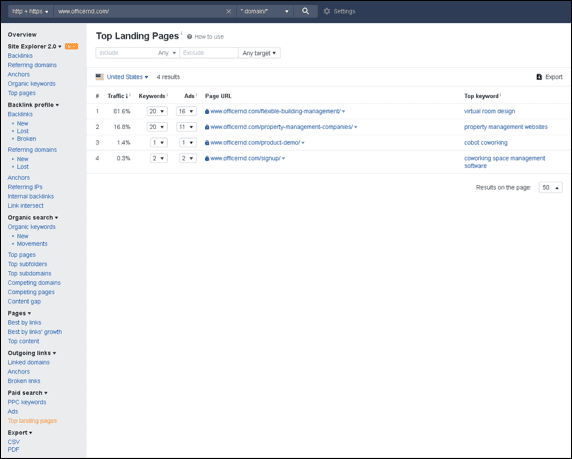 Benefit from the data you get and optimize your SaaS SEO strategy accordingly. 
When you have analyzed your competitors, you need to conduct keyword research. Keywords are the foundation of any SEO strategy. And you can't build your SaaS SEO without specific queries the potential customers use to find your product.
Keyword research is the process of exploring terms, phrases your target audience types on Google to find answers to their problems. 
How to find target keywords for your SaaS business?
First and foremost, think about how your audience would search for your product. What are the queries people would use?
For instance, your SaaS company offers SEO tools. You know the SEO industry pretty well. Thus, you can predict what queries people will use to find your product. The only thing you'll need to do is to expand these keyword ideas more. 
To do so, go to the Keywords Explorer tool from Ahrefs and type your target seed keyword. In this case, this keyword would be "SEO tool." You should review a report called "Phrase match" that can be found by clicking the "Matching terms" tab.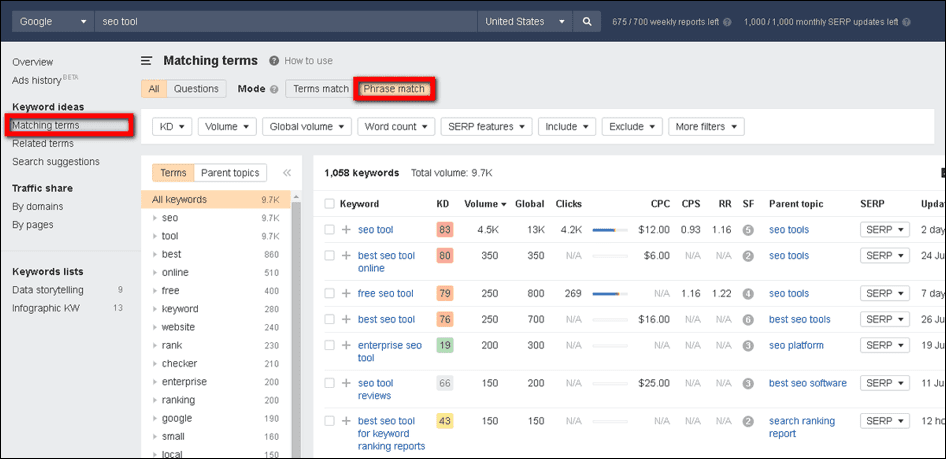 You will be suggested a list of phrases that contain your seed keyword. Keep an eye on Keyword Difficulty and Search Volume for each keyword. Try to choose those keywords that have the lowest Keyword Difficulty score and the highest Search Volume metric.  If you want to mix your SaaS keyword research with long-tail keywords, click on the "Questions" report. It will suggest you a list of long-tail keywords that have a good traffic potential.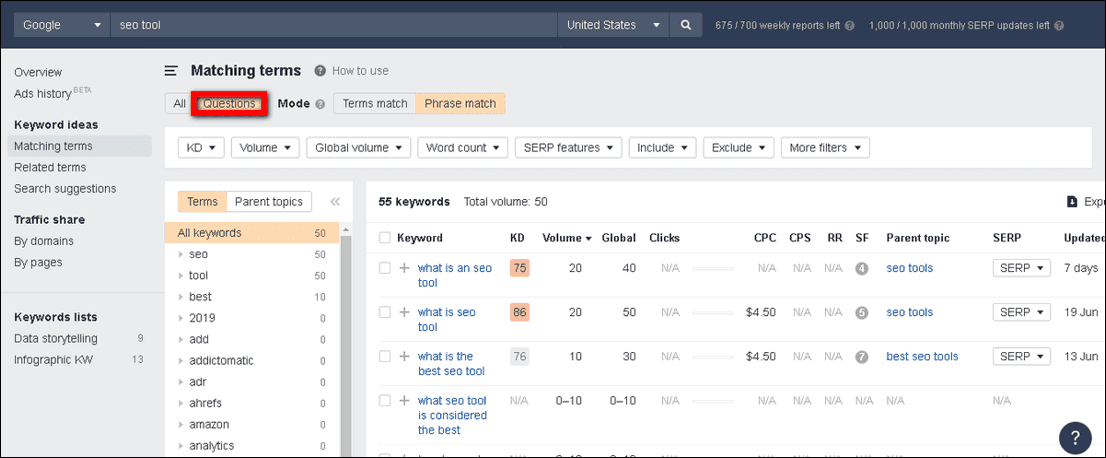 When you have keywords for your SaaS SEO, you can start creating content. 
You can't imagine SaaS SEO strategy success without creating content. If you review your competitors, you will see that they use the most legitimate way to promote their products — with the help of content.  Your task is to write content that would be better than your competitors' one. 
What are the features of good content? 
a) Answers the search intent of your audience

b) Long-form

c) In-depth (cover the topic better than your competitors do)

d) Engaging (using visual elements)

e) Easy to read and understand
These pieces of advice might look simple but effective. Follow these rules and your content will help you promote a SaaS product. 
Using technical and on-page SEO strategies 
To make sure your website is fully optimized, you should use technical and on-page SEO strategies. The first thing you need to do is to explore if your website has some technical issues. 
How to do this? 
You can run an audit of the site using the Site Audit tool. The tool analyzes whether you implemented on-page SEO on your site properly. It identifies if there are some technical issues that you should fix. 
There are several reports you need to review and fix issues by following the suggested instructions. 
Backlinks help your content rank in the SERP for your target keywords. Each backlink is like a vote that other third-party resources give to your piece of content. The more high-quality backlinks your content has, the better it will rank on Google. 
How to build backlinks for your SaaS content?
You can choose one of the following link building strategies (or practice all of them):
Unlinked mentions of your brand

Broken link building

Digital PR

Guest blogging 
The best way to acquire niche-related backlinks is by analyzing the backlink profile of your competitors. It has been already mentioned that you can use the Site Explorer tool for this purpose.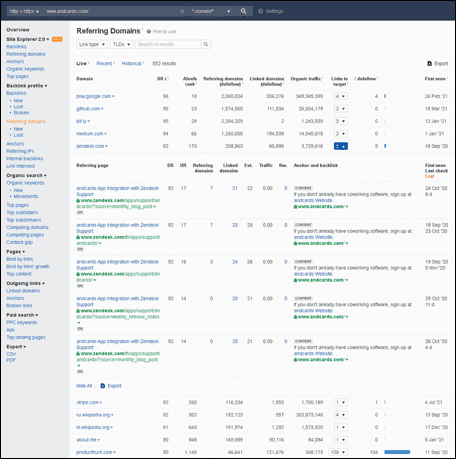 The "Referring domains" report shows all the domains that have one backlink at least to the site in question. If you want to see the number of backlinks from a given domain to the target website, click the "Links to target tab". Skim through backlinks and run the outreach campaign that will help you acquire them.
Conclusion
You have just got familiar with SaaS SEO tips and tricks that can help you out. Don't hesitate to use them in practice. You will see that your organic traffic grows and the number of sales skyrockets.  If you think this guide can benefit from more insights on SaaS SEO strategies, feel free to share your views in the comments.
Popular Searches
SEO Company  |  SEO Service in UK  |  Ecommerce SEO Agency  |  App Store Optimization Service  |  SEO Audit Services |  Google Penalty Recovery Services  |  SEO Agency in UK  |  Local SEO Services  |  PPC Services  |  Enterprise SEO Service  |  SEO Consulting Services  |  Professional SEO Service  |  Conversion Rate Optimisation Service  |  Amazon Advertising Agency  |  SEO Metrics  |  Meta Description  |  Reciprocal links  |  Alt Text  |  Google  Keyword Planner  |  Google Sandbox  |  Pogo Sticking  |  Local Citations  |  Content Ideas  |  YouTube Keyword Research  |  Keyword Difficulty