Does the location of your server matter for SEO?
Google explains whether the geographic location of a web server affects SEO in a new video from AskGooglebot series on YouTube, published on February 23, 2022.
Google's John Mueller, the Search Advocate at Google, addressed the following question:
"Does migrating a website's hosting location to another country affect SEO?"
Here are the key highlights from the explanation by John Mueller:
Website Crawling is slowed down
According to Google, if you move your hosting from one location to another, the website crawling will initially be slowed down.
John Mueller explains why this happens:
"Anytime we recognize a hosting change we want to be sure that we don't cause any problems. And so we tend to automatically slow down crawling as a precaution".
You will notice slow website crawling in the following scenarios:
Server migrated to another country

Moving to another hosting provider
Over time, as Google understands the change, the website crawling should return to normal.
Server location has an impact on your Page Speed
As per John Mueller, due to the physics and computer networking, it may take longer to reach a server that is at a far away location. This can have an impact on Page Experience, which in turn can affect SEO rankings.
Google provided some suggestions to combat this:
"To be as close as possible to users some websites even use servers in many different locations. A content delivery network often does this. If you're using a hosting platform they may already be doing this for you too. This configuration is fine for Google"
Server location is not used for Geo-targeting
Google confirmed that the server location does not play a role in geo-targeting as far as SEO is concerned. 
If you want your website to target users in a specific location, John Mueller offers the following advice:
Use country-code top-level domain
You can use a domain that is specific to the country you are targeting. For example, if you want to target users in the United States, you must use a ".us" domain.
Use Geo-targeting feature in Google Search Console
There's a nifty tool within Google Search Console, that helps you with Geo-targeting. You can find the tool under "Legacy tools and reports". 
Here's a snapshot to help you locate the tool: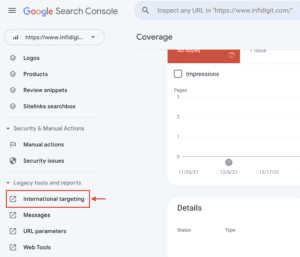 You can watch the entire explanation in the video below: