If you are planning on setting your foot into the online business space, then you must take into consideration the importance of marketing. This fact does not change in the case of grocery stores as well. You need to market your store to potential buyers, and for that, you would have to rely on SEO strategies. 
By implementing SEO strategies in your marketing, you can actually make your website earn more visibility on the search engine. You must have noticed that you do not usually surf through the 2nd or 3rd page of Google search results as a user. Well, you definitely do not want your grocery store to be on those 2nd or 3rd pages of Google, lest it should fail to fetch buyers. 
A proper SEO strategy helps your website appear on the first page of Google search results and eventually, lets your store secure higher visibility and conversions. Many online grocery stores and apps follow this approach. And today, we guide you through the journey to bring more traffic to your online grocery store.
Thorough research on Keywords
Before we dive into the technicalities of SEO tips, first let us tell you what a keyword is and what it does to your website's content. A keyword is a word that is used by the customers to search for a particular thing on the search engine. 

For example, say you need to buy a birthday cake online, and you have come to Google for your rescue. Also, suppose there is a bakery not far from your house and they have put up their collection of cakes online for sale. Now, you need to buy a strawberry cake, and therefore, you search "Strawberry birthday cake" on Google. Now, this exact combination of words are the keywords for the baker. If he puts his cakes for sale with the term "Strawberry birthday cake", then that bakery's website would appear on Google as your search result, and you would be interested to check out his store that instant. Now that you know how it works, make sure to do proper keyword research and increase the sales of your grocery store without any struggle.
Create hyperlinks in your content
This is another wonderful technique you can apply to enhance your store's visibility on Google search results. Your motto is to expose your store and contents to buyers as much as possible. 

If you have just started out with your online grocery store, nothing can be better than trying to win over your customers' hearts and trust. For this, you would need to take shelter of a brand name that your customers would be trusting. Suppose, your store sells chia seeds, which you know is good for health and weight loss. What you can do to grab the attention of your customers is to make them acquainted with the benefits of having chia seeds regularly through a hyperlink that would take them to an article published by a renowned health and lifestyle blogging site. Just like that, create as many hyperlinks as possible, that also helps your page to rank high in the search results.
Now you have to answer this question very carefully to get the answer correct yourself. Whenever you surf on Google, do you feel more comfortable with a smartphone or on a laptop/PC? Let us take a guess, it's the former that gives the utmost comfort. This is precisely what you need to remember.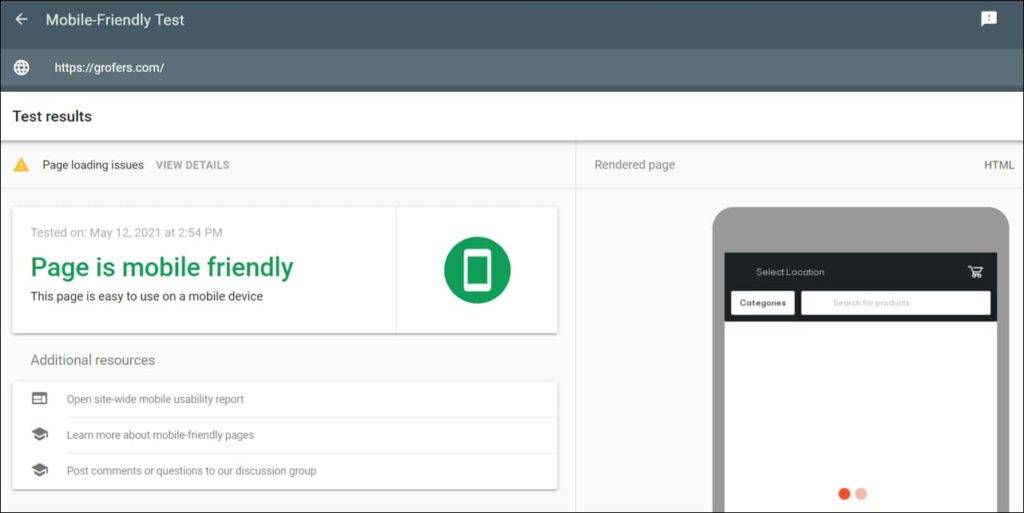 When you are creating your online grocery store, concentrate and aim at building a page that is mobile-friendly. There are many web pages that do not work properly when opened with a mobile. Also, it is proven that Google ranks your pages higher especially when it is a mobile-friendly one! You can aim at reducing the loading time your page takes by minifying the codes used while creating the page. Also, you can keep an eye out for getting brilliant SEO friendly site designs in order to get your store ranked high.
Nothing can be better to market your online store than engaging with your customers on a daily basis. Your goal is to never let them forget that your store is right there whenever they are in need of grocery products. 
If you want a win-win situation, why don't you try creating and posting fresh blogs on your store regularly? It would not only create a healthy engagement with your customers but also help Google identify your page as an active one. Your hard work would definitely pay off and soon you would come in Google's good books as an active page and eventually, rank high on the search results. Try to be creative with your blogs, and make sure not to plagiarize contents from other websites. Remember, the more your contents are fresh and unique, the more goodwill you would earn among your customers, and most importantly, Google algorithm.
With Google Merchant Center
Speaking of online shopping, have you ever noticed the row of products that appear on Google after searching for a similar one? It would be simply amazing if someone searches for a random grocery item, and the same product from your store gets displayed on Google first page. 
If you have been wondering how this extraordinary trick works, here you go. All you have to do is open a free account on Google Merchant Center. You can upload high-quality product images along with the description and availability status (in-stock) from that Google merchant account and stay a mile ahead of your competitors. For even better results, try optimizing your product details as minutely as possible, this helps your page to score good marks in Google's good book.
Proper meta title and description
Now that you have come this far in your journey, why not dig deeper into the tricks? You are any day welcome to add a creative meta title and description for your online store page. But as much as we would like to give you some precious intel, first, you should know what a meta title is. 

When you search for something on the Google search bar and the results appear, have you seen the heading under which the pages appear? Those bold blue headings are called meta title, and the short 2 or 3 lines that appear under the heading are called description. Usually, the meta titles do not exceed the boundary of 50-60 characters and the description should remain within the limit of 150-160 characters. The more crisp and creative you become with the meta title and description of your page, the more your potential buyers would take their sweet time to click on the same. 
PPC ads or pay-per-click ads do an excellent job pushing your online store to the top of Google search results. You should have seen how you search for a product on Google and multiple other websites come up with a tag of "Ad" on the corner. Chances are high that despite you searching for product A, you would end up clicking on the ad that comes up, only because it is related to product A. 
The same can happen to your store as well, if you opt for Google ads or any other pay per click ad service, in exchange for a small amount of money. This kind of ads generally never fail to provide you with a high click-through rate (which means, the ratio of people that have seen the ad and people that have clicked on the ad).
Including social integration
Including social integration on the page of your store can be a great way to generate traffic to the same. It refers to your other social media accounts or your page on other social media platforms. Now, say your store boasts a Twitter account, an Instagram account, and a Facebook account as well, you can put those social media links at the bottom of your store page. Likewise, you should share your official store page on your other social media handles as well. This way, you would succeed in attracting customers from different social media platforms and in general, boom your sales.

Enabling live chat option
As we have already suggested earlier, a great way to connect yourself with the customers is to be interactive. This also helps Google identify your page as an active one and therefore you get a higher rank.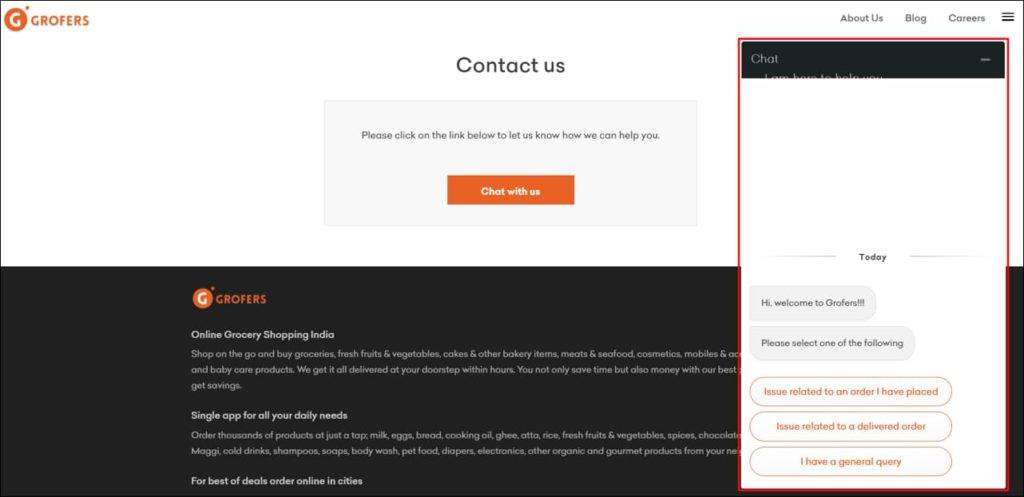 Now you can increase the interaction with your customers by simply introducing a live chat option on your store page. You can try coming live and answer the potential customers to clarify their doubts regarding your products if any. A one-to-one interaction, this way, helps you gain credibility among the customers as well.
The final trick that helps you gather a potential customer boom is to create versus style posts. You should know that customers generally do a fair share of research before buying a product. Therefore, they compare similar products and their features, prices etc in order to get hold of the best in the market. 
As a customer, anyone would be happy if an online grocery store saves them some time by creating such comparative versus posts on their behalf. Suppose, a customer is confused about which flour he should get, flour A or flour B. Now, as the store owner, if you compare these flour A and B yourself and put it on your store page, that customer would surely pay a visit to your online abode. This way, you can get good traffic and rank high in the Google search results as well.
Conclusion
We understand that opening a fresh grocery store online may unleash a certain set of insecurities and fears in you as the owner. It involves risks of staying unnoticed despite all the effort you put into building the store. But with the correct use of SEO strategies, your business can never go wrong. And even if you are a newbie in this field, be our guest while we take you through the smart hacks of SEO strategies. Using the tips that we just unveiled for your online grocery store, you are sure to attract a fair number of unique customers, and thank us later!
Popular Searches
URL Structure | External Links | What is Sitemap | What is Digital Marketing | Google Ranking Dropped | Sitelinks | Linkbait | Guide to Google Analytics Audience Report | Grey Hat SEO | History of Google | Digital Marketing Blogs | SEO Tools | Reverse Image Search on Google | Black Hat SEO | Googlebot | What is PPC | Blogger Outreach | Local SEO | Link Spam | SEO Chrome Extensions | History of SEO | ASO Ranking Factor | What is Youtube SEO | Organic Traffic in Google Analytics | Technical SEO | Types of Digital Marketing | What is SEO | Canonicalization | What is On Page Optimization | Off Page Activities | Link Building Service | What is Image Optimization | Boston Services | Dallas SEO Company | SEO Agency Houston