Digital marketing, simply put, is the use of various digital channels, such as mobile phones, social media, email, Internet-based advertising, text and MMS messages to reach customers. Every marketing effort, whether traditional or digital, has to adhere to certain timelines, budgets and milestones.  A digital marketing strategy lays out the roadmap that contains the timelines and tools that will be used at various stages in the digital marketing campaign to achieve specific milestones. Most digital marketing strategies outline a detailed plan to improve brand presence and promote to potential customers.
What is Digital Marketing Strategy?
An effective digital marketing strategy is a predefined set of activities that helps businesses expand their online presence. Nowadays, it is impractical to set up a branch in every location to serve your consumers. Unless you are a multinational corporation, doing so requires significant funding. 
The best and most viable alternative is to increase the virtual presence of your company and promote your brand and products online across multiple platforms. This is where digital marketing strategy comes into play. 
The right marketing approach can help you improve your search engine ranking and product promotion besides helping you acquire quality leads. You can use this approach to increase your sales figures and revenue.
Examples of Digital Marketing Strategy
The term "digital marketing" encompasses a wide range of activities. You are mistaken if you believe it simply focuses on search engines. Here's a rundown of what digital marketing entails.
Creating an impactful social media profile

Helping in website development

Creating powerful video and image content

Creating eBooks and blog posts

Designing meaningful brand logos 

Getting customer testimonials and positive online reviews
Why is Digital Marketing Strategy Important? 
An effective digital marketing strategy is important because it bridges the gap between a business and its customers to reach your business goals. Imagine your brand has the presence it needs, but it cannot attract users only because most of them aren't aware of the services you offer.
Digital marketing services are centered on attracting more customers by building an efficient customer experience rather than focusing solely on lead conversion.
Why Do You Need Digital Marketing Strategies?
A digital marketing strategy for a brand is essential if you want your business to grow online. By expanding your firm online rather than offline,  you will be saving a lot of money because expenditure related to staffing, branch setup, and power bills are eliminated. In case you already manage your business online, here's how this marketing technique might help.
It helps you work towards a specific goal.

It helps you figure out your market share and the marketing approach you can use to grow it.

It helps you learn about the expectations your customers have of your brand. It also helps you figure out whether you can address your customer's problems or not.

It helps determine which online marketing platform is most effective for you.

Last but not least, is your online ranking. The appropriate digital marketing strategy can assist you to climb search engine rankings.
Types of Digital Marketing Strategies 
There are innumerable ways in which digital marketing strategies work. Alongside mainstream, traditional marketing methods, there are other ways that help markets evolve – especially only by accessing the internet most people are deeply familiar with.
1. SEO Marketing
Search Engine Optimization (SEO) is central to a digital marketing strategy. Simply put, SEO drives traffic to a business website, mostly due to higher website ranking in search engine result pages (SERPs). SEO also helps identify who can convert to potential customers. For instance, consumers searching for "homemade coffee filters" and "how to make coffee" are different, but belong to the larger audience of people who drink coffee. That's why these keywords are relevant to the same target audience. For the right audience to convert to a loyal customer, though, it is important that your brand should figure on the first page of the search results. Because no one really looks at the second page. This is where SEO can prove to be really useful. Done right, it can help your brand figure on the first page of SERP.
2. PPC Marketing
Pay per click (PPC) is a marketing strategy that roughly on specific keywords and triggers only after a potential consumer has raised a query similar to it. These ads appear even prior organic results. For instance, when you search for a keyword, it first shows an ad that directs you to a landing page. Simply, you don't actually pay for the ad itself, but the result it derives. PPC targets transactional queries to convert sales. Clicking an ad will show the page, alongside a CTA (call-to-action).
3. Social Media Marketing Platforms 
Social media marketing employs social media channels to promote a product or service. Businesses and brands leverage the popularity of social media platforms like Facebook, YouTube, Twitter, Instagram, and even WhatsApp to create brand awareness and build a customer base. Social media marketing can reach huge numbers of people in a really short time. A huge percentage of those people make purchase decisions based on social media marketing. 
4. Influencer Marketing 
In influencer marketing, social media influencers, who are individuals with a loyal follower base and who are viewed as experts in their niche, pitch a product or service. Influencer marketing works on trust. Followers trust the recommendations of someone who they look upto as an expert.
5. Content Marketing
Content marketing focuses on reaching and interacting with potential consumers via relevant and useful content. 'Content' is anything that includes, but not limited to, blog posts, infographics, videos, and articles. It differs from other marketing forms in that it focuses on sharing information, building the brand image and connecting with the audience rather than being only sales focused. That good content will lead to better sales is the underlying assumption. Brand content should use specific keywords for different audiences. For instance, if your business revolves around selling garments, putting out an article that details out which outfit is most suitable for specific occasions would immediately connect with a potential customer. Plagiarism free, original and high-quality content drives traffic and converts to sales.
6. Email Marketing 
Email marketing has been among the earliest and most preferred digital marketing strategies that was availed by businesses. Email marketing is an effective digital marketing strategy that focuses on retaining existing customers while wooing new ones. The major goal of email marketing is to create awareness among potential customers who had once made purchases and, therefore, can do so again. With a return on investment (ROI) of around 4,400%, email marketing offers unrivaled returns to businesses as well as its consumers. Email marketing targets users and offers them relevant news, either personalized or industry related, and provides them product coupons to gain attraction and help them keep in the boundary.
7. Affiliate Marketing 
Affiliate marketing is an effective digital marketing strategy that compensates third party publishers for generating leads for products and services. It is also used to retain potential consumers. The three kinds of affiliate marketing are unattached affiliate marketing, related affiliate marketing and involved affiliate marketing.
8. Mobile Marketing
Mobile marketing is an efficient multi-channel online marketing process that simply focuses on reaching a specific audience via smartphones, tablets and similar devices. Email, social media, or simple text messages are the main ways in which the message is disseminated. Mobile marketing revolves around advertising activities like text promos and push notifications. Often, mobile marketing has been seen as a more affordable option than most others. It can be anything scanning QR codes or in-game marketing. Mobile marketing techniques have shown considerable results with businesses witnessing a surge in traffic and conversions.
Crafting an Effective Digital Marketing Strategy
For any digital marketing strategy to be successful, you must identify your target audience. For this, you need to know who you are marketing to. To accomplish this, you need to identify the various customer personas that might engage with your business. Creating a separate segment for each buyer persona in your marketing can help you garner amazing results. 
1) Demographic Information 
1.1) Location
Your business must have a clear view of exactly where your major website traffic is coming from. This would help you align your marketing efforts to locations where they can be most effective and revenue-generating.
Using Web analytics tools, it is quite easy to capture the location of your website traffic. Tools like Google Analytics, Ahrefs, Moz Pro, and HubSpot can help you track your website traffic and pinpoint the location your website is capturing the most traffic from.
1.2) Age
While identifying the age demographic might not be relevant for some businesses, it is still an important metric to capture. Gathering age-related data from your customers can help you build strong buyer personas and identify new trends within your contact database and existing prospects. This can help you refine your marketing strategies and ensure that your efforts are targeted towards different age demographics.
1.3) Income
Your audience might not want to share sensitive personal information like their income. Hence, it is best to conduct personal interviews with them. Audiences might be more comfortable sharing this information personally rather than through online forms.
This information, when captured precisely, can help you fine-tune your buyer personas, give you insights into their spending limits, and help you develop a digital marketing strategy that suits their pockets.
1.4) Job
Your existing customer base can provide you with a good idea of the job titles. This is especially helpful for B2B companies to develop different types of digital marketing strategies, as job titles can give these companies the ammunition they need to develop targeted marketing campaigns.
2) Personal Information 
2.1) Goals
You should have a good idea of the problem statements or challenges that your services or products solve for your customers. This should give you a clear picture of the goals your buyer personas have. This can be further cemented by interacting with real customers and capturing their opinions on why they'd engage with your business. Your customer service and internal sales representatives can also add to these insights from the interactions that they've had with customers.
2.2) Hobbies
Knowing your customers' most common interests and hobbies can help you expand your product or service offerings. For instance, if you are an eCommerce fashion business, it would be quite a significant insight for you to know that a large chunk of your customer base is into sports and fitness. This can significantly inform your future partnership-building efforts and help you expand your product catalogue.
2.3) Priority
To build a rigid buyer persona, it is crucial to assess your customers' priorities. Interact with your target audience and existing customers and capture their expectations from your business. For instance, if you are an eCommerce software company in the B2B industry, it would be highly valuable for you to know that the target audience prioritizes customer support over getting a lower price. When leveraged to its full potential, this insight can significantly boost your business's customer satisfaction.
2.4) Challenges
Being a solution provider, you must know what challenges your target audience faces and what you can do to resolve them. To identify the common challenges faced by your customers, you can interact with your customer-facing employees, sales representatives, and customer service employees and assess what can be done to eliminate those challenges. 
SMART stands for
1. Specific:
Defining objectives and being precise with the metrics is the main purpose of setting goals. Vague benchmarks like "convert new leads" should be avoided. Rather, it should be "convert X amount of leads."
2. Measurable:
Being able to measure whether you're attaining the goals you set is equally important. When your goal is to "convert X amount of leads", you should be able to measure whether you are hitting that "X" number.
3. Attainable:
Setting realistic goals is crucial in determining the success of your strategies. Aim to set competitive goals rather than unrealistic ones.
4. Relevant:
The goals you set should seamlessly align with your campaigns. They should be flexible and match with what you are trying to achieve through them. For instance, if your goal is to "send X number of emails to customers", then it should be a part of an email campaign.
5. Time-bound:
Ensure that you have set realistic timelines to achieve your goals.
Each of the business goals defined in your digital marketing strategy should follow the SMART methodology to ensure optimum results and success rates. To craft an effective digital marketing strategy, each of these terms should be built upon and should lead to the main goal. You must heavily audit your strategies based on SMART goals and identify any unhealthy elements that might prove to be harmful to your business.
Evaluate existing digital channels
There are three types of digital channels – 
1) Owned Media Channels –
Channels owned by your company
Any digital assets that your company owns comes under this category. These can include your social media channels, blogs, infographics, images, and much more. Your business controls this media completely. Owned media also includes any offsite content that isn't hosted on any of your websites, like blog posts on Medium, images on Pinterest, and much more.
2) Earned Media Channels –
Channels earned by your business through word of mouth and good relationships
Any exposure earned by your business through positive word of mouth, reviews, ratings, and so on comes under earned media. Earned media can be described as the recognition and exposure you receive directly or indirectly as a result of various marketing methods like press releases, guest posts, PR efforts, positive reviews, and content shared by your audience.
3) Paid Media Channels –
Channels you pay for marketing
Any marketing channel or platform used by your business by paying them a certain amount to capture the attention of the target audience comes under Paid Media. This includes channels like Google AdWords, sponsored or paid guest posts on other websites, paid ads, and so on.
Existing digital channels and assets of a business play a crucial role in a digital marketing strategy. You must evaluate which digital channels are garnering the best marketing results for your business, and leverage them to their full potential.
Audit your owned media campaigns
Owned media is possibly the biggest asset a business has for building an effective digital marketing strategy. Every message that your brand can broadcast to your audience can help you convert website visitors into leads and significantly boost your online presence. Hence, it is imperative to regularly audit your owned media campaigns to ensure that your content is top-notch and appeals to your target audience. To ensure this:
Detect the scope of improvement in your existing content 

Create an inclusive content creation plan to fill in the gap in existing content
Audit your earned media campaigns
Auditing your generated media campaigns can give you valuable insights into which types of digital marketing strategies are working and which are not. You can assess which earned media source is generating most of your leads and traffic and which ones are the least effective.
Auditing and assessing historical data can help you figure out which earned media channels you need to invest more time and resources to achieve your goals. Moreover, it can also help you develop unique marketing strategies that can be run on earned media channels that you know would capture your audience.
Audit your paid media campaigns
This process is pretty much the same. You would evaluate which paid media platforms show the most effective ROI for your campaigns. For instance, if you've spent the same amount of funds on ads on Facebook and AdWords, but only AdWords is showing good results, it might be time to either channel more money into AdWords and less in Facebook or do away with Facebook ads altogether. 
After you have defined your business goals, evaluated your digital channels and assets, and accumulated buyer personas, the only thing that remains is setting a budget for your digital marketing strategy. Examine all aspects of your digital marketing strategy and its execution and then set a holistic budget with room for spending some more on the strategy.
Plan Your Existing Campaign 
As with everything else, a digital marketing strategy, too, takes planning and effort. Here are some things that are advisable to do before coming up with a digital marketing strategy.
Audit your existing content 
The importance of this cannot be stated enough. Evaluating the existing content will show you what you already have, what can be more effectively deployed elsewhere and what content needs to be created. Rank every item that has previously generated value and has helped you achieve your goals. This process will help create a roadmap for future milestones. 
Find gaps in your existing content
On the basis of your buyer personas, start identifying gaps in the content you have created. For instance, if your company is based on science tutoring, and you have recently discovered that most of your personas have trouble finding effective, well-researched content, then it's perhaps best to create some. At this point, only by taking a brief look at your content audit, you might as well find that ebooks convert well on a couple landing pages than other formats. After finding it out, it is best to include practices that revolve around ebooks. This is an example of what points you should look for when exploring gaps in your content. 
Create a content creation plan 
Having a well-crafted, efficient plan works best when supported by a content creation plan. Based on the gaps identified, create a content creation plan to accomplish the goals you've set. This includes, but is not limited to, titles, meta tags, format, and promotion. The content creation plan should specifically target the audience you want to reach.
The performance of your digital marketing strategies should be closely monitored and measured. Using tools like Google Search Console, Google Analytics, Ahrefs, Moz, and so on, you can effectively keep track of your campaigns or strategies and evaluate their ROI.
Few strategies to implement
This is the most commonly used form of online marketing. Blogging can accomplish a lot of things for your digital marketing strategy. Adding relevant keywords, publishing the content on forums and external websites, using internal links, and also writing promotional call to action (CTA) in blogs can bring in a good chunk of organic traffic to your website.

Videos are the most consumed form of media in today's world. Putting out visually appealing videos can greatly contribute to the success of your digital marketing strategy. Create targeted videos promoting the main services/products of your campaign and publish them on streaming platforms and external websites to attract more viewership.

Email marketing is still one of the most effective marketing strategies for businesses. Creating an elaborate list of potential customers via data mining and sending them personalized emails regarding your services can attract a lot of attention. However, it must be done in a non-generic and interesting way so that the emails are not classified as spam by customers.

Over the past decade, the popularity of podcasts has shot through the roof. Millions of people listen to thousands of podcasts every hour of the day. They are a desirable platform to put subtle promotions out, especially on podcasts centered around the same theme as your products/services.
Whenever the question of what is a digital marketing strategy comes up, social media marketing is an integral part of the answer. It primarily focuses on advertising or marketing your brand on various social media channels to increase brand awareness and boosting lead conversions. Any campaign in social media marketing can be run or featured on multiple social media platforms.
There are many paid advertising methods, but one of the most popular and cost-effective ones is Pay Per Click or PPC. What is PPC? It is an auction-based form of advertising. In this form, you can decide where your ads show up by bidding on keywords. Whenever a user searches for the keyword you bid on, and your ad will show up. Since these ads are displayed above the organic results on search engines, they prove to be quite effective. In this form of paid advertisement, you pay for the clicks that the ads generate. In the most basic terms, you are paying for results rather than the ads.
Benefits of Digital Marketing Strategies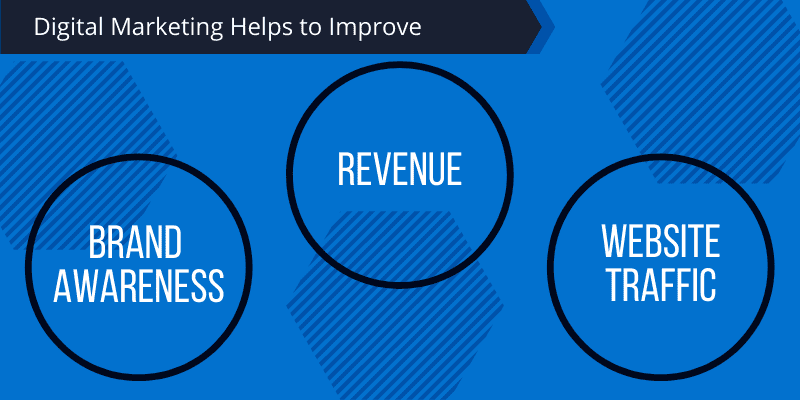 One of the most effective ways to boost awareness of your brand is through a competent digital marketing strategy. Not only does this activity draw more attention to your brand, but it also increases the brand's reach. One of the very helpful catalyst in boosting your brand awareness is Word of mouth. It is the easiest and the quickest way to market your brand. 
Since your business is marketed across various channels and platforms through a digital marketing strategy, your website is mentioned in the form of internal or external links or promotional redirects on the Web. This is very helpful in generating more organic traffic as users from diverse backgrounds, unaware of your website until now, become aware and interested in it if you offer services and products they are looking for.
Increase in Conversions and Revenue
Since you are now generating more traffic to your website, chances are that more visitors will be converting into customers and buying from you. This helps in increasing your overall revenue, which is one of the primary goals of a digital marketing strategy. 
Conclusion
Carrying out a digital marketing campaign is a tough nut to crack, especially in the competitive climate of 2020. Hence, availing the services of an experienced partner like Infidigit, an SEO company in Bangalore, can take you a long way in developing the best and most effective digital marketing strategies for your business.
Read More :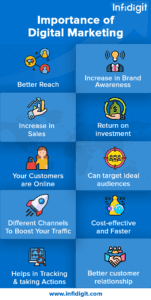 Popular Searches
SEO Company  |  Best SEO Company in Delhi  |  Best SEO Company in Mumbai  |  SEO Agency in India  |  SEO Consultants in Mumbai  |  Digital Marketing Services in India  |  SEO Services in India  |  Ecommerce SEO Company  |  Website Audit Services  |  SEO Penalty Recovery Services  |  Local SEO Services in India  |  PPC Services in India  |  ASO Services in India  |  Conversion Rate Optimization Services in India  |  Link Building India  |  Google Reverse Image Search  |  What is SEO  |  What is Digital Marketing  |  YouTube Searches  |  Canonical Tags