Google Discover is a part of three fundamental shifts of how Google will approach 'Search' in the next twenty years. One of these fundamental shifts includes moving from a 'Query' to a 'Query-less' way of getting information that is being served by Google discover. The other two shifts are the shift from answers to journey and the change from text to a more visual way of finding information.
What is Google Discover
You can consider Google Discover as a personalised content recommendation engine. Based on your interaction with Google devices and services, you will find different content topics related to your interests. You can view this content by Google Discover on the Google app the discovered content is displayed on the Google search page in mobile browsers as well. The content that gets served in will be different from person to person. Here is a video from Google India introducing on Google Discover & stating it's features.
History of Google Discover
Back in 2012, Google Discover was named Google Now. At that time, its primary purpose was to exhibit information with no input from the user. The content shown by Google Now included upcoming sports events, boarding passes, national holidays, etc. The content was made available to the audience without prioritising their areas of interest. But later on, much of such attributes got affixed to Google Assistant's "Snapshot."
Eventually, Google Now was renamed to Google Feed and then in 2018, it was renamed to Google Discover. In Discover, the major difference was the availability of personalised data to the audience regarding their interests.
Why is Google Discover Important?
Now that we have understood what is Google Discover, let us understand its relevance. There are two perspectives to consider here, the consumer, that is, an everyday Internet user, and the business, which is the website. Google Discover is an interesting tool for both of them. 
Website creators can use Google Discover to not only increase traffic to their website but also to establish themselves as credible experts in a particular area. For instance, if your brand is a fitness blog or sells fitness-related products, then it is very likely that Internet users who are fitness enthusiasts will keep seeing the links to your business in their Discover section frequently. As a result, they are likely to register your page as their go-to website for information about fitness-related information. 
When it comes to the everyday Internet consumer, Google Discover curates a targeted and exclusive list of articles, blog posts, and other Web pages that align with your interest areas based on your previous Internet searches. This makes information much more handy and smart—you get to access updates and Web pages without even looking for them!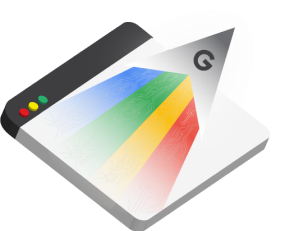 Elevate your web presence by Infidigit's SEO solutions.
Unlock higher rankings, quality traffic, and increased conversions through tailored award-winning SEO strategies.
Elevate your web presence by Infidigit's SEO solutions.
Unlock higher rankings, quality traffic, and increased conversions through tailored award-winning SEO strategies.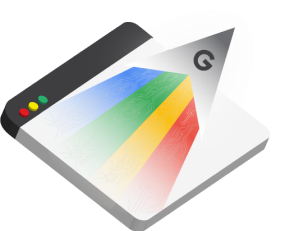 How Does Google Discover Personalize Content?
Google Discover is all about personalised data available on your mobile. The data available is related to your areas of interest. Therefore, personalising Google Discover is about exploring the content as and when it gets visible. Personalised Discover content is seen by millions of people every day and hence draws huge traffic to the site. This happens especially with media and news. In fact, both news and media get the bulk of their organic traffic from Discover.
When a person views content on Google Discover, a few options tabs are available as three vertical dots on the right-hand bottom. On clicking these tabs, Discover introduces new topics to the viewer. Similarly, if the user does not want to see similar results, they can click on the 'no more results tab'. Therefore, every content visible on Discover is personalised as per the feed from the user itself.
How can you get on Google Discover? 
Content is key to any website. It is important to ensure that your content adds value to anyone reading/watching it. In fact, this is what separates good content from great content—the latter has been written with a lot more thought, clarity, and brevity. Some tips to remember include using multimedia plugins between written content, stepping away from generic and bland content to a more targeted approach, and including the right keywords. 
Focus on Image Optimization
It's no secret that Google is determined to enhance the user experience by giving them quality content. This essentially means that the content you put out must be high in utility, quality, and engagement. A great way to do that is by including visual aids in the form of photographs, banners, and curated graphics. 
Also, take note of the quality, pixel, and size of the image being used. Google recommends using a photo that is at least 1,200px wide.
Increase Engagement by Including Videos 
Videos are a great way to bring life to unidirectional content. It adds life and color to any website, provided it is being done right. Users and Google are particular about consuming content that is high in quality and optimization. So ensure that if you include a video, it is a high-resolution one that is of the right size for your website, loads quickly, and contains relevant content.
Include Trendy and Evergreen Content
Content creators often struggle with choices: should they create time-sensitive and trendy content? Or should they instead curate evergreen pieces of content? There's no single, easy answer. Your content strategy must be determined by what would benefit those visiting your website. It would be absolutely great to find a balance between the two and mix them up so that you offer something to both audiences. 
Timely posting of content is essential to ensure the presence on Google Discover. This is because evergreen and on-time content are the key attributes of Discover. Therefore, timely content posts have more chances of getting noticed on Google Discover. Apart from this, the content on trending topics or widely popular topics has a bigger chance of getting featured on Discover. However, there are certain evergreen topics that grab a position on Discover because of their lasting popularity. 
Every time the user changes his online behaviour, the feed on Google Discover gets adjusted on a real-time basis. The search history of the user determines the feed being shared with him. Therefore, when your brand page exhibits the latest updates about the industry, it attracts more traffic, improves brand awareness, and generates good leads that get transformed into sales.
Follow Google News Guidelines
Google is extremely particular about its policies. Some key news guidelines by Google include: 
Curating quality content that is authentic instead of deceiving 

Curating content for site visitors instead of search engines 

Avoiding creating content that is automatically generated and lacks originality 
You can go through these policies in detail right here: https://support.google.com/news/publisher-center/answer/6204050
Enhance Expertise, Authoritativeness, and Trustworthiness
EAT, short for expertise, authoritativeness and trustworthiness is essential to get discovered via Google and its users. This essentially means that the more a website builds well-researched and accurate content, the more likely it is to become an expert that is trustworthy in the eyes of Google. 
Browsers have started taking user experience very seriously and hence, any content that goes against the EAT factor will be flagged and weeded out. 
Use structured data to markup your content
Google works very hard to comprehend the content on your webpage. Therefore, it is recommended to provide in-depth information for ease of Google's understanding. When we talk about structured data, we are referring to Schema markup code that makes it simple for search engines to comprehend and display the content. You need to have a well-structured Schema implementation for top-notch results. Structured data means that your content has a higher chance of being visible in Discover.
Schema Markup Validator is a structured data testing tool for testing the data embedded in the web pages.
Try to get on Knowledge Graph
The knowledge graph is the personal database of Google, curated from multiple sources. It enhances Google's search engine results. Your brand should be in the knowledge graph to get recognition from people. Being listed on the Google graph shows the healthy online presence of your brand in the right context. This also means that Google has identified the entities and interests linked to the brand. Therefore, it can show your brand as a result when people search for the relevant content on Google Discover. 
If your brand is not on the knowledge graph, it won't show up in the Discover feed of your brand followers, too. The Topic Layer of the knowledge graph and Google News AI/ML determine the content to be displayed on Google Discover.
Optimize your Website for Mobile Devices
It is essential to keep mobile UX and UI in mind and optimize your website accordingly. Keep in mind that readability and perception differ when it comes to a mobile screen and a laptop screen. Since the screen space dynamics change, one needs to be careful about the layout to make it a seamless experience for the user. 
Start with Google Web Stories
Google web stories are an apt feed for Google Discover. Considering the mobile platform on which Discover works, web stories provide the content you were not thinking about at a particular moment but are interested in. Google web stories are visual storytelling on mobiles in the best possible format. These are very easy to swipe through, easily discoverable on Discover and are fun for the users.
The Web Stories carousel in Discover comes up with the best and most engaging visual content on the web. When the story is clicked, it presents expanded content that is quite engaging.
Features of Google Discover
1) Following and unfollowing topics
This feature lets you follow and unfollow topics as per your interests. Consider this as a social media feed, where instead of following users, you are following favorable content topics. By default, the Discover feed will be serving personalised content based on your google search. However, if you are more interested in a particular topic, you can deep dive into the same by clicking on it. You can also select "Not interested in Topic" to stop the content related to that topic from being served in Discover. Here's a demonstration of the same: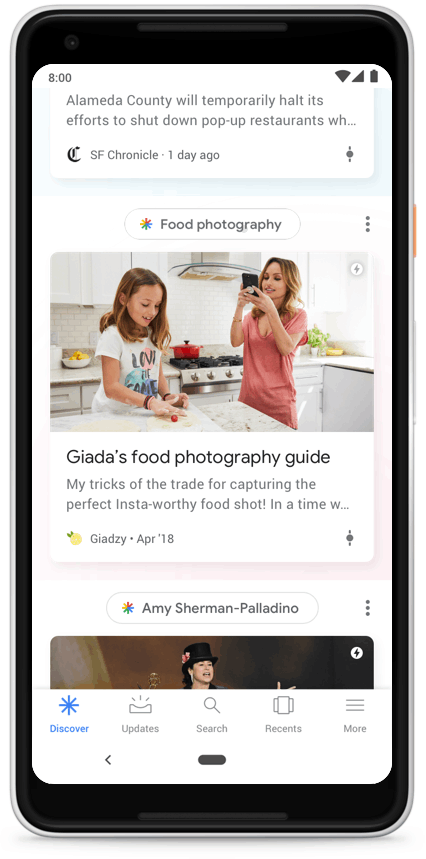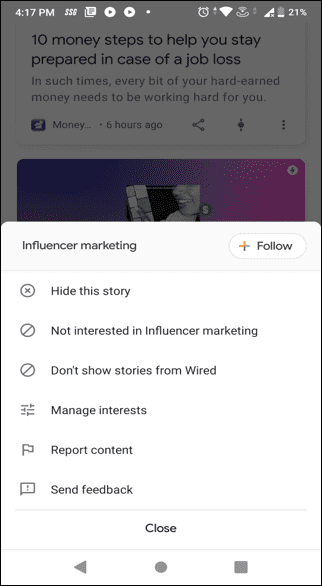 2) Frequency of content of a particular Content Topic
Using the control feature, you can indicate how often do you want to be served with a particular content type or topic. There is a control icon in each of the cards that are being served in Discover; clicking on that icon, and selecting more will bring up more content related to that topic. Similarly, choosing less will ensure that you get less of such content in your feed. Here's a gif explaining the same.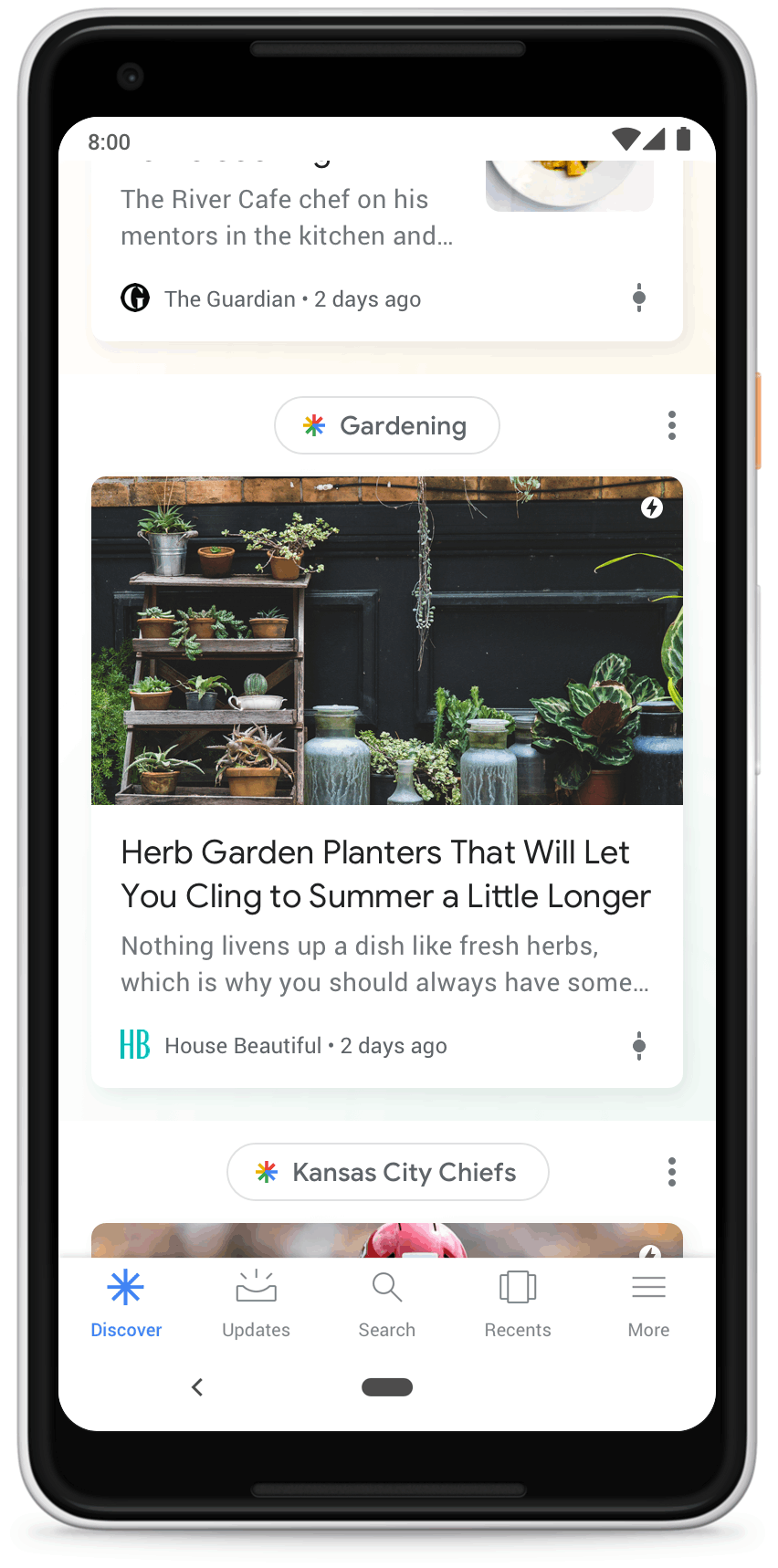 3) Managing Interests
Google discover also provides the feature of manually selecting the content topics of your interests. As shown in the image, you need to click on the manage interests icon to enter a list of content topics that are being served in Discover. Select the topics of your choice and get served with the content related to it in your Google Discover feed.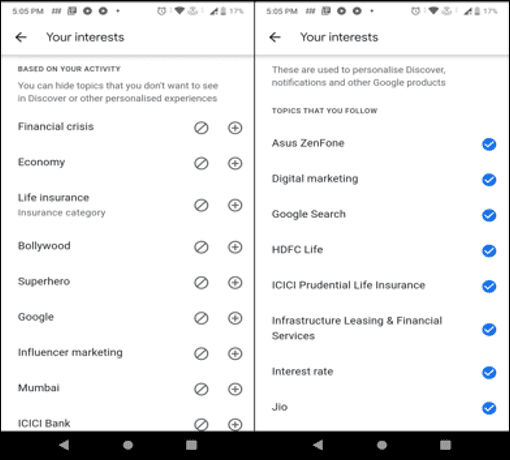 4) Optimising for Google Discover
To ensure that your website content is eligible to be served in Google discover, it is necessary to follow the Google webmaster guidelines and Google news content policies.
The best ways to increase the probability of your website content getting served in Google Discover are:
Creating good quality, compelling content for your target audience
Use of high-quality images and engaging videos
Ensuring faster page load times
Use of Accelerated mobile pages if possible
Publishing content related to the latest trends in your industry
5) Google Discover performance report
You can view the performance report of Google Discover in the search console. However, this report is only generated if your website reaches a minimum number of impressions in the discover feed. This report will help you to identify pages that get served in the feed along with the number of impressions and clicks data.
Conclusion
Google aims to provide a query-less way of finding information for searchers who are interested in a particular topic, thus improving the experience with the help of Google Discover. To conclude, Google Discover ensures that you are updated on the topics that you find interesting.
Popular Searches
SEO Company  |  SEO Company in Bangalore  |  Best SEO Company in Delhi  |  SEO Company in Mumbai  |  SEO Agency in Mumbai  |  SEO Consultants in India  |  Internet Marketing Services  |  SEO Services in India  |  Ecommerce SEO Services India  |  Website Audit Services  |  SEO Penalty Recovery Services  |  Local SEO Services  |  PPC Services in India  |  ASO Services in India  |  Conversion Rate Optimization Agency  |  Link Building India  |  Content Marketing Agency  |  On-page SEO Techniques  |  Latest Google Algorithms  |  Google Ranking Factors