Traffic is what keeps a website going. In the huge number of sessions or users that come to your website lies a small number of your potential customers who are going to pay you for using your products or services. Hence, having huge traffic to your site will lead to the success of your business.
A lot of people have this question as to what is better, SEO or PPC. The answer depends totally on the kind of business you are in, your objectives, and the marketplace.
Let us get into the details of SEO and PPC to know when one should use either of the services.
What is SEO : Grow your Organic Traffic
SEO is a set of practices that help you achieve the quality and quantity of traffic to your website by ranking well on various organic SERPs (search engine results pages). Read our blog on What is SEO.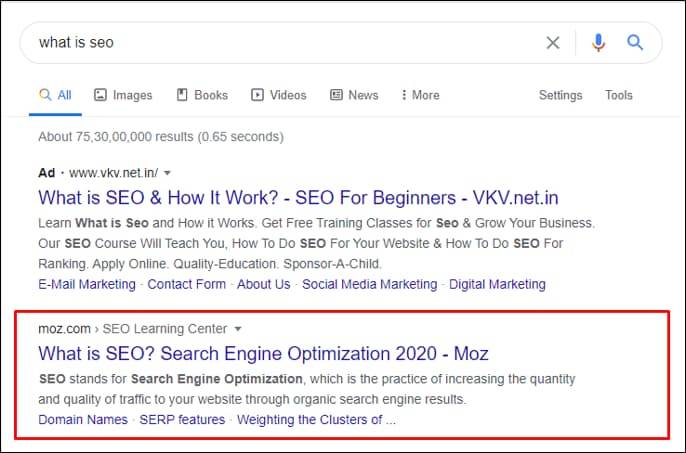 When to use SEO?
Who would not like big returns on small investments! In fact, is that not the same line that many bankers and investment professionals use on prospective clients? Well, they are right about it. SEO too is highly lucrative as you do not have to put in money for every keyword that you want to rank for (unlike PPC). You must simply optimize your website while keeping all the necessary algorithms and guidelines in mind.
SEO is highly cost-effective, can enhance your brand awareness, and bring you relevant traffic when compared to other digital marketing tactics.
Once you reach into the top five positions for your keywords, the visibility or exposure that you get is much more than you would for other campaigns.
When you begin ranking in any of the first five positions of SERPs, the trustworthiness of your site increases manifold, i.e. you seem more reliable than those ranking below you.
This is the best part of SEO – your ranking is sustained for quite a while even when you stop any SEO efforts, unlike paid marketing.
What is PPC : Niche Targeted Visibility
PPC (pay per click) is a type of search marketing where an advertiser pays a fee whenever a user clicks on their ad that is placed on the top of organic search results on SERPs. In simple terms, it is the buying of user visits, which is completely opposite to earning them (organic/SEO). Read our blog on What is PPC.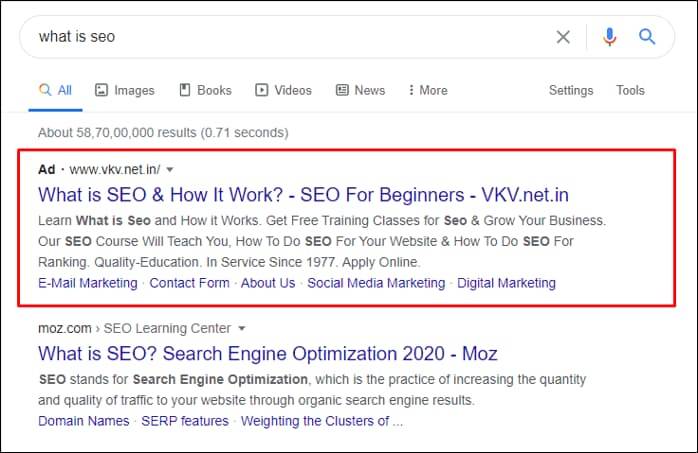 When to use PPC?
Spending on Google ads can help increase brand presence/recall in a user's mind as your ad appears above the fold.
You can target your ads to a specific set of users on the basis of date, time, location, and any sort of demographic data. 
PPC offers quick visibility as compared to SEO. Ranking for a keyword might take some time – PPC however, can increase your visibility instantly at a reasonable cost.
As you are required to pay per click for every keyword that you want to target, the cost is going to be more than SEO. However, what we need to understand here is that the visibility that you stand to gain is much quicker when compared to SEO.
In Summary
SEO and PPC both are part of the Search Engine Marketing (SEM) machinery, which means that you can choose to market your brand or business online either by paying Google or organically earning your spot on its SERPs.
SEO can give you consistent results and increase the authority and value of your website. Whereas, PPC can give you immediate results with a highly targeted audience within a time-sensitive period even if your website is not designed for SEO.
SEO is very cost-effective and gives you a much higher return-on-investment. PPC on the other hand, although a little expensive, offers quick visibility. It is recommended that you use a combination of both SEO and PPC depending on your short-term and long-term traffic goals, budget, and other factors. 
Popular Searches
SEO Company in India  |  Digital Marketing Services  |  SEO Agency  |  Best SEO Company in Bangalore | SEO Company in Delhi | Ecommerce SEO Services  |  SEO Audit Services  |  History of Google  |  What is On Page SEO  |  What is Digital Marketing  |  What is Technical SEO  |  Google Algorithm Updates  |  Google Reverse Image Search  |  Google Ranking Factors  |  SEO Periodic Table  |  What is Structured Data SEO  |  What is Cloaking  |  Types of SEO  |  What is Featured Snippet  |  List of HTTP Status Codes  |